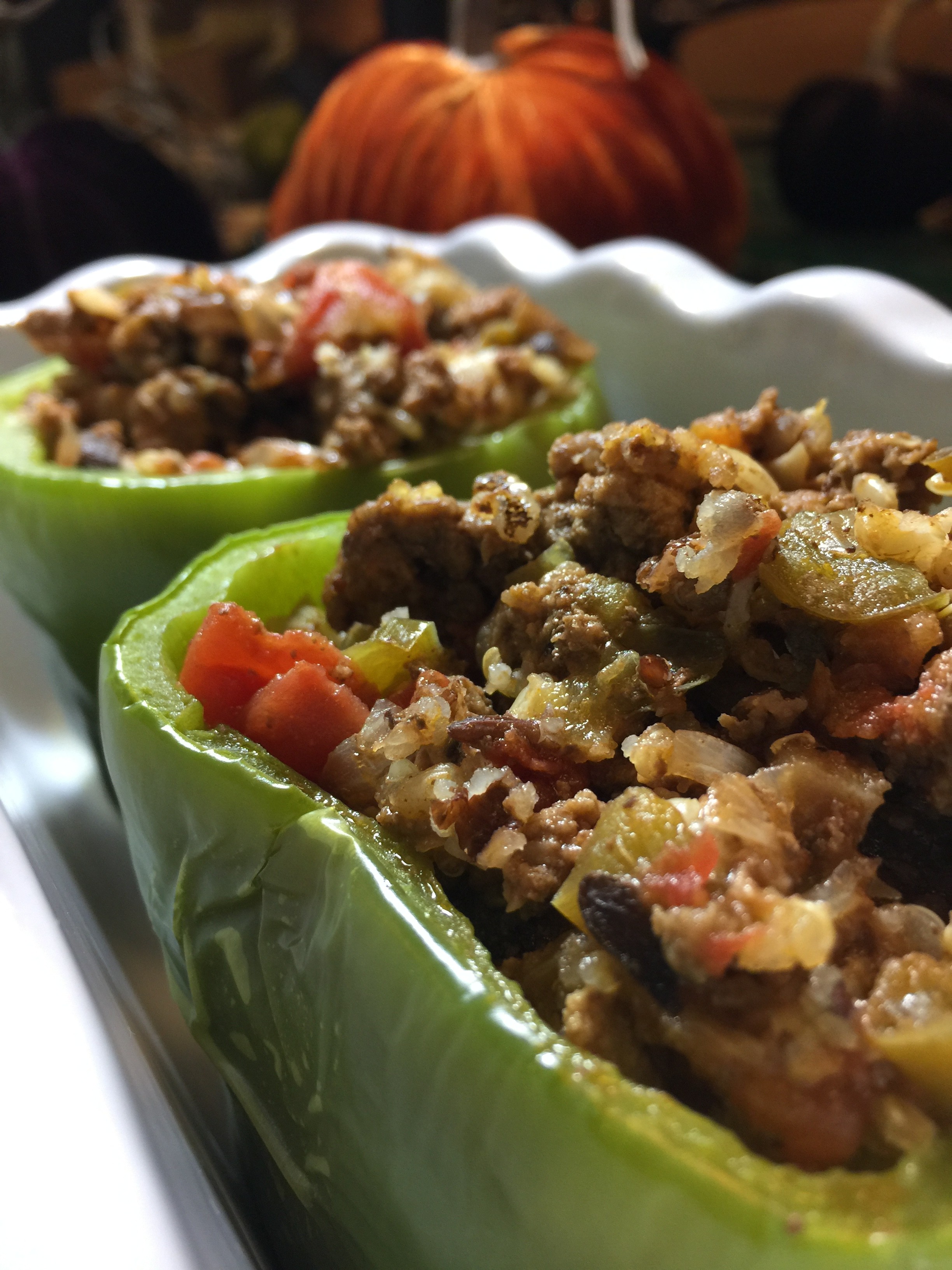 Stuffed bell peppers are hands down one of the most requested fall dinners at our house.  They are good, old-fashioned comfort food and they never fail to be well received.  If you do a recipe search, you can see that they are enjoying a resurgence in popularity and the filling possibilities are endless. Cajun, Spanish, Greek…  you can make them Paleo, vegan, or gluten-free.  And there's more than one way to cook a bell pepper, too.  You can bake, slow-cook, microwave, or make them on your stove-top, depending on how much time you have.
I like to make them the traditional way, with lean ground beef or even leaner, ground turkey.  And let's keep 'em upright, please.  Many of the stuffed pepper recipes that you see now have the peppers turned on their sides, but do it old school and take the tops off, stand them upright and fill them from the top down.   For years I used to boil a big pot of water to partially cook the peppers, but now I do this in the microwave, which makes this recipe even faster and easier.   (Plus, who wants to wash another pot?)
You could use brown rice or quinoa in place of the white rice called for in the original recipe, but I sometimes omit the rice altogether and add extra veggies.  To do this, use your food processor to finely chop about 1 cup of Shitaki or Cremini mushrooms, and 1 cup of zucchini, pressing out most of the water from the zucchini with paper towels.   You can add this along with the rice, or use only the chopped vegetables.  It will give you more filling and will also make the filling more meaty, without adding more meat.  Be sure to take a minute and cut the rest of the bell pepper tops into strips so that you will have them ready for dipping into dips, or adding into lunches, salads, or other recipes.
I add a sneaky ingredient:  some grated Parmesan cheese.  The American cheese is good, but adding the Parmesan is better.  It takes the peppers from good to great.  If you do this, you might cut the American cheese back to about 3/4 cup and use anywhere from 1/4 to 1/3 cup of  Parmesan.
Make this for dinner tonight but double, or triple the filling and tuck some into the freezer for an easy dinner later.  Transfer the extra filling into a zip-top bag or freezer safe container, and label it "stuffed pepper filling," along with the date.  When you are ready to use, defrost the filling in your microwave.  Prepare your bell peppers as below, microwaving for 5 minutes to pre-cook a bit.  Spoon the filling in, and either transfer to the oven and bake, or cook for about 7 minutes in your microwave, adding more time as necessary to make sure filling is hot and the peppers are soft.  Fast food, even on a weeknight.
Don your favorite fleece, break out your rain gear, and embrace the return of liquid weather.  This warm, snuggly, cozy dinner is just right and it proves that a good meal never goes out of style.
Stuffed Green Peppers
6 large green peppers
1 pound lean ground beef or turkey
1/2 cup chopped onion
1 16-ounce can diced tomatoes
1/2 cup long grain rice
1/2 cup water
1 teaspoon salt
1 teaspoon Worcestershire sauce
freshly ground black pepper
1 cup shredded American cheese
Cut tops from peppers.  Use small paring knife to remove membranes and seeds.  Chop enough of the pepper tops to make 1/2 cup.  Cut remaining tops into strips and save for another use.
Lightly coat a large baking dish with non-stick spray or brush with olive oil.  Place cut peppers into baking dish standing up, and add 1/4 cup of water.  Cover with plastic wrap and microwave for 5 minutes.  Drain excess water from dish and set aside.
Preheat oven to 350º.  In a large skillet cook ground beef, onion and bell pepper until meat is browned and vegetables are tender.  Add undrained tomatoes, uncooked rice, water, salt, Worcestershire sauce and freshly ground black pepper.  Bring to boil and reduce heat.  Cover and simmer for 15 to 18 minutes, or until rice is tender. Stir in cheese.  Stuff peppers with meat mixture, cover with foil and bake 30 to 35 minutes.
– adapted from Better Homes and Gardens New Cook Book