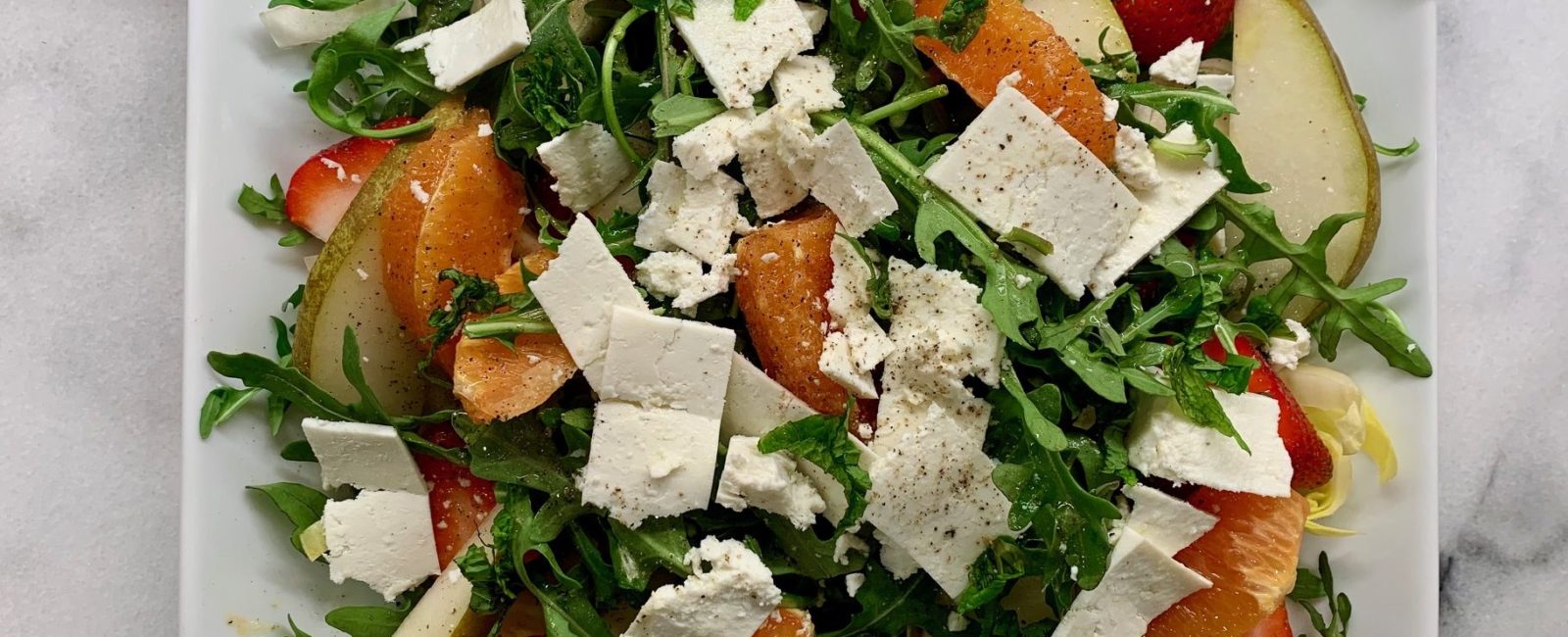 Vibrant and green, fast and fresh, the time for a spectacular salad is now. Easy to achieve, the seasonal choices abound and with a little know-how, making something delicious and healthy is right at your fingertips. Celebrate National Salad Month with a swoonworthy salad that you make at home. Whether you pop into the Farmer's Market, grow your own, or add something jazzy to your grocery list, spring greens could not be fresher. Source local – Northwest is always best! 
Salad possibilities are endless – once you know the basics, you can riff as you please. Best of all, it's easy to customize to what suits you and flexible enough to adapt to your last minute whims.  Here's how to make it happen.
Begin with a large plate or platter. This will be your canvas – a clean space on which to forge ahead. Whether your style is traditional or avant-garde, the plate gives you room to experiment. Begin by dotting your plate with honey, just a little here and there. Rather than flavoring the entire dressing, it will catch on the greens and add just a bit of sweet in some bites.  
Next, add greens. The fresher the better. Make sure they are clean and dry. Consider arugula, frisée or baby lettuces, leaning hard towards any greens that are tender or wispy. 
Go sweet. A scattering of fresh berries either on their own, or in addition to some slices of apple, orange, or pear to tumble onto the greens. As we move into summer, melon, maybe? You could add pickled beet slices if you want, or just keep it to the fruit. If you like adding dried fruit to your salads, a little bit of that works here, too. I like sliced dried apricot or tart cherries, but this is your canvas. Paint on! 
To mint, or not to mint, it's up to you. If you have fresh mint, adding just a bit of it, finely chopped and scattered, can be quite nice. It adds a fresh, summer vibe and a bit of surprise. Just be careful not to add too much. 
Seeds or nuts come next. Raw or toasted and lightly salted, they add body and crunch, not to mention filling fiber and protein. They make your salad a lot more interesting, which is why I add one or more of them to almost every salad. 
With a salad this fresh you barely need dressing. Less is more, so keep it light. Shower your salad with flaky sea salt, then give it a drizzle of good olive oil. Even better, mist or spray it if you can. Add a squeeze of citrus – lemon, orange or lime – and top with cheese. Soft, crumbly varieties like goat, feta, blue, gorgonzola, or queso fresco or firm, salty cheese like Parmesan, or ricotta salata. Some tiny slices of Manchego or Gruyére, sharp cheddar or even brie, and a finishing of freshly ground black pepper.
It's your salad and it's delicious any way you make it. Enjoy!