Sparkling Cranberry and Apple Cocktail and Hot Ham and Cheese Bites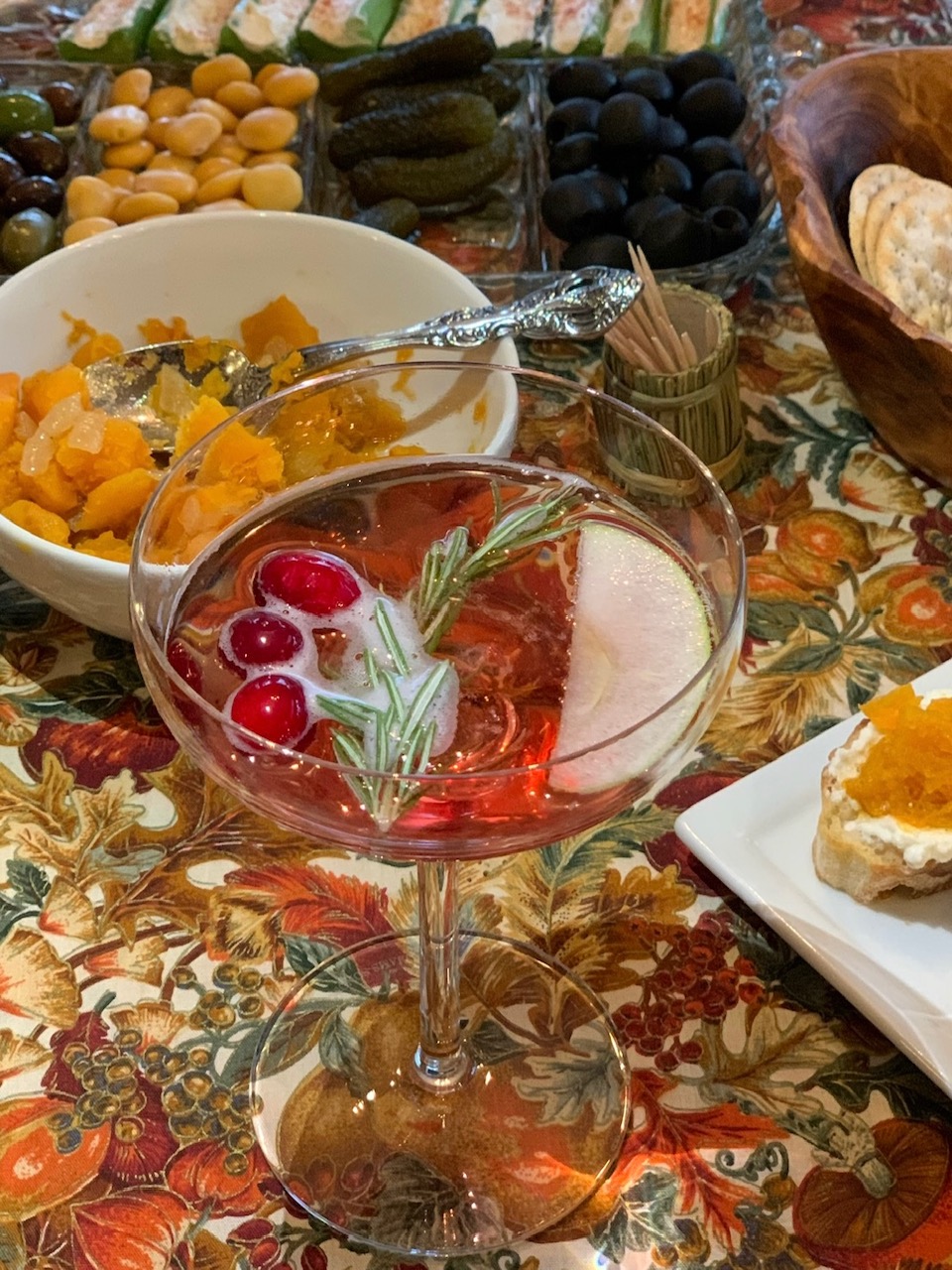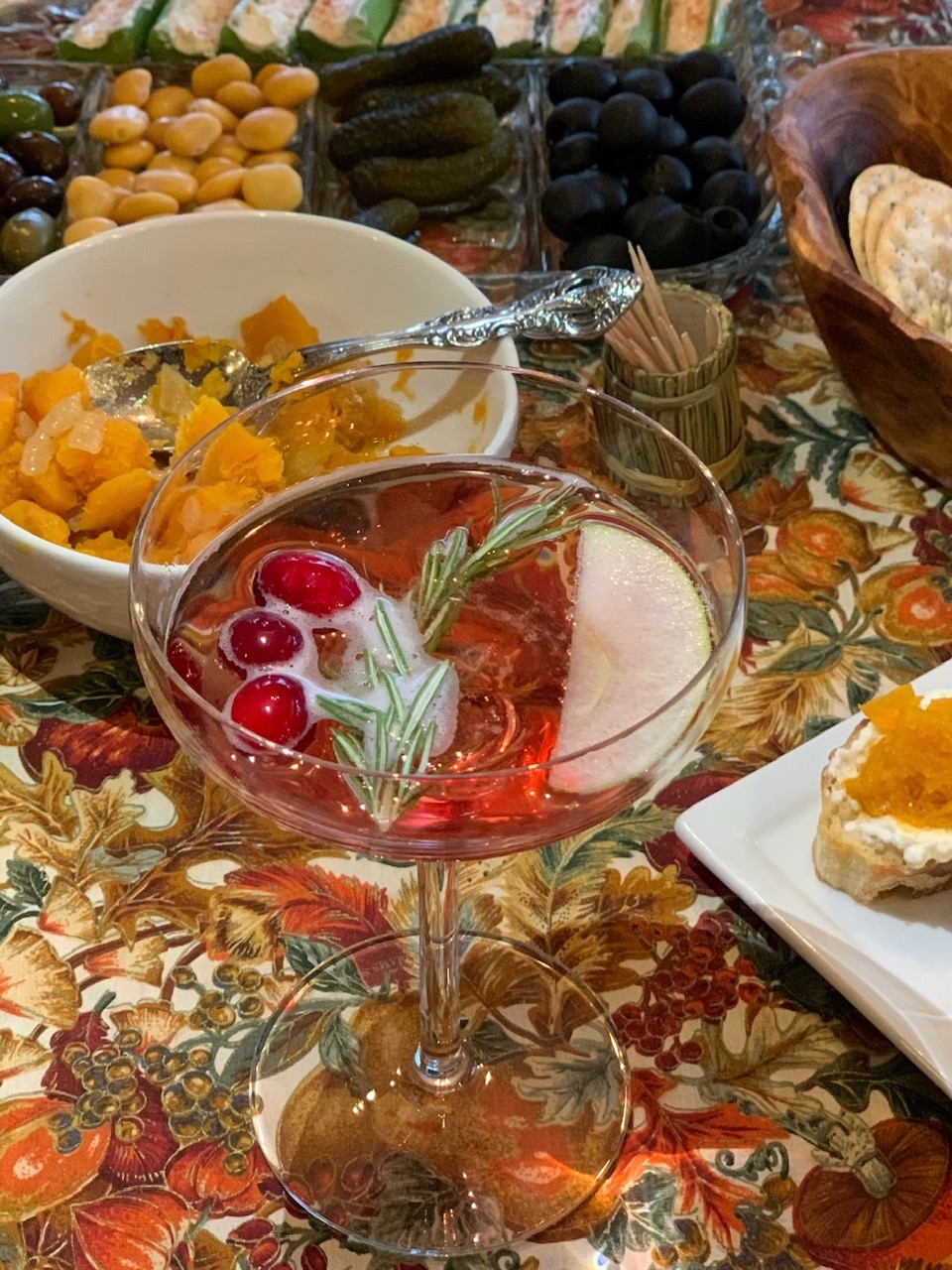 The most anticipated meal of the year is just a day away. Hopefully, you are sitting with the paper, either just starting your day or taking a break with your coffee. Your turkey is nestled in the refrigerator, all of the shopping is done, and you may be baking a pie or two today, or getting a jump start on your sides.
At this, the very last minute, there are still a few things to think about, namely bites, beverage, and breakfast. Planning for these won't take much effort, but will definitely make your holiday more special. Here are some easy things you can pull off in these last hours, most likely with ingredients you already have on hand. 
Think now about a bite that you can welcome guests with. Something warm that will take the edge off, because you know people have been starving themselves all day and are now arriving ravenous. It needs to be hot, not too rich or heavy, and it should not upstage or do battle with the main event. These Hot Ham and Cheese Bites check all the boxes. Skewered with a festive pick, they look like a fancy hors d'oeuvre when passed on a plate. Plus, they are easy to make and will keep everyone from passing out while you finish getting everything to the table.
Olives that are dressed up are a nice option for vegan guests. If you have a jar of mixed olives, lightly drain and transfer them to a microwave-safe serving bowl. Add a few sprigs of fresh rosemary, a generous pour of olive oil and a few strips of orange peel. You can also add a bit of red pepper flakes, if you like. Warm in the microwave on medium heat at 1 minute intervals until olives are just warm. 
Every gathering feels more special with a festive drink and this Sparkling Cranberry and Apple Cocktail is a great way to kick things off. The garnish is a very merry sprig of fresh rosemary, a few frozen cranberries and a thin slice of apple, which I am guessing you might just have on hand right now. Unlike most festive beverages which tend to be very sweet, this one is very lightly sweetened, but it's just right. 
You can use any kind of cranberry juice for this, but I like one with no added sugar because there is so much sweetness from the apple cider and whatever sparkling alcohol you are using. I recommend tripling the cranberry juice and apple cider amounts and using a large pitcher. You'll have enough for each guest to have 2 drinks, or for some guests to have three, which may be the case. It's a holiday after all. For non-imbibing guests, kombucha is a fantastic and healthy substitute for the sparkling alcohol component.
Frozen cranberries will keep your drink chilled without diluting it. Wash cranberries and shake lightly in a clean towel to dry. Freeze in a single layer on a baking sheet then transfer to a resealable bag. You can do this ahead of time so they're ready to go when you make your drinks. Add some of the frozen berries to your pitcher to keep your cranberry and apple cider chilled.  
And don't forget about breakfast. Spend a small bit of time on this today and you'll be so much happier tomorrow. Sometimes I make a breakfast casserole or we have baked oatmeal, but this year I'm making breakfast sandwiches. While I'm making today's breakfast, I'll make 6 extra sunny side up eggs, cooked so that the yolks are a little more set, but still runny. I'll split 6 English muffins and warm them in a 350º F oven just long enough to crisp the bread a bit. Each English muffin will get a slice of cheese, a slice of Canadian bacon, and 1 egg. Then the sandwiches will be wrapped individually in aluminum foil and refrigerated. Everyone can reheat when they're ready to eat, placing their wrapped sandwich in a 350º F oven until it's heated through.
Hold your loved ones in your arms because after they're gone you can only hold them in your heart. I will be honoring all of my family's traditions and remembering those who aren't here with us at the table. Remembering my two sweet grandmothers, who somehow would arrive in synchronized precision despite living at opposite ends of town. I can see them now, bundled up in their coats and each bearing a dish, both of them smiling and filled with excitement for the day ahead. My grandfathers, both asleep on opposite ends of the couch, blissfully full from all that holiday eating. Remembering my dad, who loved to carve turkey and insisted that every year's menu be exactly the same. My mom, who was a pie-maker extraordinaire. She definitely guided my rolling pin this year, because the pies came out beautiful. Thanks, mom. And my son, who always brought the most beautiful flowers from the Pike Place Market. He would help stuff the mushrooms, too, both of us up at 2 a.m. talking and cooking happily into the night. 
Be grateful for your friends, your family and your food. Wishing you a wonderful and very happy Thanksgiving. May your heart be as full as your stomach.
Sparkling Cranberry and Apple Cocktail
makes 4 drinks
1/3 cup cranberry juice, cold
1/3 cup apple cider, cold
sparkling wine, champagne, or Prosecco
1/4 cup fresh cranberries, for garnish
1/2 Granny Smith apple, thinly sliced, for garnish
4 sprigs fresh rosemary
Mix cranberry juice and apple cider together in a liquid glass measure. Divide mixture between 4 champagne flutes or coupes. Top each glass off with sparkling wine. Garnish with fresh cranberries, sliced apple and a sprig of fresh rosemary. Serve. 
-recipe by Aysegul Sanford 
Hot Ham and Cheese Bites
8 slices sandwich bread (like Dave's Killer Bread thin-sliced)
8 Medium Cheddar Cheese slices (or American cheese slices)
8 ounces thin sliced smoked deli ham
3 Tablespoons butter, softened
Heat oven to 450º F. Build sandwiches by topping 4 slices of bread with 1 slice of cheese, 2 ounces of ham, a second slice of cheese and another piece of bread. Butter the outside of each sandwich on both sides. Place sandwiches on a sheet pan. 
Bake 6 to 8 minutes, or until bottom of sandwiches are golden brown. Flip and continue baking another 6 to 8 minutes or until cheese is melted and sandwiches are browned. Cut each sandwich into 12 bite-sized squares, about 1-inch by 1 1/2- inches per square. Thread onto skewers, 2 bites per skewer. Serve immediately.