Spaghetti Squash Bolognese
You're doing it wrong.  Well, maybe you aren't, but I certainly was.  Ever since this phrase was scoldingly uttered to Michael Keaton as he bungled the school drop-off lane in the movie "Mr. Mom", it has become our code for "whatever you're doing, it's turning out badly."  And, sadly, I have been doing spaghetti squash wrong.
Done right, a spaghetti squash can be a great go-to option when you need to get dinner on the table in a hurry.  You can cook it in your microwave, and you won't be dirtying a big pot, lid, and colander, or waiting for water to boil.  When you see how very fast and easy this is, you'll be tossing a big squash in your grocery cart more often.  If you are pressed for time, speed things up by using your favorite jarred sauce, and you've got dinner in 20 minutes or less.
For years I have been attempting to conquer that squash with a cleaver.  My dissection was very dramatic.  I would start off with a flourish, swinging the cleaver cleanly into the squash.  It would inevitably get stuck in a strange spot nowhere near the center and then there would be a lot of counter thwacking to get the cleaver out.  People would clear the room, seeds would fly, and it all would end badly.   I would then put the resulting fallout into a baking pan of water and cook it in the microwave.  Sometimes, I'd get lucky, but most often, it would turn out either still too hard and undercooked, or a complete mushy mess.
I have learned a better way.  Take a sharp knife and insert the tip right in the middle of the squash.  Use a kitchen towel on the back of the knife to get a good grip, then push it all the way through.  Turn the squash 180 degrees, poke the tip back in the middle and use the towel to again help you push all the way through.  Separate the two halves.  Use a spoon to scoop out all the seeds, then put one of the halves cut side down into a pie plate with a couple of tablespoons of water.  Microwave on high for 10 minutes and….  you did it right!  Take a fork to get all those perfectly cooked strands out and you're all done.  Repeat with the other half.  There is a great video on eatingwell.com that shows all of this in action.
Now, top that with a super fast meat sauce, add some grated cheese, and you've got dinner.  Traditional bolognese sauce has carrots, celery, wine, milk…  and needs to cook for 3 hours.  This is a pared-down, hurry-up version.  Much simpler, but nonetheless satisfying.  You can make the meat sauce earlier in the day and keep it warm in your crock pot until dinner time.  The squash can be cooked ahead, too, and reheated quickly.  Leftover squash will keep well in the refrigerator for 3 or 4 days, and reheats nicely in the microwave, or you can freeze portions in quart sized zip-top bags.  Now you a have ready-to-go way to make this very quick meal even faster.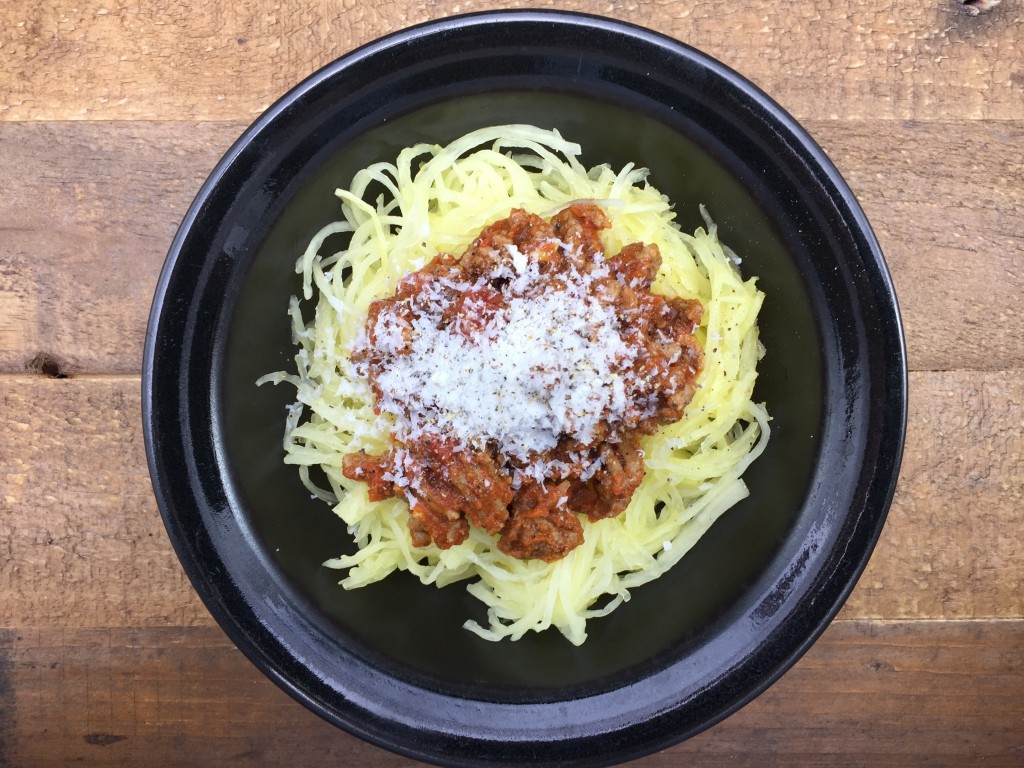 Spaghetti Squash Bolognese
1 spaghetti squash
1 1/2 lbs. lean ground beef, turkey, or sausage
jarred sauce of your choice, or home made
grated Parmesan or Romano cheese
Prepare spaghetti squash as directed above.  While squash is cooking, brown meat in a medium saucepan.  Drain any excess fat from ground beef then add jarred sauce or home made sauce and simmer gently.  Serve spaghetti squash in bowls, topped with sauce and grated cheese.
If time allows…
Quick Home Made Marinara Sauce
Heat 1 tablespoonful of olive oil over low to medium heat in a large stockpot.  Add 1 diced, medium onion and cook, stirring occasionally until it softens.  Add 3 minced garlic cloves and cook, stirring, being careful not to burn, until onions and garlic are a light, golden color.  Add one 14.5 ounce can of diced tomatoes and let cook for several minutes so that liquid reduces.  Add one 15 ounce can tomato sauce, and half of a 6 ounce can of tomato paste.   Add a generous grind of black pepper, some fresh, chopped basil (or use dried), a pinch of red pepper flakes (optional), and some sea salt, if desired.   Cook and stir, adjusting thickness with additional tomato paste or thinning with water if needed, for at least 15 minutes.