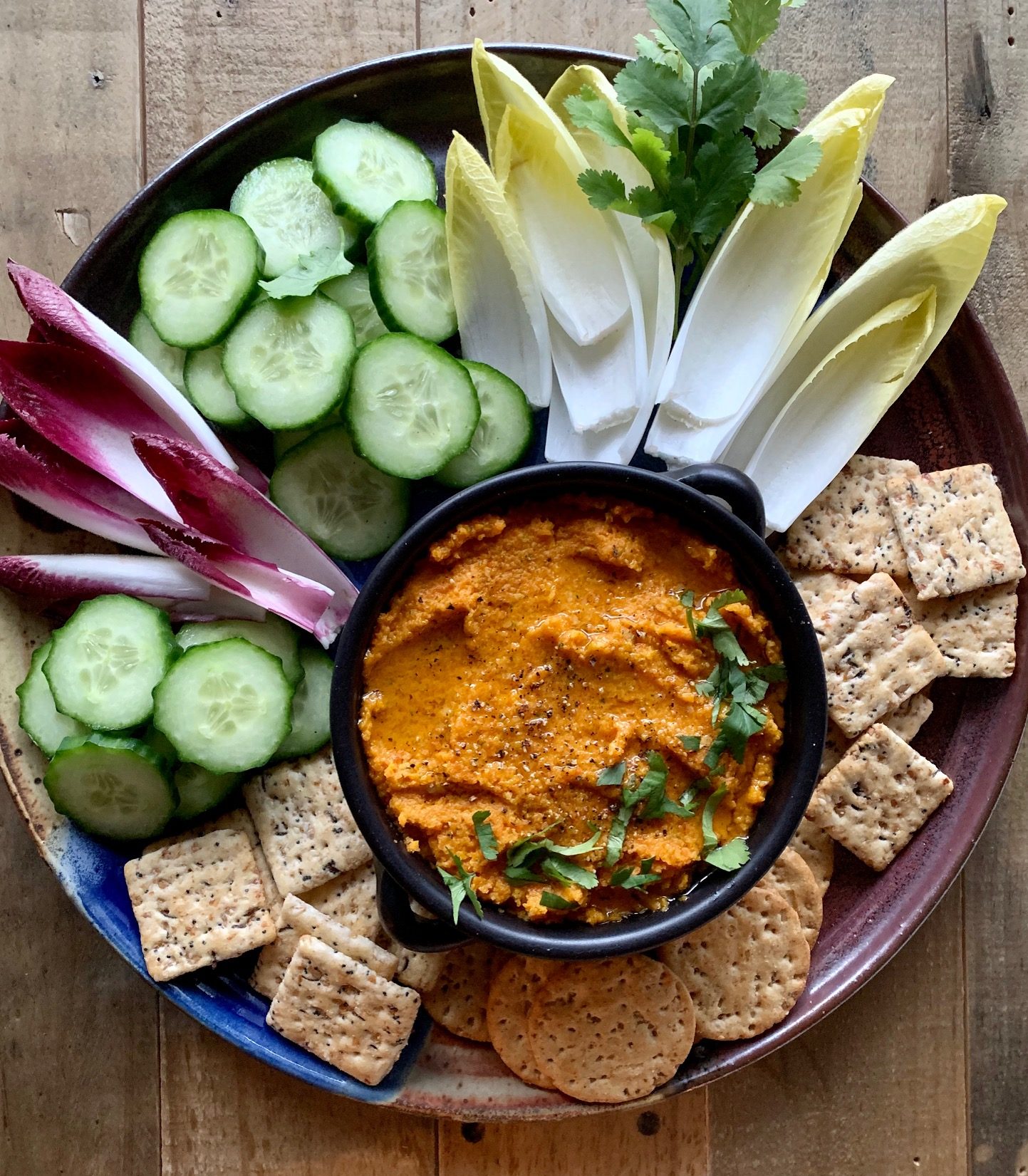 Brighten up your cold, dreary January with a vivid veggie dip that's delectably delicious and nutritious. This Smoky Carrot Dip is from the Bon Appétit Hot 10 list for 2019. It's an easy way to eat more veggies and it's so very good that you'll hardly notice you swapped cookies for carrots.
The store where I shopped was mysteriously out of carrots, which forced me to buy the washed and peeled mini variety. This turned out to be a time saving advantage, as they were already trimmed, peeled, and cut into just the right length for roasting. I used olive oil spray to give the carrots a quick, neat coating and changed the parsley to cilantro, which I think gave it better flavor.  I also added more lemon juice and some water to the finished dip to thin it a bit and give it a more scoopable consistency.  
While you have the oven on, be energy efficient. Fill the entire baking sheet with almonds and you will have extra for snacking or topping salads, soups, yogurt or oatmeal. While you're at it, roast some other veggies. I saw an empty rack in my oven and used it to roast a large baking sheet full of mushrooms while the almonds and carrots were cooking. 
This dip can be made up to 1 week ahead, or it will keep for 1 week, covered and refrigerated. Serve it with seeded crackers or warm, crusty bread and vegetables for dipping. Try it as a sandwich spread, spoon it in your grain bowl, or add it to cooked pasta with a little more olive oil and some freshly grated cheese. Use your imagination. But do try it. 
Smoky Carrot Dip
1/2 cup skin-on almonds
2 lbs. carrots, trimmed and peeled
2 Tablespoons plus 1/2 cup extra-virgin olive oil; plus more

 

2 1/2 teaspoons kosher salt, divided, plus more
2 garlic cloves
1/2 cup canned chickpeas
3 Tablespoons (or more) fresh lemon juice
1 teaspoon freshly ground black pepper
3/4 teaspoon hot smoked Spanish paprika
1/2 cup coarsely chopped parsley or cilantro, plus leaves for serving
Preheat oven to 350ºF. Line a large baking sheet and a small, half-size sheet with parchment paper. Slice carrots crosswise into 4 pieces and cut any thick carrots lengthwise in half so that all pieces are uniform. Spread carrots onto larger baking sheet and spritz or drizzle with 2 Tablespoons olive oil and 1 teaspoon salt. Spread almonds on smaller sheet, then transfer both pans to oven. Toast almonds until lightly dark and fragrant, tossing halfway through, about 8-10 minutes. Set aside. Roast carrots until very tender and starting to shrivel, about 1 hour, stirring once or twice and making certain carrots are tender to their core before removing.
Transfer carrots to food processor. Add garlic, chickpeas, lemon juice, pepper, smoked paprika, parsley or cilantro, 1/2 cup oil, 1 1/2 teaspoons salt, and almonds. Process, adding more oil as needed, until almost smooth. Taste and adjust with more lemon juice and/or salt, thinning with water if needed. Transfer to bowl and drizzle with olive oil. Top with a few grinds of pepper and parsley leaves. 
– recipe from Ochre Bakery, Detroit as seen on Epicurious