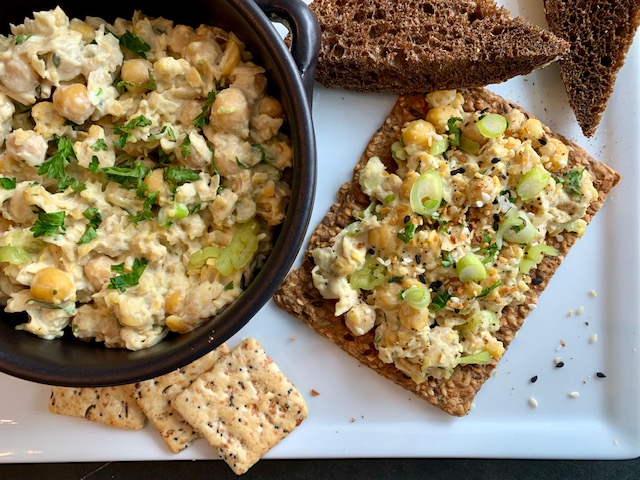 By now you may be stalking your pantry, trying to use up this and that, and really, truly, seriously in search of something good to eat. Trying to keep everyone fed and full and make nutritious meals out of what you have on hand may be leaving you scratching your head. I hear you and have a recipe that hits the mark. A die-hard fan of chickpeas, I had this recipe from basically by bon appétit bookmarked and remembered it. It's simple formula of pantry staple plus common fridge ingredients equals a protein-filled, plant-based, quick dinner, easy lunch, meal ready to eat anytime.
I was hesitant, so I started with one can of chickpeas, but once I tried it, I quickly opened a second, adding it to the bowl along with a second round of the other ingredients. It was fast, easy, and astonishingly delicious. A bit of zing from the pepperoncini, lots of flavor from the garlic, scallions, fresh cilantro and parsley, and that necessary richness from the mayo and the olive oil. Flavorful and filling, it was just what everyone needed. 
Use it as a sandwich filling, spoon it over greens or grains, scoop and eat with veggies, or serve it alongside dark pumpernickel triangles (thank you, freezer), crisp bread, or sturdy crackers. I had some leftover baked potatoes that I warmed, halved and fluffed, sprinkled with salt and pepper, then set out to also offer with the smashed chickpeas. Enjoyed by all to say the least, I turned my back and the entire bowl disappeared – scraped squeaky clean, with not a bit left clinging to the sides. Leftovers, if you have any, can be kept tightly covered in a dish in your refrigerator, ready for a quick help-yourself meal or snack, so you may want to double up or triple.
The recipe below is how I made it, and it was spot on and delicious. I think a little added crunch is nice, so I'm adding chopped nuts, seeds, everything bagel seasoning or dukkah to the list. Set these aside as toppings to offer at the end. Follow these basic guidelines and tailor it to your liking:
Something briny/acidic:  capers, pepperoncini, pickles, a generous bit of lemon juice, or a splash of vinegar. Pickled jalapeńos if you like heat. You can also add a tablespoon of the liquid brine to punch things up a bit.
Something punchy/sharp:  sliced scallions, grated garlic, flaked smoked trout, harissa, red pepper flakes. This is where you add flavor!
Something creamy/rich:  organic mayo or a good dollop of Greek yogurt, Dijon mustard, tahini, green goddess or tahini ranch dressing, plus a drizzle of olive oil or a bit more of your creamy condiment if it still looks dry
Something crunchy:  chopped nuts, seeds, everything bagel seasoning or dukkah.
Seriously. Make this now. You'll be making it again. And again.
Smashed Chickpea Salad
1 15.5 ounce can chickpeas, drained and rinsed
2 pepperoncini, very thinly sliced
1 Tablespoon thinly sliced scallions (the last bit of the green and some of the white)
1 Tablespoon finely minced cilantro
1 teaspoon finely minced parsley
1 medium clove garlic, grated
1 heaping Tablespoon organic mayonnaise
1 Tablespoon Green Goddess Salad Dressing
1 Tablespoon kefir (use it if you have it)
drizzle of olive oil
flaky sea salt
freshly ground black pepper
Add chickpeas to a medium-sized bowl and roughly smash with a potato masher or wooden spoon, leaving about 50% of the chickpeas whole. Add pepperoncini, scallions, cilantro, parsley, garlic, mayonnaise, Green Goddess, and kefir. Continue to smash, mixing all together, but leaving about 25% of chickpeas whole. Drizzle in olive oil, add sea salt and freshly ground black pepper, and stir well to combine; taste and adjust with more of whatever's necessary to make it to your liking. Serve as directed above.