Slow Cooker Vegetable Soup with Bacon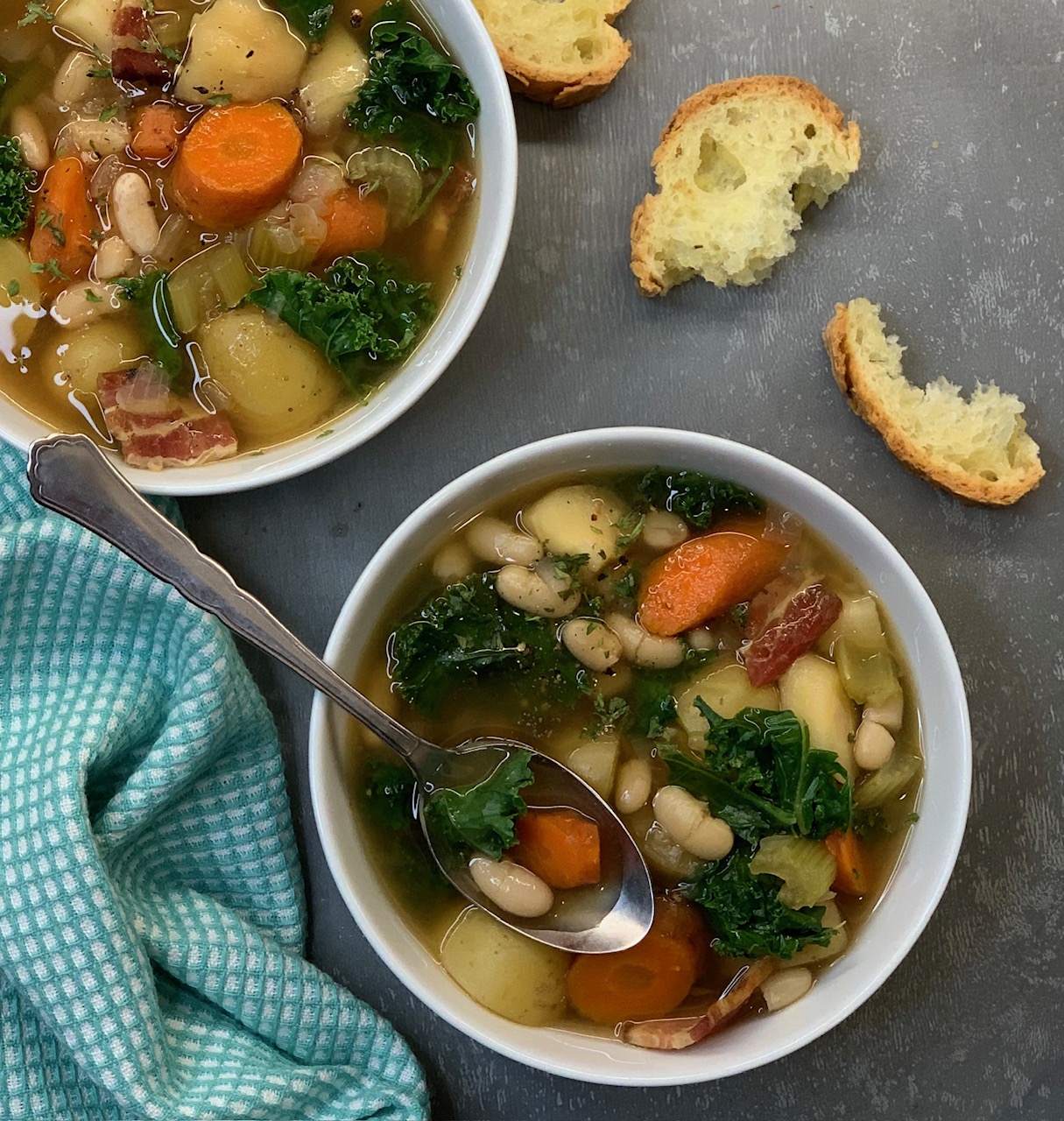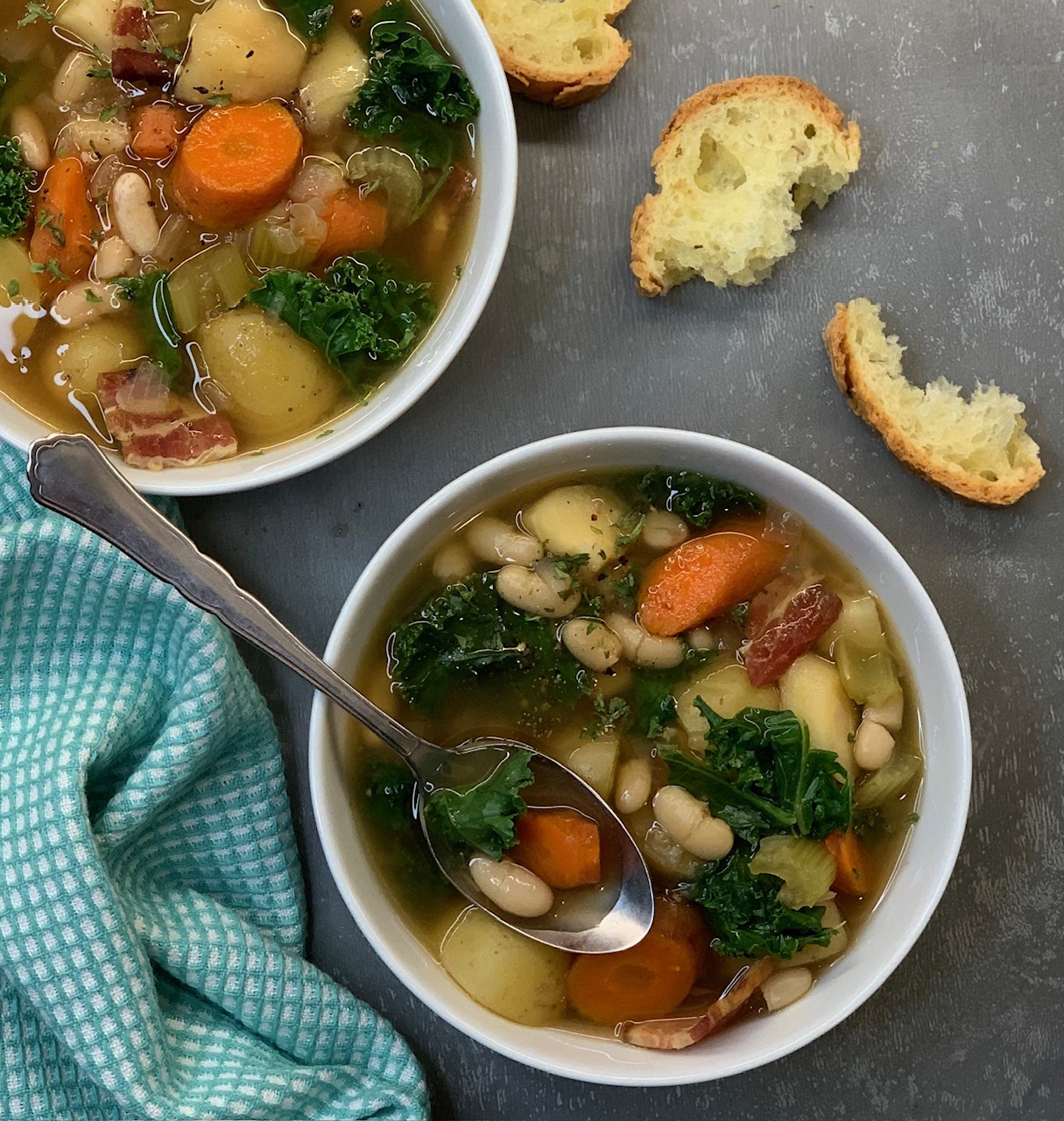 September is here, bringing days that are are shorter and busier, leaving you with even less time to get a meal on the table. Trying to feed everyone something nutritious and filling can be challenging, but if you eat more of your meals at home, you can do this and save money at the same time. 
I am more than excited for all things fall, so I couldn't wait to take my slow cooker out, looking forward to all the soups, stews, casseroles and game day food ahead. To start things off, I made this Slow Cooker Vegetable Soup with Bacon. Packed with veggies, this hearty and delicious soup is very easy to make and needs only 15 minutes on your part for prep. Tumble everything into the slow cooker, then forget about it until you come home to the wonderful smell of dinner. Doesn't that feel nice? 
Sautéing your onions and garlic will give your soup deeper flavor and better texture. You can do this in a small pot on the stove, adding just enough olive oil to keep everything from sticking. Garlic cooks quickly, so start with just the onion, stirring occasionally until it softens and begins to get golden. Then add your garlic, cooking for a minute or so, being careful that it doesn't burn. Now add them to your slow cooker, along with your other veggies. 
Make sure your vegetables are cut to the same size. I noticed that some of the baby potatoes were truly small, so I left them whole. Others were on the largish-side, so I cut them into sixths or eighths. A few were sized just right, so they could be halved as directed. Keeping everything uniform ensures that your vegetables will all come out tender, nothing hard and nothing overcooked. 
If you don't have fresh kale, or prefer not to prep it, you can just toss in some frozen. If you do use fresh, give it a good washing. Pull it from the center rib, tearing it into small chunks as you go. Let it soak in your salad spinner, and then drain and give it another good rinse. You can substitute other greens, too, like collard or Swiss chard for the kale, or try other another type of small bean. Add some heat with red pepper flakes. If you'd like to keep this plant-based, use vegetable broth and omit the bacon, swapping in mushrooms, if you like.
I come from a long line of bean soakers, so just tossing beans into the slow cooker was quite the leap of faith. My family meal-prepped long before they had a name for it, and every weekend it was part of the plan to cook a big pot of beans, a building block for all sorts of meals the next week. It was often my job to sort, laying the beans out on the counter, pushing them back and forth, looking for rocks or withered beans. After sorting, I'd rinse, cover with water, and soak them over night. Trying to forget all this, I bravely tossed the dried beans into the cooker as instructed and am pleased to report they came out just fine. 
I couldn't buy parsnips without thinking about making parsnip soup, so I bought a few extra. You can find an easy recipe at blogs.columbian.com/home-made if you'd like to make some, too. As always, I will portion and freeze some for later, so I can keep replenishing my stash of easy meals in the freezer. Paired with a toasted cheese sandwich, it's another fast and filling lunch or dinner you can make with little effort.  
Get out your slow cooker and let it help you. Prep everything the night ahead, and refrigerate. Toss it into your slow-cooker in the morning and you're set to come home to something delicious. 
Slow Cooker Vegetable Soup with Bacon
serves 8
4 thick-cut bacon slices, cut into 1/2-inch pieces
1 1/2 pounds baby Yukon Gold potatoes

 

1 1/2 cups chopped yellow onion (from 1 medium onion)
1 cup 1/4-inch-thick carrot slices (from 3 medium carrots)
1 cup dried navy beans
3/4 cup 1/4-inch-thick parsnip slices (from 2 medium parsnips)
3/4 cup 1/4-inch-thick celery slices (from 2 stalks)
6 cups chicken broth
1 Tablespoon minced garlic (from 3 garlic cloves)
1/2 teaspoon black pepper, plus more for garnish
1/4 teaspoon kosher salt
3 cups chopped curly kale (from 1 bunch)
1 Tablespoon fresh lemon juice (from 1 lemon)
fresh thyme leaves
Cook bacon in microwave until crisp, according to package directions. Crumble bacon.
Add potatoes, onion, carrots, beans, parsnips, celery, broth, garlic, pepper, salt, and bacon to a 5- to 6-quart slow cooker. Cover and cook on low until potatoes and beans are tender, 5 1/2 to 6 hours. 
Uncover and stir in kale. Cook, uncovered, until kale is tender, about 2 minutes. Stir in lemon juice. Ladle soup into serving bowls. Garnish with freshly ground black pepper and thyme leaves and serve. 
-Southern Living, April 2019