Slow Cooked Spiced Apples and Cranberries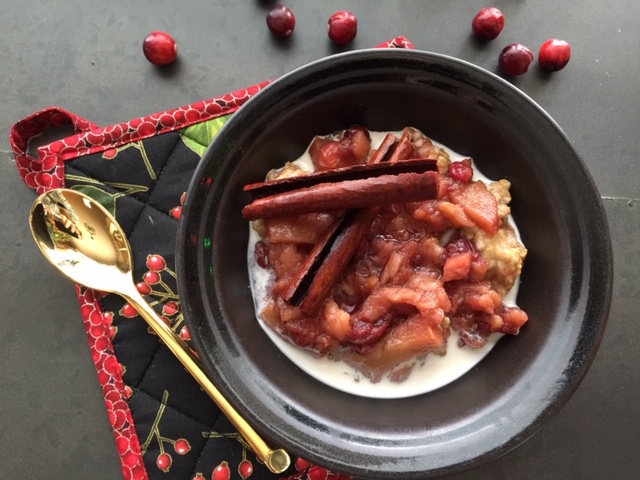 Make your whole house smell warm and wonderful with something fast and easy you can cook right this minute in your slow cooker.  I am still trying to find ways to use all of the cranberries I brought back from the bog.  Even though that was weeks ago, the remaining berries are still firm and juicy and they look just like they did when we first brought them home, including the real bits of bog I find when I rinse and sort them.  Maybe you are already starting your Thanksgiving preparations and have some cranberries, too.  Even if you don't, here's something you can do to get some fall flavor, and get an added boost of vitamins and fiber, to all the meals you're going to be eating this week.
Toss some of those beautiful Northwest apples you've been collecting, a heaping cupful of cranberries (if you don't have any cranberries, just use the apples), some cinnamon sticks, a dash of nutmeg and 3/4 cup of water, into your slow cooker.  I used sweeter apples, like the Gala and Sweetango I had on hand, to offset the tartness of the cranberries, but you could try any kind of apple you like: Braeburn, Fuji, or Honeycrisp would all work well.  Cut the apples into chunkier slices, just a little thicker than you would for pie. You can use apple cider in place of the water, and you can also add sweetener like maple syrup, brown sugar, honey, agave, etc., although I prefer to make these unsweetened and let everyone add their own at the amount that suits them. Turn your slow cooker to low and set for 4 hours.  Enjoy the smell of something warm and delicious that you made yourself, as your whole house fills with the wonderful smell of baked apples.
Serve warm, or once cool, store covered in your refrigerator in a spot where you can see it.  You can use the spiced apples and cranberries to serve with pork or chicken.  Add them as a sweet filling to your warm ham and cheese sandwich, or use in a quesadilla.  Blend some with a tablespoon of jam to make a quick dipping sauce.  Top your morning oatmeal with them or add to your overnight oats.  Stir into your yogurt and then top with some toasted nuts or granola.  Use them as pancake or waffle topping.  Layer with some gingerbread or oatmeal cookies and a bit of pudding to make an easy trifle.
However you use it, you'll be enjoying some of that great Northwest fall flavor.  And using up some of those cranberries.
Slow Cooked Spiced Apples and Cranberries
5 medium-sized apples
1 heaping cup cranberries
3/4 cup water or apple cider
2 cinnamon sticks or 1 tablespoon ground cinnamon
dash nutmeg
1/2 – 1 cup brown sugar, or sweetener of choice, if desired
Peel and slice apples into 1/4 inch thick slices. Add apples, cranberries, water or cider, cinnamon, nutmeg and sweetener if using to slow cooker.  Set to low and cook for 4 hours.  Check apples for desired doneness at 3 hours.