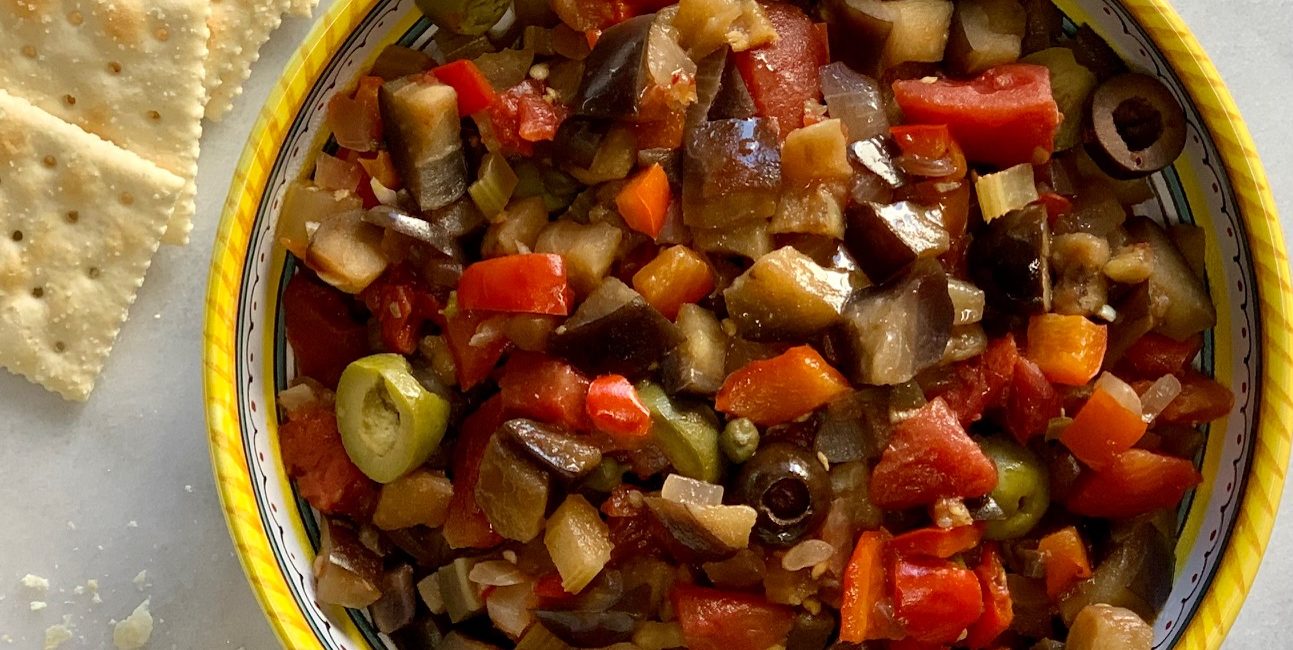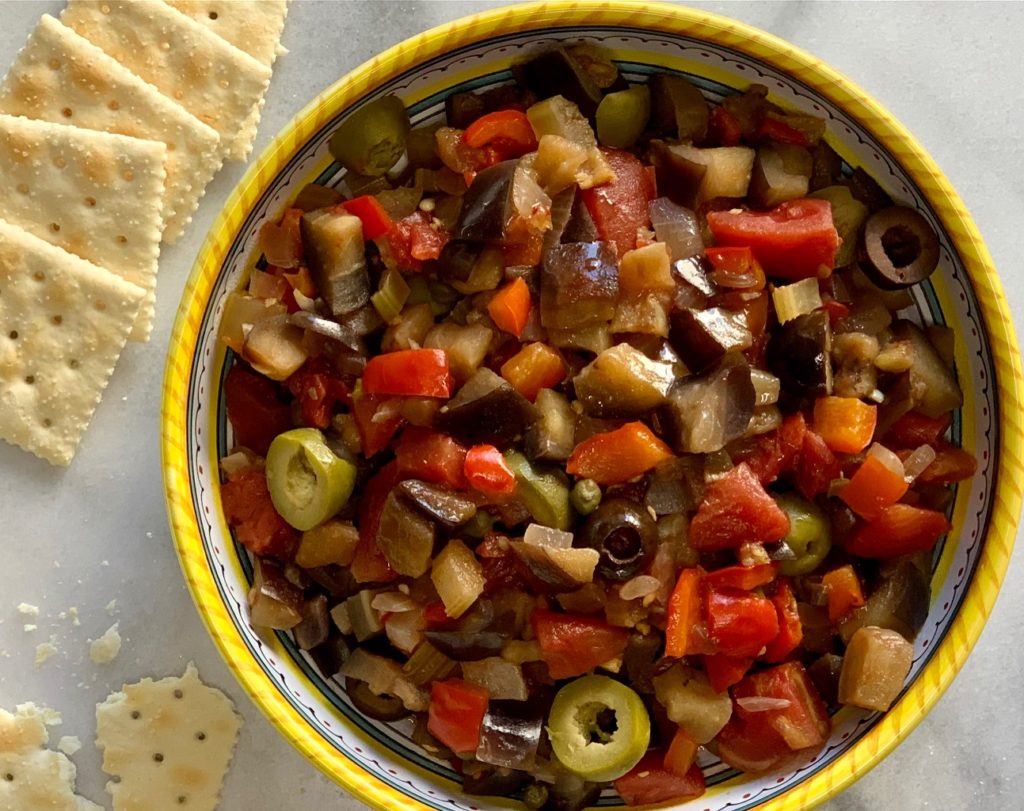 This week, I'm sharing what I'm eating, and right now, I'm eating caponata. I made this year's first batch a few weeks ago, and memories filled my kitchen almost as quickly as the familiar smell did. Before I could get any tucked away in the freezer, it disappeared. Everyone was hungry for more, so I'm making it again. The date on the bottom of my recipe is 1-29-89. I have been making caponata for a long time. 
Caponata is a traditional Sicilian dish made with diced eggplant, bell peppers, onions, celery, and tomatoes. Olives and capers add flavor, as well as garlic, olive oil and a bit of red wine vinegar. You may have seen it in stores and not even realized it. It is sometimes sold as, or labelled, "Italian eggplant appetizer." This is caponata.
Infinitely adaptable, caponata can be served many different ways. Served hot, it's a delicious plant-based entree, or you can use it to spoon over fish or chicken, dressing them up nicely. Try serving it over spaghetti or other pasta with some freshly grated cheese on top. Or, serve it as is, straight out of the bowl, as an appetizer. 
Try it at different temperatures. Sometimes I will serve it very cold, but it's equally good served warm, or piping hot. It's also great at room temp, so you can let it hang out on a buffet and be sure it's still enjoyable. Packs well, too. Imagine this with cheese and crackers when you tailgate, or take it along on your road trip. 
Make a bowl of caponata part of your snack board or antipasto platter. You can serve this with crusty bread, or eat it spooned onto saltine crackers, like we sometimes did when I was growing up. The caponata we ate as kids came from a can and was hard to find. We lived in Miami and the nearest Italian grocery was a long ways away. It was a huge adventure to go to Laurenzo's Italian Market, but they had everything – Italian cookes, pastries, a huge delicatessen, pasta galore and hard to find Italian condiments like caponata. We would fill our cart, always bringing home at least 5 cans to tide us over until the next trip.
Canned caponata is quite scary. It is dark and oily and the contents are so well commingled that you can't identify any of them. Being able to confidently down a forkful of that mysterious, dark condiment wasn't easy. Homemade caponata looks nothing like the canned variety. First, the colors are brighter, which makes it more approachable to those that haven't tried it. Second, the components are still discernible, which takes a lot of the fear factor away. And, it's a lot less oily.
Eggplant takes center stage here, so pick wisely. Select slightly firm, but not hard, with a glossy, even appearance. It should feel heavy for it's size and be free of bruises or blemishes. For best flavor, try to pick one on the smaller side. If harvested too late, they can become seedy and/or bitter. Plan to use your eggplant soon after you buy it.
Cut your eggplant and bell pepper into about 1/2-inch size cubes. You can cut your celery and onion a little smaller. Everything will shrink when it cooks, but you don't want big chunks when you spoon it onto your cracker. I like to cut the olives in half, so they're a little smaller, but still big enough that you can make them out out among the other ingredients.  
Just wait till you try this. It's delicious! 
Sicilian Caponata
1 1/2 pounds eggplant, cut into 1/2-inch round slices
sea salt
2 Tablespoons olive oil
2 large red bell pepper, cored, seeded, cut into 1/2-inch cubes
1 large onion, coarsely chopped
3 stalks celery, cut into 1/4-inch diagonal slices
1/4 teaspoon dried red pepper flakes
1

 

14 ounce can diced, peeled tomatoes
1 large clove garlic, minced
2 Tablespoons red wine vinegar
1 Tablespoon sugar
8 pitted Italian or Greek olives, halved
1 Tablespoon capers, drained
Place eggplant slices onto a double layer of paper towels; sprinkle with sea salt. Leave to drain until salt draws water out, about 1 hour. Using a clean paper towel, wipe salt and moisture off, turning eggplant slices over as you go. Sprinkle with salt and let set again, until moisture is drawn out. Wipe salt and moisture off, then transfer to cutting board and cut into 1/2-inch cubes. Set a colander over a bowl. Using clean hands and working over colander, squeeze remaining liquid from eggplant, one handful at a time, transferring eggplant into colander as you go. Set aside, allowing to drain until ready to use.
Heat olive oil in large skillet set over medium-high heat. Add bell pepper, onion, celery, and red pepper flakes. Sauté, stirring occasionally, until vegetables soften, about 5 minutes. Add reserved eggplant; cook, stirring occasionally, about 5 more minutes. 
Add diced tomatoes and their liquid, plus 1/2 can of water, then stir in chopped garlic. Add vinegar, sugar, olives and capers. Cover and cook over medium to low heat, stirring occasionally, until all of the vegetables soften and mixture becomes thick, about 10 minutes or more. 
Serve hot as a vegetable side dish, or room temp, warm, or cold, as an appetizer or antipasto with bread or crackers. Freeze airtight, in resealable bag, up to 3 months.