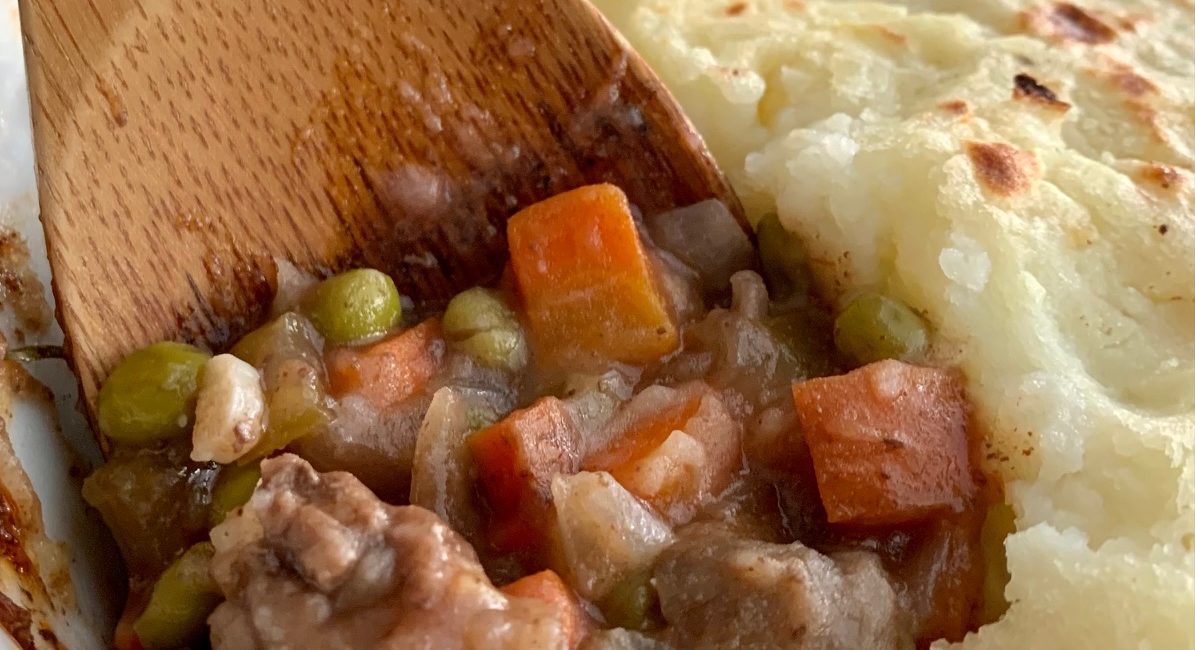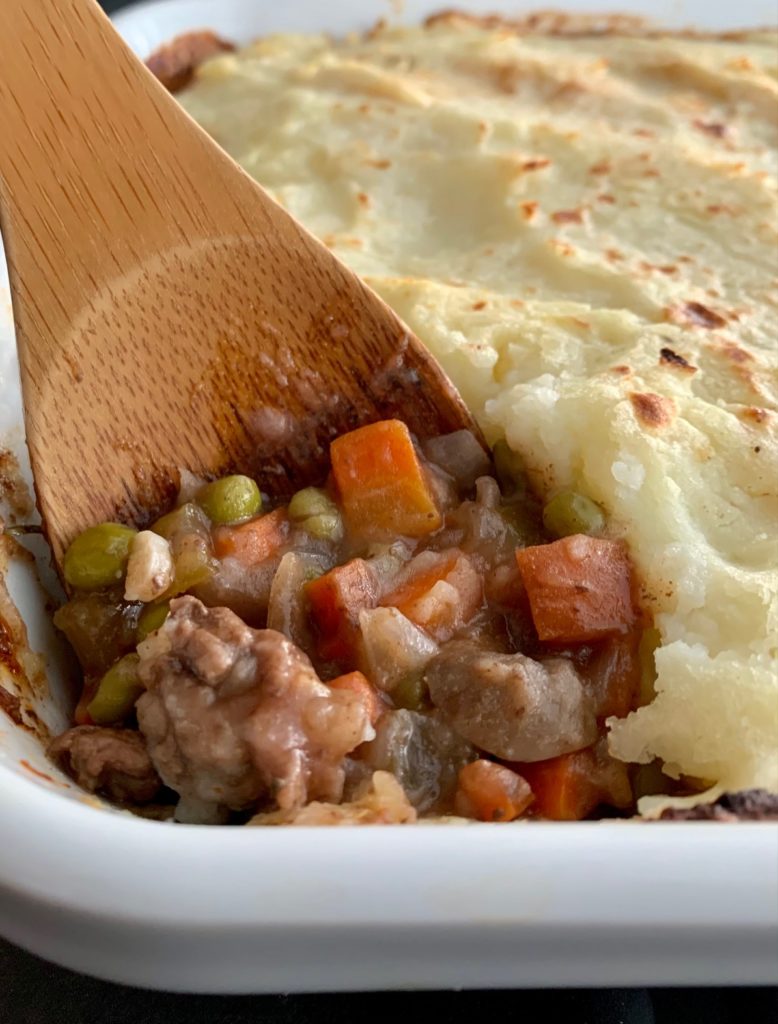 Stuffed with ground beef or lamb, padded with plenty of veggies, fortified with Guinness and topped with a pillowy puff of potatoes, Shepherd's Pie is fun for St. Patrick's Day. 
Use leaner ground beef, like 85/15 or better to reduce the fat in this recipe. Brown the ground beef first and then use the pan drippings to sauté the onions and vegetables so you don't need to add more fat. Adding mushrooms makes this more hearty and savory and also helps to stretch the meat in this recipe. Use fresh mushrooms if you happen to have them, but canned ones will save you from having to clean, slice and sauté. 
Make fluffy, light delicious potatoes with only 1 tablespoon of butter. Adding chicken bouillon concentrate to the warmed milk makes them extra flavorful without the need for added fat. Keep your mixer on low speed and don't over mix or they will become like paste. Add a pinch of baking powder while mixing to make them oh-so-fluffy. Make extra potatoes. You can freeze flat in quart size zip-top bags that are easy to defrost and reheat for a quick side dish, or to top another shepherd's pie in a hurry. 
Shepherd's Pie
2 1/2 pounds Russet or Yukon Gold Potatoes
1 teaspoon salt
1 tablespoon butter
3/4 cup 1% milk, well warmed, but not boiling
1 teaspoon Better Than Bouillon Reduced Sodium Chicken Base (optional)
1 1/2 lbs. ground beef or lamb
1 medium onion, chopped 
2 carrots, diced
2 stalks celery, diced 
3 cloves garlic, minced
2 6.6 ounce cans sliced mushrooms, well drained
1/4 cup flour (can be gluten-free)
1/2 cup Guinness Draught or dry red wine
2 cups beef stock 
2 Tablespoons tomato paste
2 Tablespoons Worcestershire sauce 
2 bay leaves 
1 Tablespoon minced fresh rosemary 
1 teaspoon fresh thyme 
3/4 cup frozen peas 
sea salt, freshly ground black pepper
Peel potatoes and cut into small chunks (about 1/2 – 3/4 inch) of equal size.  Place potatoes in a medium sized pot and cover with at least an inch of cold water; add salt. Bring to a boil, then reduce heat to simmer and cook until potatoes soften and break in half easily when pierced with a fork. Drain, then return to pot and add butter.  Use a hand mixer to whip and mash the potatoes, adding the warmed milk with chicken bouillon base dissolved in it a bit at a time, until potatoes are a creamy, thick mash.  Season to taste with salt and pepper.
Preheat oven to 375º F. Cook the ground beef or lamb in a large sauté pan until browned, crumbling with a spoon as it cooks. Transfer to a separate dish using a slotted spoon. Add onion to drippings in pan and sauté, stirring occasionally for several minutes. Add carrots and celery and continue to cook and stir, about 5 to 7 minutes, or until softened. Add garlic and mushrooms; cook several minutes more. Stir in flour and cook for 1 minute. Add Guinness or wine, stirring well to loosen any browned bits from the bottom of the pan. Return beef to pan then add beef stock, tomato paste, Worcestershire sauce, bay leaves, rosemary, thyme and peas. Stir and bring to a simmer. Reduce heat and continue to cook until sauce thickens a bit. Taste and season with salt and freshly ground black pepper. 
Transfer beef mixture to a 9 x 13-inch ovenproof baking dish. Spoon the mashed potatoes evenly over the top, covering to the edges. Cook for 20 minutes, or until golden and bubbly. Broil 1 to 2 minutes to brown potatoes if desired.