Radish and Turnip Salad with Edamame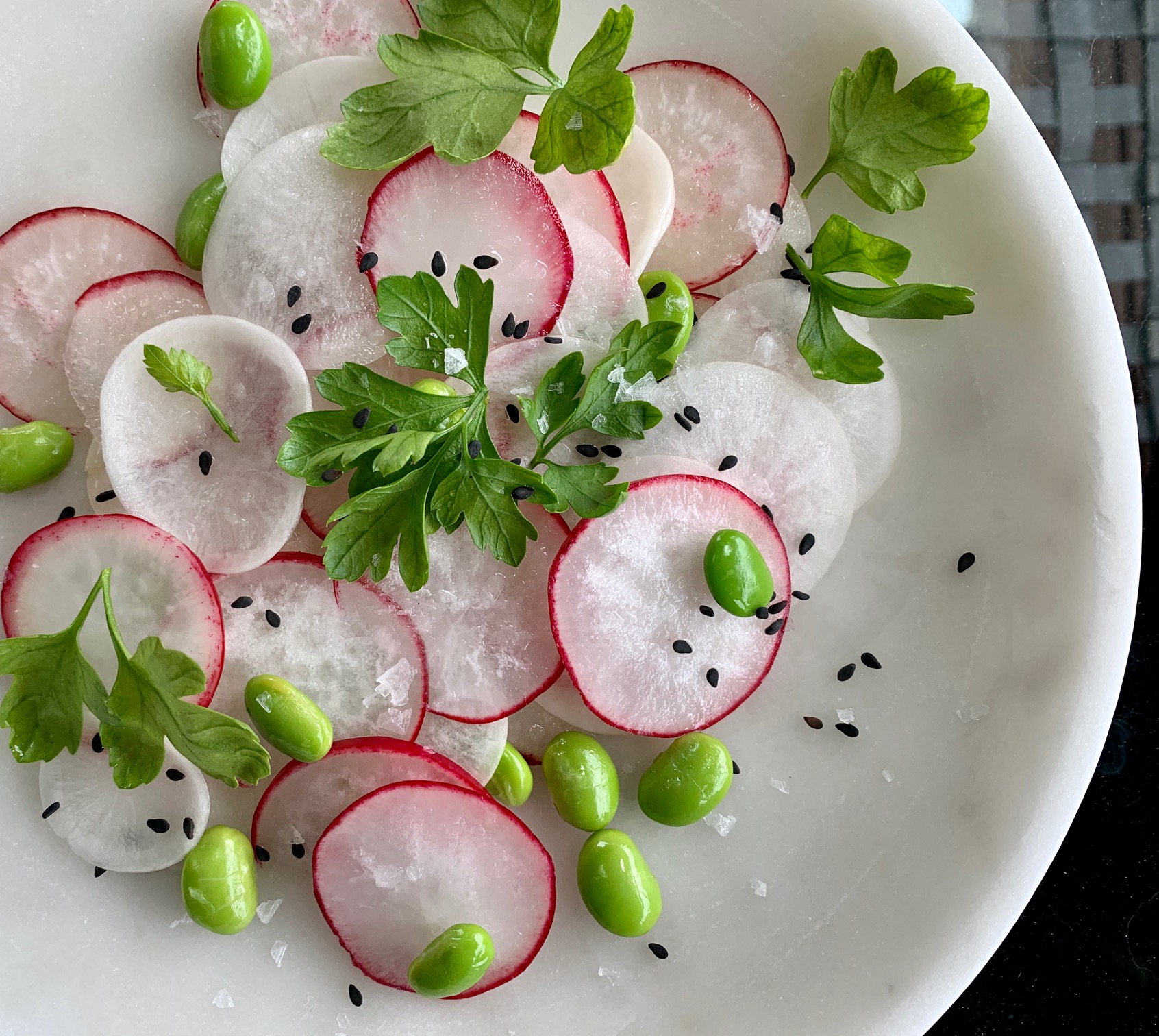 Food connects us. Certainly, with the ones around our table when we gather to eat, but also with our community when we source what we will cook. We have had big changes in the way we eat, shop, and dine. There is more cooking at home, less eating at restaurants, but also change in the way we source our food. I have always been a huge advocate of local food, but never more than now. Local farmers are our friends, but more than that, they're our neighbors.
Months ago, I signed up for a CSA. The farm I chose, Shady Grove Farm, was a nearby one, because I wanted to stay close to home. This week was the start of the the season and we got our first box. 
Part of the excitement of joining a CSA is getting to try something new. You have no idea what will be in each week's box, so you are literally handed an adventure every week. Our first share contained green onions, a picture perfect head of lettuce, a bag of fresh salad greens, and some bright red radishes. Also included in this allotment were some salad turnips peeking mysteriously out from beneath the collard greens and kale. I considered what to do with them, but thankfully, and thoughtfully, a recipe was included with the weekly email from our farmer.
This lively Radish and Turnip Salad with Edamame is crisp and light, perfect to serve alongside grilled chicken or salmon. The simple Asian flavored dressing was easy to pull off because I had frozen ginger stocked in my freezer, along with the edamame that was also called for. You can use granulated sugar in place of the caster sugar, or superfine, just plan to be stirring a bit longer. Shave your turnips using a mandoline to get wafer-thin, uniform slices. I used a small paring knife for the radishes, and if you don't have a mandoline, you can slice your turnips that way, too.
This week I'm grateful to our farmer. First, for the beautiful box of locally grown veggies and second, for this great recipe. It's quick, easy and delicious, plus it's a stunning way to use what's fresh and local for tonight's dinner. 
Even if you did not join a CSA this year, you can still find (almost) everything you need for this pretty salad at the Farmer's Market or your local farm. 
Radish and Turnip Salad with Edamame
dressing:
1 teaspoon finely grated ginger
2 Tablespoons rice wine vinegar
2 Tablespoons sesame oil
1 teaspoon caster (superfine) sugar
pinch Maldon sea salt flakes

 
salad:
3 – 4 turnips

 

1 bunch round, red radishes
3/4 cup edamame

 

fresh flat leaf parsley
black sesame seeds (to sprinkle)
pinch Maldon sea salt flakes

 
Whisk all ingredients for dressing in the bottom of a medium sized salad bowl. Finely slice turnips and radishes using a mandoline or small paring knife. Add turnips and radishes to salad bowl along with edamame and toss lightly. Plate and garnish with parsley. Sprinkle lightly with sesame seeds and sea salt flakes.
– recipe by Sara Silm, chateaumonfort.com