The weather is turning, along with the leaves, and it's now officially time to turn your oven back on again, too. Baking is a great way to slow down and savor the moment – an easy way to spend some meaningful time with your family, your friends, or just enjoy some quiet, down time lingering in the kitchen by yourself. Freshly baked muffins are always guaranteed to get a smile and coming home to the smell of something just out of the oven is a warm, fuzzy feeling like nothing else. Moist, tender and spiced just right, these Pumpkin Zucchini Muffins are what to bake now.
This one bowl recipe is so easy you can envelop your home with that intoxicating pumpkin spice aroma almost as fast as you can grab a bowl and a spoon. Made with maple syrup, this recipe is refined sugar free. You can use any kind of flour you prefer for baking, or make this gluten-free, which is what I did by using Bob's Red Mill 1 to 1 Baking Flour. Make it vegan by using egg replacer and non-dairy yogurt. Your batter should be fairly thick, but easily spoonable: thinner than a cookie dough, but heavier than a cake or pancake batter. I felt like my batter was a little thick, so I stirred in 2 tablespoons of kefir. You may not need to add anything, depending on how your batter looks and/or how much water you were able to get out of your zucchini.
While you're at it baking, clean out your pantry. Take a peek at your spices and do a quick inventory of what needs to be tossed and what's depleted. You'll be on top of things when you  start your holiday baking and have everything in order.
There's fall in the air. Slow down and smell the pumpkins.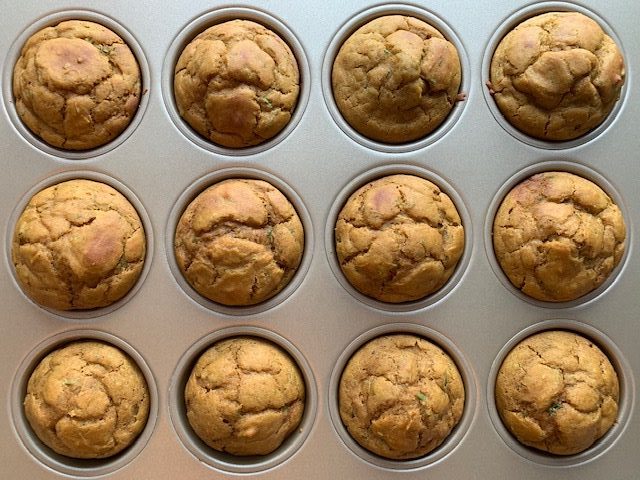 Pumpkin Zucchini Muffins
1 cup grated zucchini
1/3 cup oil
1/2 cup maple syrup
1 egg
1 cup pumpkin purée
1/2 cup Greek yogurt
1 teaspoon vanilla
2 teaspoons ground cinnamon
1 teaspoon pumpkin pie spice
1/2 teaspoon salt
1 teaspoon baking soda
2 cups flour
2 Tablespoons kefir, milk, or buttermilk (optional)
pumpkin seeds for topping (optional)
Preheat oven to 375° F. Lightly grease a 12-count muffin tin. Transfer grated zucchini to a paper towel lined colander and set aside to drain. Combine oil, maple syrup, egg, pumpkin purée, yogurt, vanilla, cinnamon, pumpkin pie spice, salt, and baking soda in a medium bowl and mix together using a hand mixer on low setting. Using paper towel, squeeze zucchini, wringing out until mostly dry. Add zucchini to bowl and mix to distribute. Add flour and mix until thoroughly incorporated and no lumps remain. Batter should be fairly thick; adjust if needed with kefir or milk of choice.
Spoon batter into muffin tin, filling each cup a generous halfway full, and top with pumpkin seeds, if using. Bake 15-20 minutes, or until a toothpick inserted in center of one muffin comes out clean. Let cool in pan until muffins easily release. Transfer to wire rack to cool completely. Store covered in airtight container.