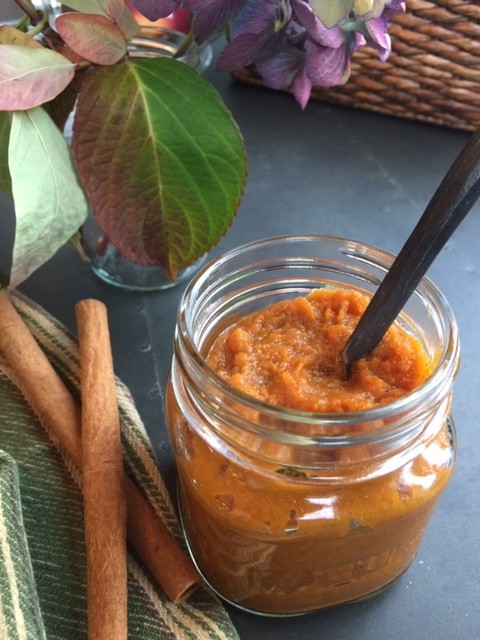 It's time again, and I am rabid with excitement.  This is even more thrilling than a new season of Dateline.  Pumpkin spice season is upon us, friends, and we need to run headfirst, full throttle, and with much glee, right into it.  Today it's all about pumpkin spice because October 1 is National Pumpkin Spice Day.   Grab that can of pumpkin and let's welcome fall!
Pumpkin spice is everywhere.  Coffee, creamers, cookies, baking mixes, and frozen goods flavored with this enticing cinnamon-scented favorite are easy to find and impossible to miss.  Most of the time, there is no actual pumpkin at all in these products, just artificial flavoring.  This quick Pumpkin Spice Mix-In is a great way to have some of that great pumpkin flavor and it's made from real pumpkin, so you're going to get some Vitamins A, C, and E, not to mention some fiber.  Pre-cooking your pumpkin helps it lose that "raw" flavor, and it only takes a few minutes to turn a can of pumpkin into something good, and good for you, that you can use all week long.  Stir some into your coffee for a make-at-home pumpkin spice latte, add some to your oatmeal, smoothies, or pancake/waffle batter.    Make these cute little individual servings of Pumpkin Spiced French Toast In A Mug.  Pint-sized and ready to go, they are quick to make ahead the night before and easy to microwave in the morning, or toss in your bag for the office.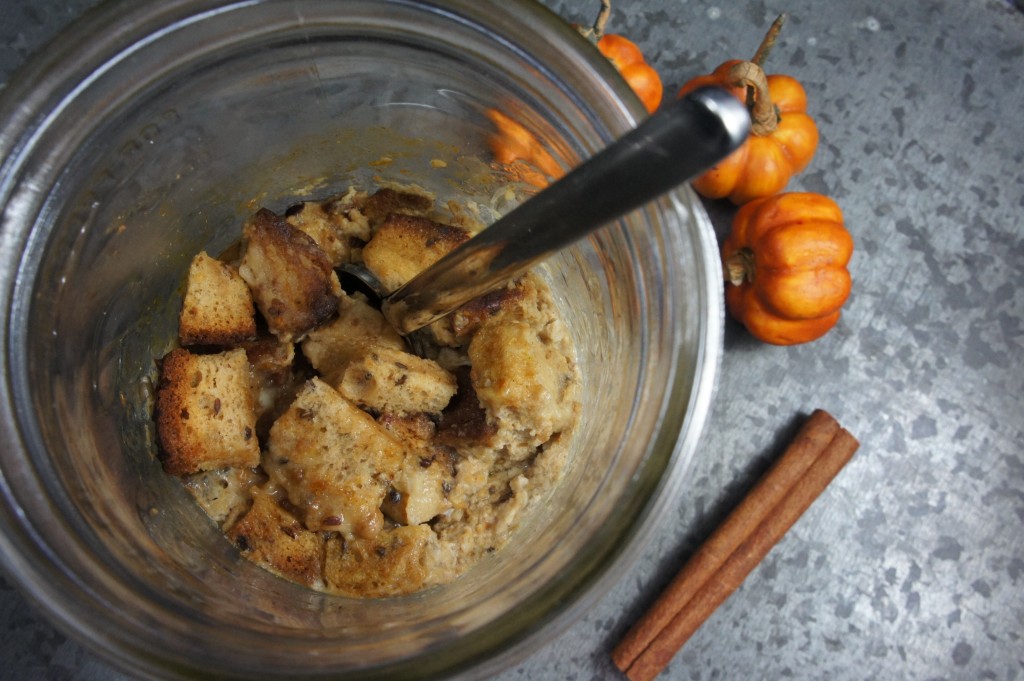 The Mix-In recipe is unsweetened, leaving you free to add whatever suits your dietary needs or food mood:  maple syrup, agave, honey, brown sugar, or stevia or nothing at all.  If you make the pumpkin pie spice below, you will not only have some to use all through the coming months, but you also just did a quick spice scan of your pantry.  Now is the time to notice you need fresh ginger, or more cinnamon, and add it to your grocery list.  Don't discover this in November, right as you are making the pumpkin pie, and be surprised to find you don't have the spices you thought you did.  Also, get in the habit of writing the date on each new bottle of spice as you open it.  No more guessing.
Lean in people.  It's only once a year, so get that pumpkin going.
Pumpkin Spice Mix-In
adapted from The Kitchn
1 15 ounce can pureed pumpkin
6 teaspoons pumpkin pie spice 
freshly ground black pepper
2 tablespoons vanilla extract
Cook the pumpkin and the pie spice with a generous grind of black pepper in a medium saucepan over low to medium heat, stirring until hot. Continue until color deepens and it smells cooked, at least 5 minutes.  Stir in vanilla extract.  Refrigerate for up to 1 week.
Pumpkin Pie Spice 
from The Kitchn
1 tablespoon ground cinnamon
2 teaspoons ground ginger
1/2 teaspoon allspice
1/2 teaspoon ground cloves
1/2 teaspoon ground mace
1/2 teaspoon ground nutmeg
Measure all ingredients into a small bowl, stirring to combine.  Store in an airtight container up to 1 year.