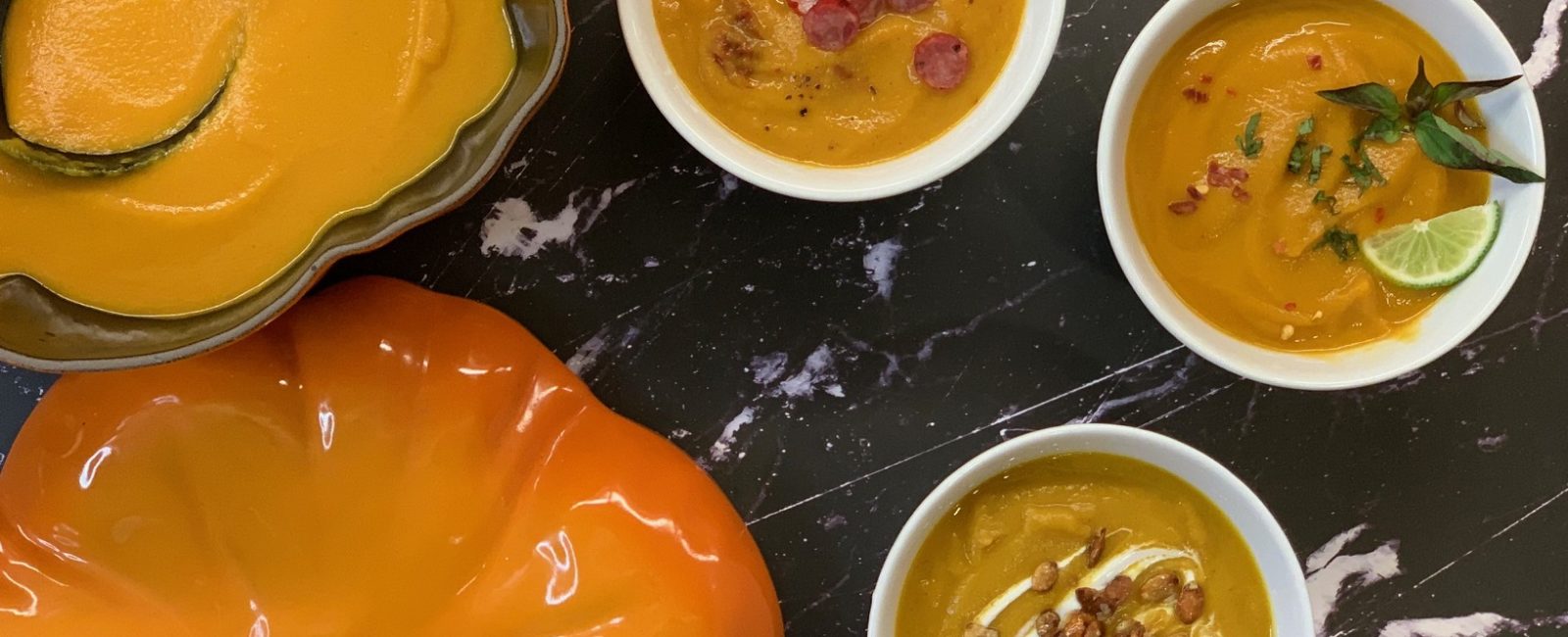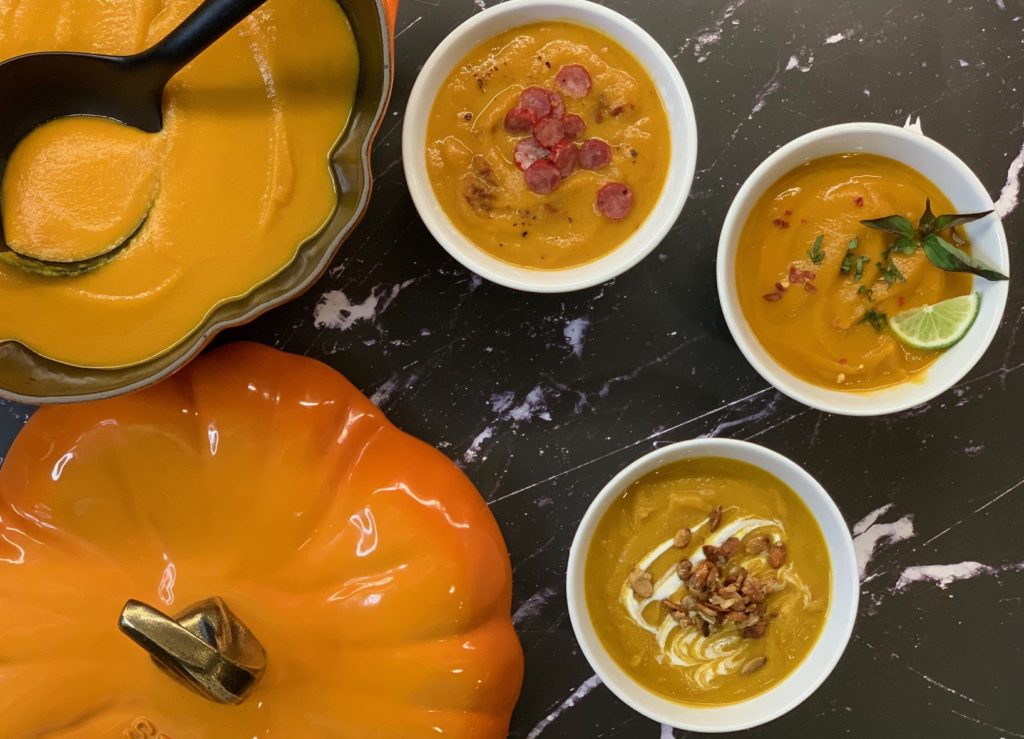 Be ready for that first drop of rain. Here's a trio of pumpkin soups, all of them healthy, quick and easy. Each of them is so delicious you should plan to make all three. All are gluten-free and plant-based as well, so gather your pumpkins, or cans, and let's make soup! 
I made 2 batches of this, one with canned pumpkin and the other with kabocha squash that I had cubed and frozen. Each of them was flavorful and filling, but the kabocha was a standout. It perfectly enhanced the Thai Coconut Pumpkin Soup and I wouldn't hesitate to use it in this recipe again. The canned pumpkin was not to be outdone. It worked nicely in the Pumpkin-Apple and the Chipotle-Spice Pumpkin soups and it gets points for ease and being on hand. You can choose canned or fresh. One pound of pumpkin yields four cups of raw, peeled and cubed pumpkin, or 1 cup of cooked and mashed pumpkin. For the recipe below, you will need 1 cup of canned pumpkin. If using fresh, choose any pumpkin you would use for pie or blue Jarrahdale varieties. 
I couldn't resist swirling a little yogurt on top of the Pumpkin-Apple Soup before sprinkling on the pepitas, which were so good I wish I would have doubled them. After I made the pepitas, I used the same nonstick skillet to quickly heat the curry paste for the Thai Coconut Pumpkin Soup, gently cooking it for a few minutes to release all the wonderful flavors and aromas. I added it to the soup afterwards, stirring it in along with the ground ginger. Buy regular, full-fat canned coconut milk and save money. You can make your own light coconut milk by mixing 1 part full-fat coconut milk with 2 parts water, which is like getting three cans for the price of one.
Use that leftover pumpkin. Add some to your smoothie, put it in your chili, use it to pumpkin spice your coffee, or make pumpkin butter. Add it to your oatmeal or overnight oats, pancakes, or french toast. Stir it into hummus or mac and cheese. Or, if this warmer weather keeps up, make pumpkin nice cream: 2 medium bananas, sliced and frozen, 1/2 cup pumpkin purée, 3/4 teaspoon pumpkin spice and a little maple syrup, if needed. Blend well and enjoy, or freeze for 24 hours to let harden.  
Pumpkin Soup Three Ways 
Pumpkin-Apple Soup
makes 8 3/4 cup servings
2 Tablespoons olive oil
2 cups chopped onion
3 garlic cloves, chopped
4 cups (1/2-in.) cubed peeled fresh pumpkin or butternut

 

squash (about 1 pound)
1 large Granny Smith apple, cut into 1/2-in. cubes
1/4 teaspoon ground cinnamon
1/2 teaspoon salt, divided
3 cups unsalted vegetable stock
2 Tablespoons raw hulled pumpkin seeds (pepitas)
2 teaspoons sugar
1/4 cup apple cider
Step 1
Heat oil in a large saucepan set over medium heat, swirling to coat; add onion. Cook 5 minutes, stirring occasionally, then add garlic and cook for 2 minutes. Add pumpkin, apples, cinnamon and 1/4 teaspoon salt. Cook 5 minutes, stirring often. Add stock, then bring to a boil. Reduce heat to medium-low; simmer 25 minutes, or until pumpkin and apples are tender. 
Step 2
While soup cooks, combine pepitas, sugar, and remaining 1/4 teaspoon salt in a medium nonstick skillet set over medium heat. Cook until sugar melts and pepitas are toasted, stirring often, about 7 minutes. Transfer to a plate and cool completely, breaking up any clumps. 
Step 3
Place half of pumpkin mixture in a blender. Secure lid on blender, removing center piece of blender lid to allow steam to escape. Place a clean towel over opening in blender lid to avoid splatters, then blend until smooth. Place soup in a bowl and repeat procedure with remaining pumpkin mixture. Pour in apple cider, then reheat in pan if needed. Divide soup evenly among 8 bowls and top each bowl with pepitas. 
Thai Coconut-Pumpkin Soup 
Step 1
Omit cinnamon and add 1 teaspoon ground ginger; add 1 Tablespoon plus 1 teaspoon red curry paste to pumpkin and apples.
Omit apple cider and add 3/4 cup light coconut milk and 1 Tablespoon lime juice.
Step 2
Omit pepitas, sugar and salt. Sprinkle with cilantro before serving. Serve with lime wedges.
Chipotle-Spiced Pumpkin Soup
Step 1 
Increase cinnamon to 1/2 teaspoon. Add 1 finely chopped, seeded chipotle chile canned in adobo sauce to pumpkin and apples. 
Omit apple cider, adding 1/4 cup water instead. 
Step 2 
Omit pepitas, sugar and salt. Garnish with 1 ounce thinly sliced and slivered Spanish chorizo (or plant-based chorizo) cooked in a small skillet over medium-low heat until crisp. 
-Cooking Light, October 2016