Pork and Scalloped Potato Stew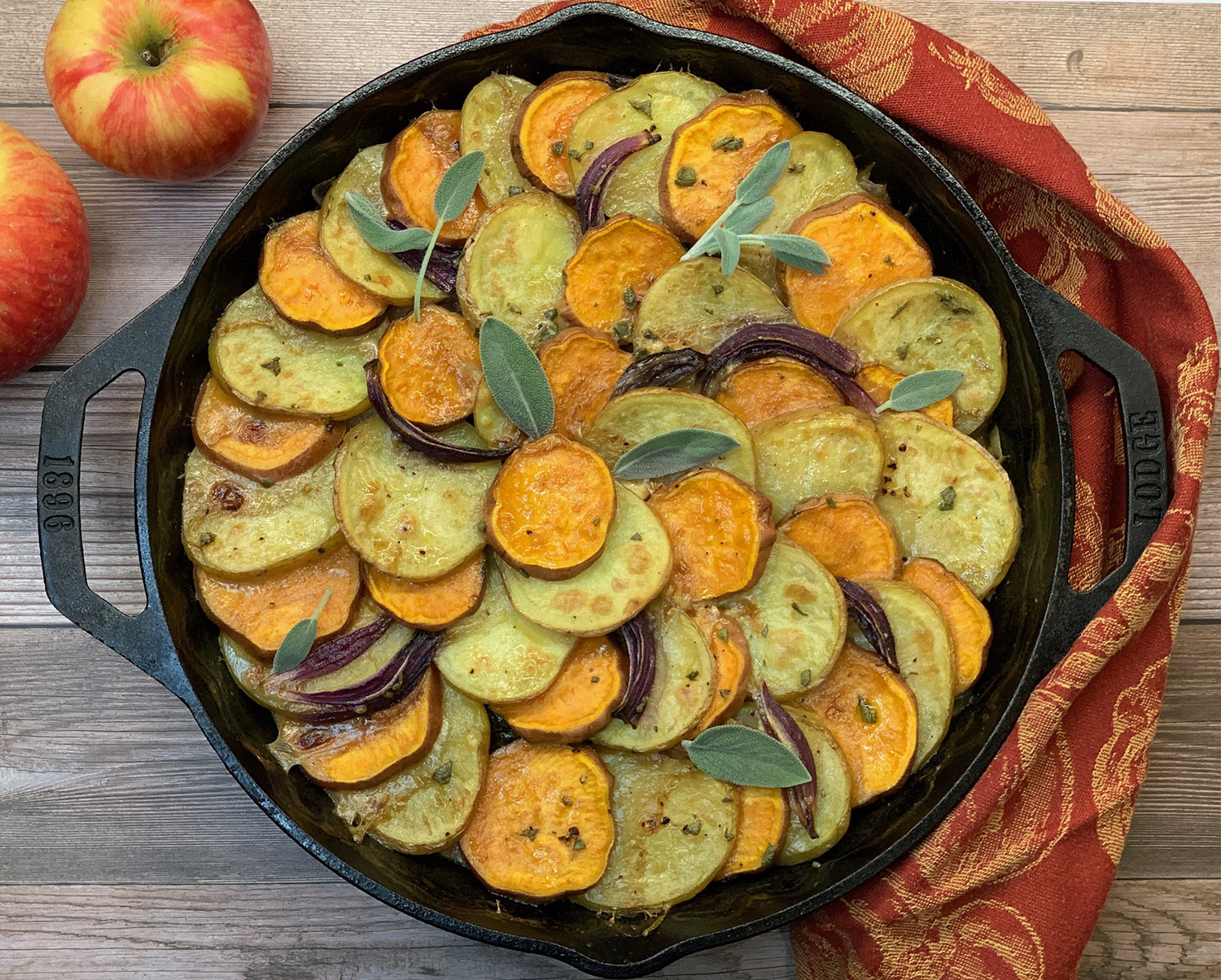 Embrace the cooler weather with a warm and cozy meal. As you bundle up and transition into the new season, settle in for the evening and gather everyone for this delicious Pork and Scalloped Potato Stew. Made with cider, sage, sweet potatoes and pork shoulder, it's everything you love about stew and savory pie, but it's topped with scalloped potatoes. What could be better than that? 
You could make this on a weeknight, time permitting, but I like the idea of simmering this together on a weekend so you can take your time. You can enjoy the savory aroma while it bubbles away on the stovetop and also take advantage of the oven's warmth to help heat your house on a day when you're home. 
Everything cooks in one pot, for bigger flavor and fewer dishes, and most of the ingredients are things your are likely to have hanging around your kitchen in the fall. The only seasoning is a bay leaf and some fresh sage. The stew gets the rest of its wonderful flavor from the aromatics of the ingredients and the cider you are using.
Leave the pork somewhat uncooked and just sear it until it browns on a few sides. It will finish fully cooking and become perfectly fork-tender in the stew. Leeks are a wonderful root vegetable and they add a mild onion-like flavor. Trim away the dark green ends, then cut off the root end and cut into slices. Soak your leeks in a bowl of water, swishing to remove any traces of dirt that can get trapped in between the layers, then drain and rinse well. 
The fresh kale at the grocery store didn't look so fresh at all. It wasn't as perky as usual, so I used a bag of Trader Joe's Organic Power Greens, a mix of baby kale, chard, and spinach instead. You will use sprigs of fresh sage in the stew and also add it chopped to the scalloped potato topping. Keep a little of the chopped sage reserved so you have it to sprinkle over the top of your finished dish before serving. Fresh sage keeps fairly well, and you can make good use out of any that you have left over by making an easy brown butter sage sauce that you can spoon over pasta or roasted squash.
I used a very large Honeycrisp apple, wanting to have lots of apple slices throughout. You could add white beans to the stew if you like, or make it plant-based by using hearty mushrooms in place of the pork. I used Bob's Red Mill Gluten-Free 1-to-1 Baking Flour to make this gluten-free. Use light whipping cream, and I suggest using about half of the 1/3 cup that is called for. I measured and seasoned the suggested amount, but had quite a bit of it leftover after I brushed it over the top. 
Homemade and delicious, this is something to look forward to.  
Pork and Scalloped Potato Stew
Pork Stew
1 1/2 pounds (700 grams) trimmed pork shoulder, cut into 1-inch cubes
kosher salt
freshly ground black pepper
2 Tablespoons plus 1 teaspoon flour

 

1 Tablespoon olive oil
1 Tablespoon unsalted butter
1 red onion, peeled and cut into 8 wedges
1 large carrot, cut diagonally into 3/4-inch slices
1 leek, white and light green parts only, washed and cut into 1-inch slices
4 garlic cloves, roughly chopped
1 cup dry cider
1 cup low-sodium chicken stock
2 sprigs fresh sage, leaves picked and chopped, some reserved for the topping
1 bay leaf, optional
1 firm sweet apple, such as Gala
1 Tablespoon lemon juice
2 handfuls (about 2 cups) roughly chopped hearty greens, such as green kale, black kale, or collards

 
Scalloped Potato Topping
1/3 cup 35% cream

 

kosher salt
freshly ground black pepper, to taste
freshly grated nutmeg
1 Tablespoon finely chopped sage, plus more for serving
2 medium (about 1 1/4 pounds) sweet potatoes, sliced 1/4-inch thick
2 medium (about 3/4 pound) yellow potatoes, sliced 1/4-inch thick
1 small red onion, thinly sliced into rounds

 

sour cream, for serving
For pork stew: 
Set a large (12-inch) cast-iron skillet or oven-proof pan on stove and warm over medium-high heat. Season pork in a large mixing bowl with salt and pepper. Scatter with 2 tablespoons flour and toss to coat. Add the olive oil to the pan then sear pork in batches until golden brown. Transfer to a plate. 
Add butter to pan along with the onions, carrot and leek. Cook, stirring occasionally, just until they begin to develop a little color, about 5 to 8 minutes. Stir in the garlic along with the remaining 1 teaspoon flour and cook for 1 minute.
Add the pork and any juices back into the pan. Add the cider, scraping the bottom of the pan to release any brown bits. Stir in the stock, sage sprigs and bay leaf. Bring to a boil. Cover the pot, reduce the heat to low and simmer for 45 minutes.
Meanwhile, peel and cut the apple into 8 to 12 wedges, toss with lemon juice and set aside with the greens. 
For scalloped potato topping: 
Preheat oven to 400º F. In a liquid glass measuring cup, combine cream with salt, pepper, a pinch of nutmeg and chopped sage. 
Remove bay leaf and sage sprigs from the simmered stew and stir in the apples and greens. Cover with a lid and let cook several minutes to until greens soften and cook down a bit; remove lid. Arrange sliced potatoes on top, alternating between the two colors tucking in slices of red onion here and there. Brush the topping with the cream mixture and transfer the pan to the oven. 
Bake 45 minutes to 1 hour, or until potatoes are tender and golden brown on top. Cool for 10 minutes. Serve with sour cream and a sprinkling of sage. 
-Mary Berg, foodnetwork.com