Plum and Blackberry Granola Crisp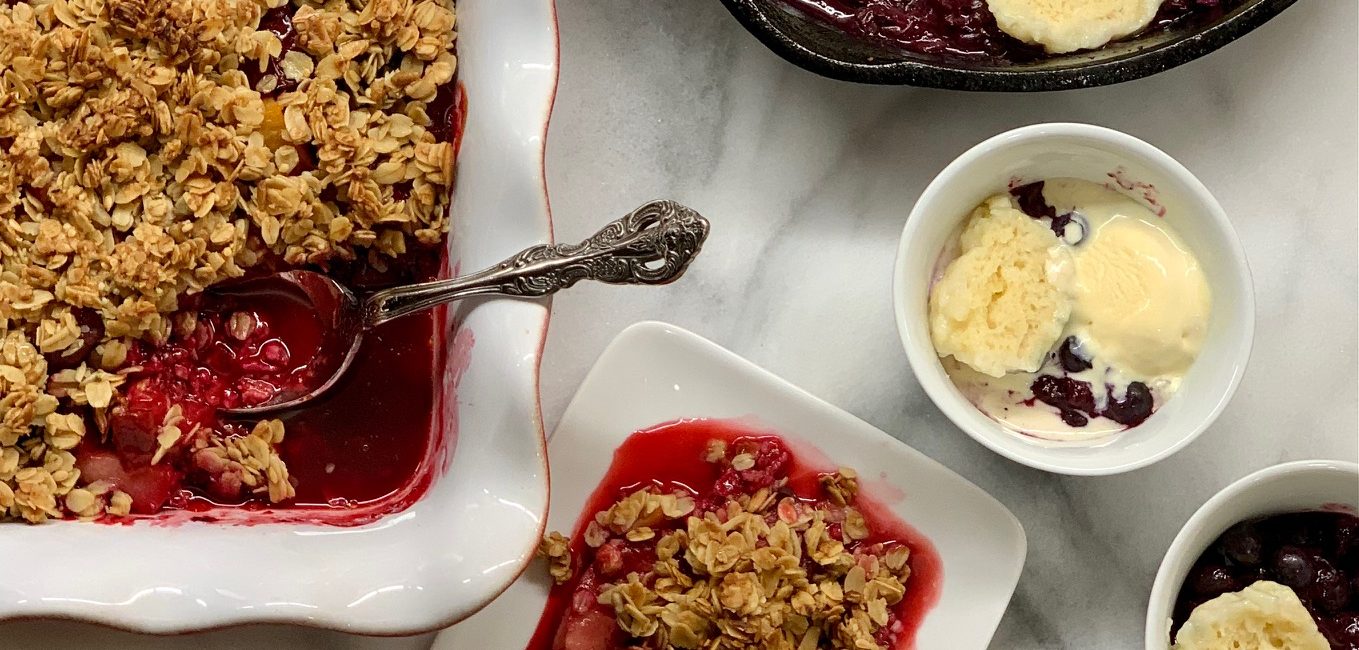 Slump, grunt and buckle. It sounds like a grueling exercise routine, but it's actually what you should do with all the fruit you have on hand this summer. Stone fruits and berries are at the peak of perfection, so now is the perfect time. It doesn't get any sweeter than this. Here are two recipes to get you baking.  
Much more delicious than they sound, slumps and grunts have all the appeal of pie without the hard work of constructing one. Rather than wasting time fussing with a crust, make one of these classic New England dishes made from diced fruit or berries cooked under spoonfuls of biscuit dough. Ideal for hot summer days, grunts are cooked on the stove in a lidded pot, the steam lending extra moisture to the biscuits. If you prefer to use your oven, a slump is the answer. The fruit and biscuit preparation is exactly the same, but you bake your finished dish rather than cooking it on the stove.  Both methods are a great way to use up any frozen fruit or less than perfect berries you discover at the bottom of the container you just bought. 
For this Blueberry Grunt, adust the amount of sugar based on your berries' sweetness. I used 1/4 cup and found it to be just right. I skipped the cinnamon but added just a bit of lemon zest to brighten the berry filling. Mix the dough very lightly, until it just comes together. This recipe makes a generous amount of biscuits. Cover and refrigerate any remaining dough. You can use it to top more fruit or make some quick biscuits for breakfast in the morning.  
Another delicious baked option is the buckle. A buckle is the best of both worlds:  a fresh fruit coffeecake topped with streusel that sometimes contains oats. It has dense-yet-tender cake, layers of fruit, and cinnamon-streusel topping, making it enjoyable for breakfast, dessert or any time of the day. 
For extra ease, try this Plum and Blackberry Granola Crisp. Bursting with berries, but not overly sweet, it gets a bit of balancing tartness and juiciness from the plums. You can use other stone fruit or berries in this recipe as long as you end up with about 2 pounds of fruit. This crisp is vegan and you can also make it gluten-free by using gluten-free oats and flour. I swapped sunflower and pumpkin seeds in place of the almonds to make this nut-free as well. The granola is made with olive oil and maple syrup, and I used whole-wheat flour in place of the all-purpose to add fiber and make this dessert healthier.  
Gather your fresh fruit and berries and get baking!
Blueberry Grunt
filling
1 cup water
1/4 – 3/4 cup granulated sugar
1/2 teaspoon lemon juice, plus zest
1/2 teaspoon cinnamon (optional)
1 quart blueberries (approx. 1/5 pounds, or 4 1/4 cups)
dough
2 cups unbleached all-purpose flour
2 teaspoons baking powder
1/2 teaspoon baking soda
1/2 teaspoon salt
4 Tablespoons cold butter, cut into small cubes
1 cup cold buttermilk
For filling: 
Combine water, sugar, lemon juice, zest and cinnamon in an 11" skillet or 6-quart Dutch oven and mix together. Stir in blueberries. Bring blueberry mixture to a gentle boil over low heat, stirring occasionally. 
For dough:
While berries cook, combine flour, baking powder, baking soda, and salt in a large bowl and whisk together. Work in cold butter cubes with a pastry blender, or use clean fingers. Quickly and gently stir in buttermilk until mixture forms a cohesive dough. 
Using a tablespoon, dollop the dough in small mounds over the blueberry mixture. Cover with a lid and cook over low heat until the biscuits are cooked through, about 15 minutes.
For each serving, scoop up berries with a biscuit or two and invert on a plate, so that berries spill down over the biscuit. Store covered and refrigerated; reheat before serving.
– King Arthur Test Kitchen
For Slump:
Preheat oven to 400º F. Make filling and dough as directed above. Drop dough onto simmering blueberry mixture, then transfer to oven. Bake, uncovered, 17-20 minutes or until dumplings are golden brown. Serve warm, with ice cream. 
Plum and Blackberry Granola Crisp
filling:
4 plums
2 cups fresh blackberries
2 Tablespoons raw sugar
2 Tablespoons fresh lemon juice
1 Tablespoon, plus 1 1/2 teaspoon cornstarch
kosher salt
granola topping:
1/4 cup extra-virgin olive oil
2 Tablespoons pure maple syrup
1 cup old-fashioned oats
1/3 cup sliced almonds
1/3 cup unsweetened shredded coconut

 

1/4 cup all-purpose flour

 

plain yogurt, whipped cream, or vanilla ice cream for serving (optional)
For filling:
Place rack in lower third of oven; preheat to 350º F. Toss plums, blackberries, raw sugar, lemon juice, cornstarch and a pinch of salt in a large bowl to combine. Transfer to a 9-inch diameter pie dish or 1-qt baking dish. 
For granola topping:
Stir oil and maple syrup in a medium bowl to combine. Add oats, almonds, coconut, flour and 2 pinches of salt. Work until mixture comes together in loose clumps; scatter over filling. Place crisp on a foil-lined rimmed baking sheet. Cook until topping is golden brown and filling is bubbling, 35-45 minutes. Let cool 30 minutes before serving. Serve with yogurt, whipped cream, or ice cream, if desired.
Can be baked 1 day ahead. Let cool completely; cover and chill. 
– adapted from recipe by Deb Perelman, epicurious.com