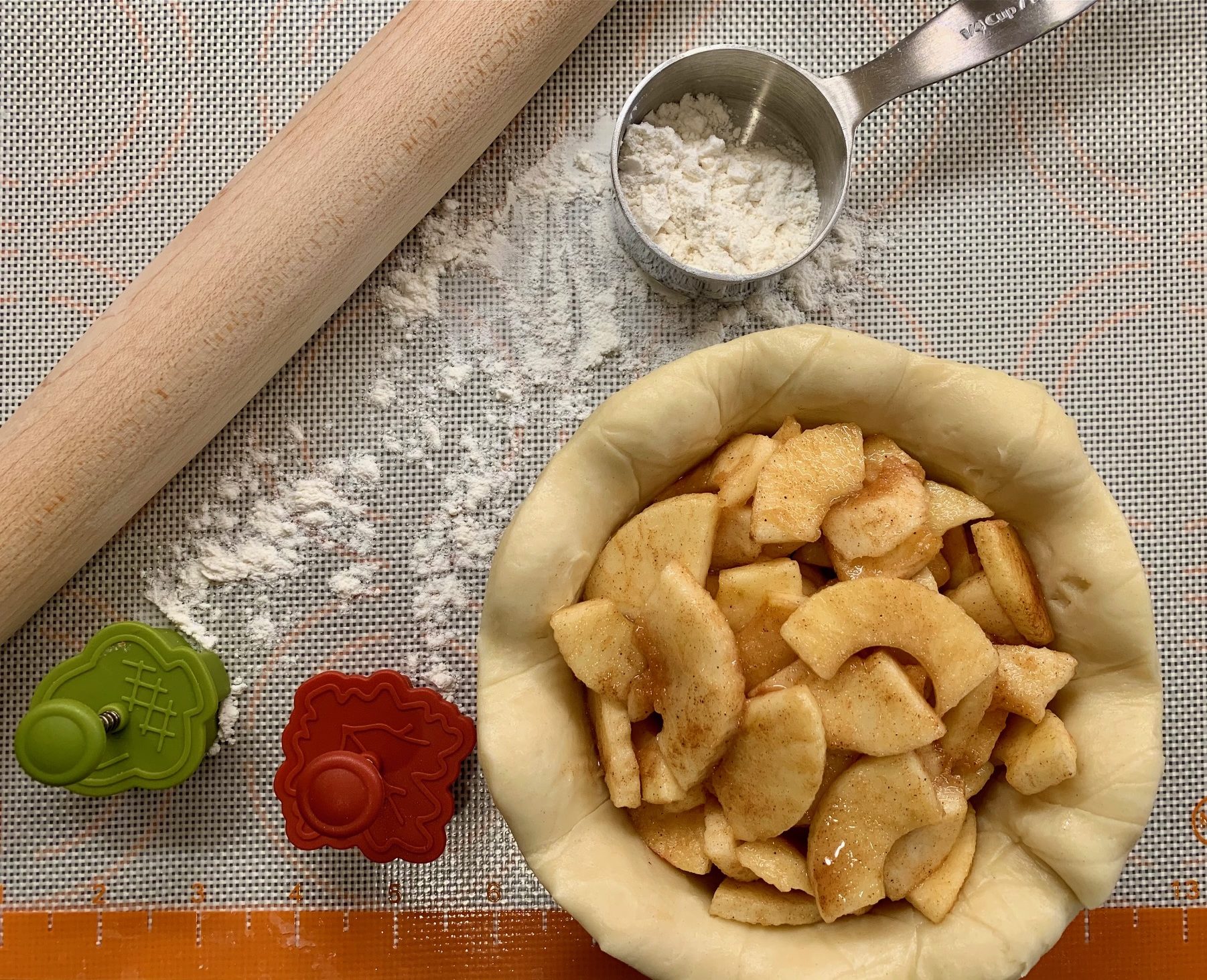 Thanksgiving is just one week away. Don't just stand there. Cook something! My kitchen is full of all the warm and cozy baking aromas of every Thanksgiving that ever was, and yours should be, too. Why wait? You can get ahead with your holiday, have your pie and eat it, too. 
If you have pie anxiety, get your crust done now. The food processor/flour mess is no big deal now, but it will be on the Wednesday before Thanksgiving. This easy pie crust recipe from Ina Garten is a cinch to make. Wrap your dough in plastic wrap and store in a zip top freezer bag. Transfer your dough to the refrigerator on the night before you plan to bake, so you're ready to roll. The recipe below makes two 10-inch crusts. That's enough for one pumpkin pie and one pecan, or one traditional crust apple. You can tuck one in the freezer for your pumpkin pie and make a few mini pies right now. (If we have learned nothing else this year, it's not to wait.) 
Keep your Thanksgiving stress-free. Try to knock off one dish per day, starting with your cranberry sauce. You can cook and stir this Cranberry Port Conserve while you're tidying up your dinner dishes. Next, make your sweet potato casserole. Prep some Sausage-Stuffed Mushrooms for an easy appetizer. You can freeze these already stuffed and set up on a baking sheet, so they're ready to transfer to a hot oven. If you are looking for a dish to make and share for your Zooms-giving, this is a good one. You can deliver a frozen batch of these knowing that they'll be safely baked in a hot oven: a mindful consideration for this year's pandemic gathering. 
Take a practice run at your pie making. And take it easy on yourself. 
Perfect Pie Crust
yield: two 10-inch crusts
12 Tablespoons (1 1/2 sticks) very cold unsalted butter
3 cups all-purpose flour
1 teaspoon kosher salt
1 Tablespoon sugar
1/3 cup very cold vegetable shortening
6 to 8 tablespoons (about 1/2 cup) ice water
Dice butter and return to refrigerator. Add flour, salt, and sugar to the bowl of a food processor fitted with a steel blade; pulse a few times to mix. Add butter and shortening, then pulse 8 to 12 times, until butter is the size of peas. With machine running, pour ice water down the feed tube one tablespoon at a time; pulse until the dough begins to form a ball. Dump onto a floured board and roll into a ball. Divide dough in half. Wrap each half in plastic wrap and flatten into a disk. Refrigerate for at least 30 minutes. 
Remove one half of dough from refrigerator and place between two sheets of parchment paper. Roll into a circle, rolling from the center to the edge, turning the parchment paper if needed. Remove top sheet then place in pie pan dough side down. Remove parchment paper and adjust dough if needed. Fill pie with filling. Repeat with top crust. Bake according to directions for your recipe.