Sausage-stuffed Mushrooms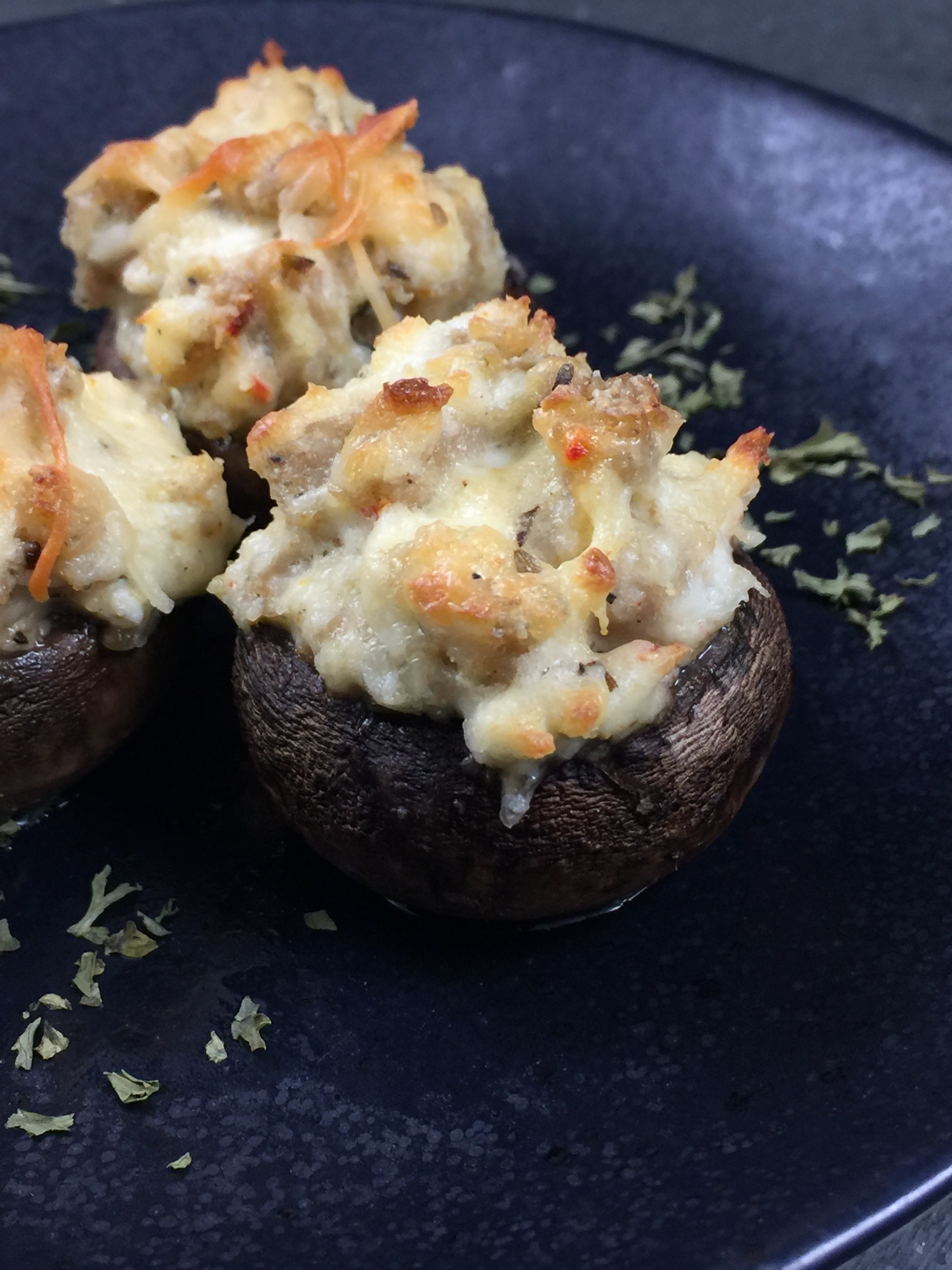 You may not know it yet, but your Thanksgiving is missing something.  You've got your turkey, stuffing, potatoes and gravy…  But what about that awkward time when people first arrive and everything isn't quite done yet?   When they ring your doorbell they are hungry.  Really, really hungry.  And it's hard to hold them at bay without some sort of peace offering.  Celery sticks and olives are not going to cut it.
It is really nice to welcome your guests with something warm to eat. These stuffed mushrooms are just the thing.  Made ahead of time, all you do is pop the tray into the toaster oven a little before go time.  Plate them up on something nice (it's Thanksgiving!) and keep everyone at bay while you tend to your turkey.  This recipe is from the November 2002 issue of Bon Appetit and was sent in by Louise Pickerel.  It has become such a part of our Thanksgiving that, "Did you make the mushrooms?"  is the first thing anyone ever says to me.
This is double the recipe as it was written.  The original recipe called for Italian sausages in casings.  I like using Isernio's bulk sausage because you can skip having to remove the casings, and also skip having to drain the grease off, because it is so lean.  I use reduced fat cream cheese and also like to use both grated and shredded Parmesan cheese.  You will have lots of filling (enough to stuff 24, or even more, mushrooms) and if you still have some left over when you fill all your mushrooms, you can put it in a bowl, heat it, and  serve it with bread.
Bonus points…  this recipe makes enough for Thanksgiving and some extra for the freezer.   Pull this out on New Year's Eve and you are ready to go again with a great appetizer.  Told you your Thanksgiving was missing something.
Sausage-stuffed Mushrooms
Two 16 ounce Isernio's Italian chicken sausage rolls
3 teaspoons dried oregano
1/2 cup Kraft grated Parmesan cheese
1 – 1 1/2 cups shredded Parmesan cheese, divided
1 teaspoon Worcestershire sauce
1 teaspoon garlic powder
Two 8 ounce packages reduced fat cream cheese, room temperature
freshly ground black pepper
2 large egg yolks
olive oil
24 large ( about 2-inch diameter) mushrooms, stemmed
2/3 cup dry white wine
Cook sausage and oregano in a large, deep skillet over medium-high heat until sausage is cooked through and browned, about 7 minutes.  Break sausage into small pieces while cooking. Let sausage cool then mix in 1/2 cup grated Parmesan and 1/2 cup shredded, Worcestershire sauce, and garlic powder.  Add cream cheese and mix.  Season filling with pepper and mix in egg yolk.
Brush baking sheet, or dish, with olive oil to coat.  Brush cavity of each mushroom cap with white wine.  Fill with sausage mixture and arrange, filling side up, in prepared dish.  Sprinkle with some of remaining shredded Parmesan cheese.  Cover and chill.
Preheat oven to 350 degrees F.  Bake uncovered until mushrooms are tender and filling is brown on top, about 25 minutes.
I use a serrated strawberry huller to remove the stems and clean out a small cavity in each mushroom cap.   You can make the filling now and freeze a larger portion for Thanksgiving, and a smaller one for New Year's.  The week of Thanksgiving, transfer filling to the refrigerator Tuesday night to thaw.  Wednesday you can rinse, stem, and stuff the mushrooms, or enlist one of your holiday helpers to pitch in.  Make sure the dish or sheet pan you use will fit in your toaster oven.  (Made that mistake one year!)    You will have more than enough filling for 24 mushrooms.  I always buy more and make more.  They reheat great the next day.
I wanted to keep the quantities accurate for a double batch, but know that you will not use all the shredded cheese when you make this for Thanksgiving,  and you will need some to sprinkle on top of the ones you make for New Year's.  You will use only 1/3 cup of the white wine at Thanksgiving, and you will, of course, have to buy more mushrooms to stuff for New Year's.