Make-Ahead Cranberry Port Conserve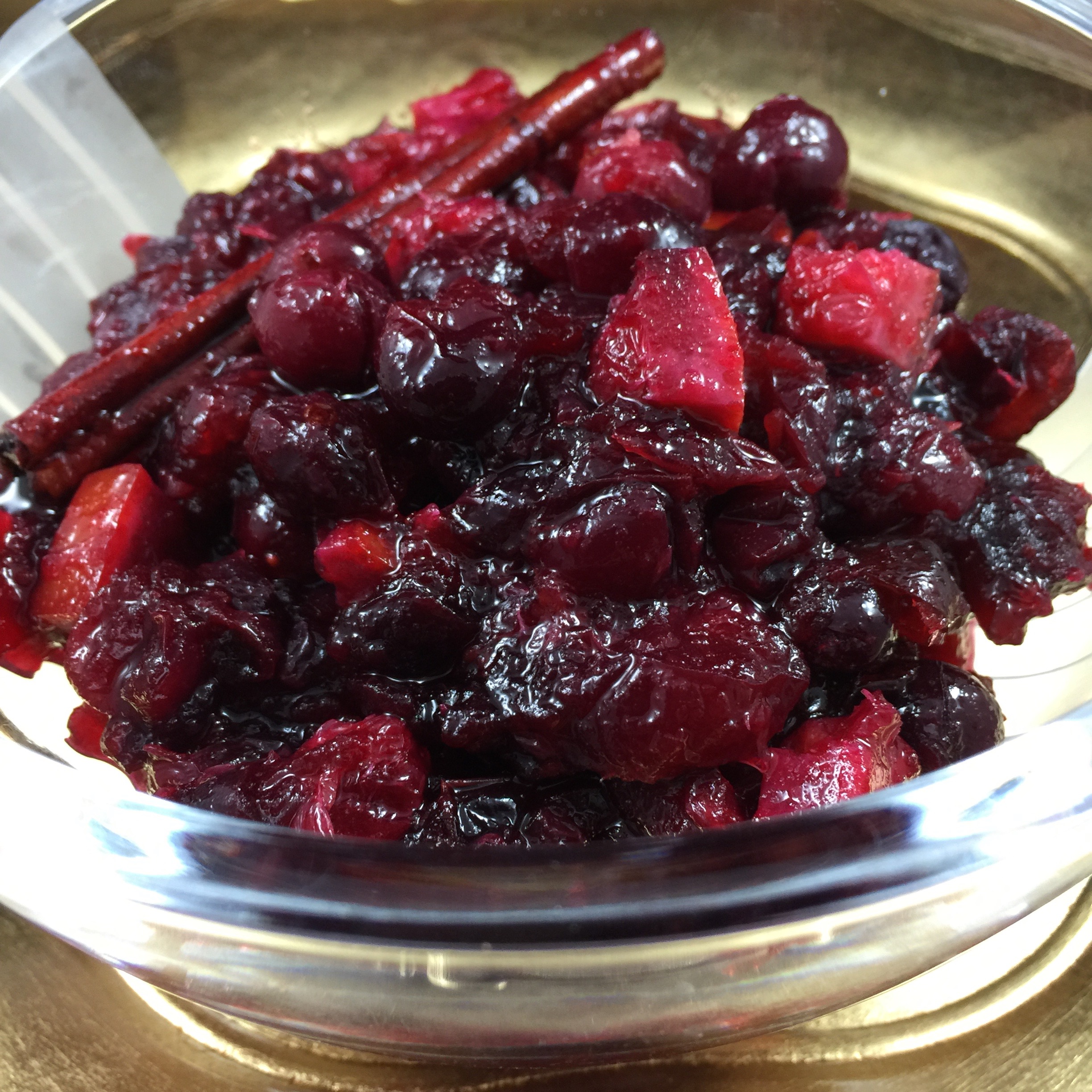 People can be sharply divided into two Thanksgiving camps:  whole berry and jellied.  The same family and friends you love all year can turn on you in a forkful if you mess with their cranberry sauce.  Everyone has an opinion, and it better come out of that can in a one-piece, ridge embossed shape.  Or else.
I came from a jellied family.  Our cranberry was an opaque, merlot-tinged wiggly goo.  And then I married a whole berry.  In order to keep the peace, two cans had to be served and get along nicely on that sharply divided table.  My family reluctantly agreed, but you could feel that they never really accepted it.  At first, they would just put his on the table.  Then, someone tried to take an empathy bite.  He ate his.  We ate ours.  This went on for years, all of us trying to be polite.
I felt bad for my husband in his whole berry isolation.  I decided to make him a special cranberry sauce.  A fresh one.  Maybe I could sway the others to his camp.  Whaddayaknow – people liked it.  They really did.  But not enough to give up the ridged and wiggly stuff.  (Traditions die hard.)  Now everyone  insisted on having the two cans and I had to make the fresh one, too.
Remarkably, the whole group has turned.  The home made cranberry sauce has swayed us all.  No more cans.  No more ridges.  Just whole, beautiful berries in a delicious compote that – "hurray!" – you can make ahead and freeze.
Make this sauce now and put it in the freezer.  When Thanksgiving rolls around, it will be one less thing to do.  Now everybody's happy.
Cranberry Port Conserve
5 heaping cups fresh cranberries 
1 cup sugar
3/4 cup ruby or tawny Port 
1 medium organic navel orange, unpeeled, chopped
1/2 cup dried cranberries, reduced sugar if desired
1/3 cup dried currants
2 sticks cinnamon
Combine cranberries, sugar, and Port in 3 quart saucepan.  Bring to boil over medium-high heat, stirring until sugar dissolves.  Reduce heat to medium-low.  Add chopped orange and simmer until cranberries burst and mixture thickens slightly, about 15 minutes.  Mix in dried cranberries, currants, and cinnamon sticks.  Cool completely.  Can be prepared 3 days ahead, kept covered and refrigerated, or frozen.
Fresh, local cranberries are easy to find in the grocery stores right now.  (One more reason to make this ahead!)  I always buy organic oranges for this recipe because you use the entire orange – peel included.  Any dried cranberry you like will work.  You can find reduced sugar dried cranberries at Fred Meyer.  I used Paradise Meadow brand because it didn't have artificial flavors, colors, or preservatives.
Once you gather the ingredients, this recipe is so easy you can make it while you're cleaning up after dinner tonight.  Making this yourself saves you money.  It is a lot less expensive than buying it from the deli case.  Also, if you have food allergies to consider, there are no nuts, which unfortunately, the  deli one does contain.   Freeze sauce in quart sized Ziplock bags for easy thawing.