Peanut Butter-Oat Blueberry Pie Bars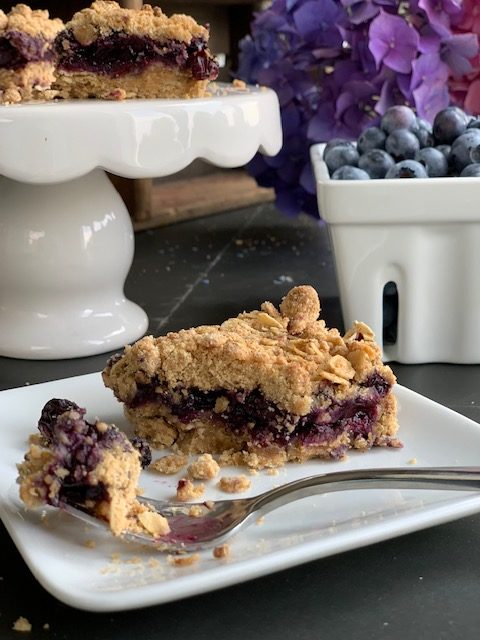 I want to buy a lunch box. I do not need one myself, and it has been a long time since I bought them for my children, but this end of summer rite of passage tugs at my heart every year.  There is just something about a new lunch box. Brand new and squeaky clean, it heralds the promise of new beginnings and captures all the excitement of getting off to a fresh start. It will hold endless sandwiches and snacks, some cleverly disguised leftovers, a note from mom (or one of her corny jokes) and sometimes the surprise of a favorite dessert. Back and forth it goes each day, suffering some indignities from a leaky thermos or a misaligned lid, or the great embarrassment of being left on the bus, until it reaches the end of its duty on the last day of school.
Capture that PB&J back-to-school vibe, and maybe have some fun making something in the kitchen with your kids while they're still home. These Peanut Butter-Oat Blueberry Pie Bars are easy to make and fun to eat. Soft and peanut buttery with a pie-like filling and crumbly oat topping, they pack well and would be a nice treat to find in that brand new lunch box. A sweet way to welcome them back from their first day of school, they would also be a great grab-and-go breakfast for those hurried mornings to come. Vegan and gluten-free, you can also use butter and regular oats and flour if your diet allows.  If you don't have oat flour, you can make your own by processing rolled oats in your blender or food processor until they become finely ground.
Hang in there, moms and dads. September is coming.
Peanut Butter-Oat Blueberry Pie Bars 
crust and crumble:
1

 

1/2 cups gluten free oat flour, or all purpose flour

 

1 cup gluten-free, old-fashioned rolled oats

 

1/2 cup packed brown sugar
3/4 teaspoon ground cinnamon
1/4 teaspoon baking soda
1/4 teaspoon kosher salt
1/2 cup no-stir creamy, organic peanut butter
2 Tablespoons vegan butter, melted

 

1 teaspoon vanilla extract
filling:
1 Tablespoon cornstarch or arrowroot
1 Tablespoon water
2

 

1/2 heaping cups cups fresh or frozen blueberries
3 Tablespoons pure maple syrup
1/4 teaspoon almond extract
Line an 8×8 inch pan with parchment paper leaving several inches of overhang on both sides. Spray generously with non-stick cooking spray. 
Combine oat flour, oats, brown sugar, cinnamon, soda and salt in a large bowl and light stir. Melt butter in microwave, using a small, microwaveable bowl. Add peanut butter to warm butter and stir until combined. Stir in vanilla extract, then add peanut butter mixture to oats, stirring until dough clumps together but is still crumbly. Measure 1 3/4 cups into prepared pan, pressing dough to spread evenly over entire bottom. Transfer bowl with remaining crumble to fridge.
Preheat oven to 350º F. Combine cornstarch and water in a small cup; stir well and set aside. Add blueberries and maple syrup to a medium saucepan and cook over medium heat. Bring to a boil while stirring, using spoon to smash some of the berries. Reduce heat and add cornstarch slurry and almond extract, stirring and continuing to cook until mixture thickens, about 3-5 minutes. Remove from heat and pour over crust, spreading evenly with a spoon. 
Remove remaining crumble from fridge and sprinkle over blueberry filling. Bake for 30 minutes or until topping is golden. Cool completely on wire rack, then refrigerate. Use a sharp knife to cut into bars. 
– adapted from recipe as seen on ambitiouskitchen.com