Peanut Butter-Blueberry Breakfast Crumble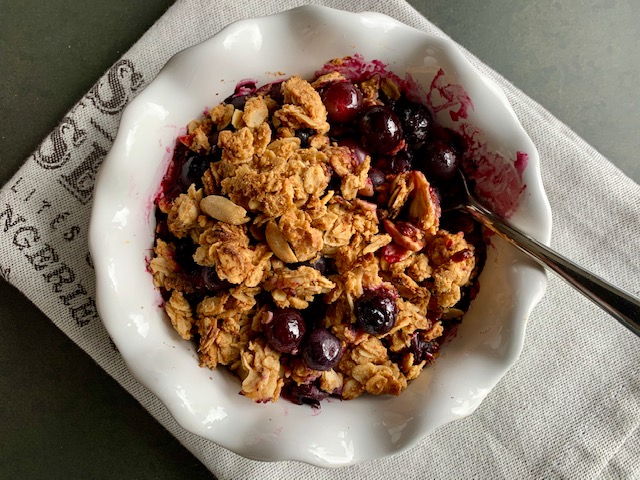 Wake up to something sweet. This Peanut Butter-Blueberry Breakfast Crumble is easy to make and guaranteed to get a thumbs up from all members of the family. Peanut butter and peanuts team up with rolled oats and a bit of maple syrup to make the crumbly, peanutty granola topping. Frozen blueberries – or any kind of berries that you have in your freezer – make up the fruity, jam layer. You can also use canned fruit, like peaches or cherries. Just drain well, add the lemon juice and cornstarch, and omit the maple syrup. If you don't have powdered peanut butter, you can substitute flour of any kind in its place. 
Bake this in individual ramekins for a 15-20 minute quick finish, or use a 9" x 13" baker for a bakes-in-one-pan/feeds-everyone dish. If using ramekins, make the berry filling in a large bowl, so you can toss the ingredients together before filling the individual dishes. Make it for breakfast, or serve it for dessert. You decide.
Cooking right now can be challenging to say the least. One minute you're baking focaccia for the first time, the next, you're repurposing hot dog buns into garlic bread (which, by the way, got high marks). Here are a few things that might help right now. First, don't forget about smoothies. The possibilities are endless, and made correctly, a smoothie can be a fast, easy way to get a good source of nutrition out of what you have. Next, use it up. This means leaves, stems, and all of it. Turn it into soup, or get crafty and make a salad. Don't let anything go to waste, because all of it is food. And last, here's a link to one of the best things I read all week: Cooking Through It: A 10-Day Meal Plan. It gives you some great meal ideas, but more importantly, it details how and what to swap, which is especially helpful right this minute.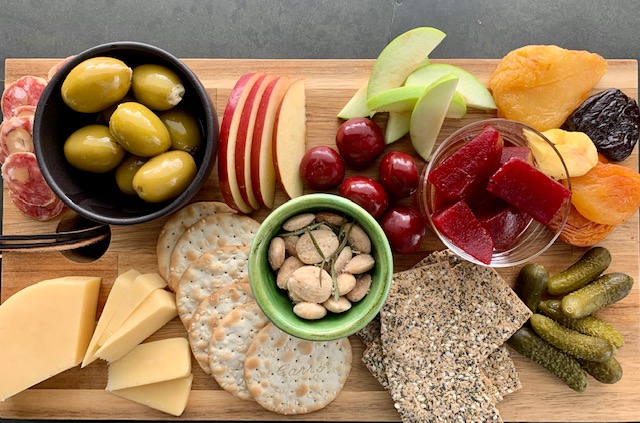 Finally, never underestimate the power of a snack board. Served at lunchtime, with a cup of warm soup, bits of this and that assembled artfully on a board can become a ploughman's lunch of sorts. Use fresh and dried fruit, nuts, olives, cheese, crackers, cured meat, whatever you may have on hand, and don't forget something sweet, like some chocolate cherries, for dessert. This can be an easy dinner, too, helping you to make a lot out of a little, but still make it something special. Hug your family. Hug your instant pot. Keep making the most of what you have. We can do this. 
Peanut Butter-Blueberry Breakfast Crumble
for filling:
4 – 5 cups frozen blueberries

 

2 Tablespoons lemon juice
1 Tablespoon maple syrup

 

2 Tablespoons cornstarch

 
for crumble:
1/4 cup maple syrup
1/4 cup peanut butter

 

4 Tablespoons olive oil

 

1 teaspoon vanilla extract
1 teaspoon cinnamon
1 teaspoon salt

 

1/3 cup powdered peanut butter
1 1/2 cups rolled oats (can be gluten-free)
1/2 cup roasted peanuts, chopped
Preheat oven to 400º F. Add blueberries, lemon juice, maple syrup and cornstarch to a 9" x 13" baking dish and toss lightly to coat. Set aside.
Combine maple syrup, peanut butter, and olive oil in a medium saucepan and warm over medium-low heat, stirring until combined. Add vanilla extract, cinnamon and salt; stir. Add powdered peanut butter, oats and roasted peanuts. Stir until all ingredients are incorporated and oats come together in clumps.  Sprinkle granola evenly over fruit. Bake 35-45 minutes, checking topping after first 15 minutes to avoid over browning. Once oats brown, cover with foil and continue to cook until berries are bubbling. Serve warm, with yogurt if desired. Let cool, then cover and refrigerate, up to 1 week.