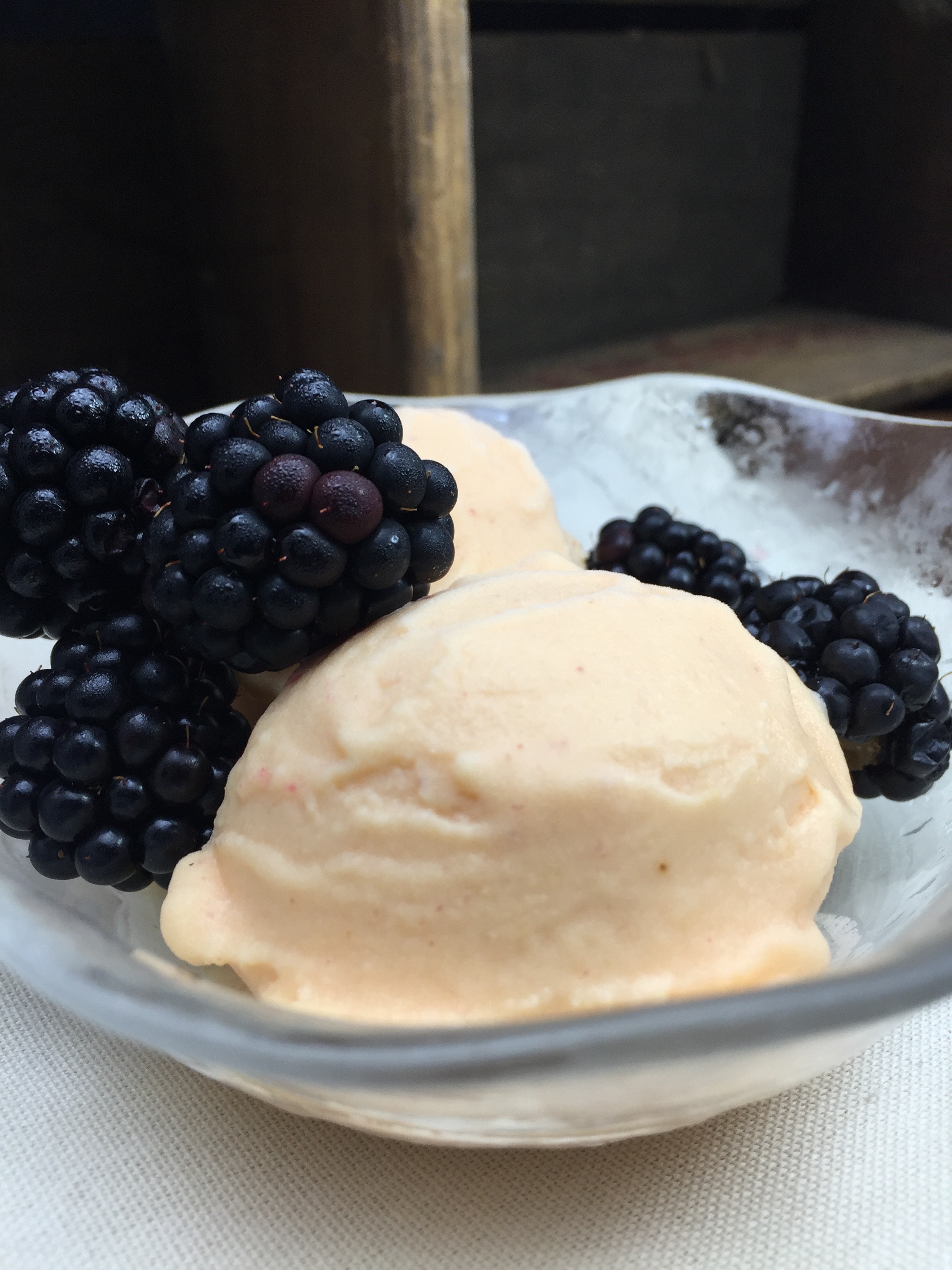 Last week we were soaking up the sun, this week we have a little too much of it.  We are just starting into a string of heat and already I'm too hot.
While you're tapping the weather app on your phone and trying to stay chilled re-watching Titanic for the umpteenth time, how about making something fun to help you stay cool?  The insert to my ice cream maker stays in my freezer all year, but usually it remains there as a nagging reminder to dig up a recipe and make some ice cream.   If I do get around to finding a recipe, I start debating how much fat and sugar it has and usually lose motivation around the part where I realize that you have to cook and refrigerate ahead of time.
Here's a better-for-you recipe you can actually follow through on.  If you happen to have some peaches and yogurt in your fridge right now, you are on your way to fast, easy home made peach frozen yogurt.   Northwest peaches are so sweet that you don't need to add much of anything else to make this yogurt taste good.  Don't fuss with peeling the peaches.  You can just leave the peel on and give them a quick blitz in the blender.  This recipe makes about 2 servings, but you can adjust by following a 1 peach to 1 container of yogurt ratio and adding in as much, or as little, of whatever kind of sweetener you prefer.
If you don't have an ice cream maker, pour the peach-yogurt mix into an ice cube tray.  Process cubes that are semi-frozen (or semi-defrosted) in your blender, adding a bit of milk to help the cubes blend to a thick, smoothie-like consistency.  If you have extra peaches, puree them with some lemon juice and freeze them into cubes.  Use them for smoothies or to blend in with more yogurt for frozen yogurt next time.  Top frozen yogurt with some fresh berries and stay cool.
Peach Frozen Yogurt
2 large ripe peaches
2  7-ounce containers 2% Greek yogurt
juice from 1/2 lemon
sugar, agave, honey, stevia or sweetener of choice
Cut peaches into large chunks and purée in blender.  Add lemon juice and yogurt and blend until thoroughly combined.  Taste and adjust with sweetener of your choice.  Transfer to pre-frozen insert of ice cream maker and process according to manufacturer's instructions.