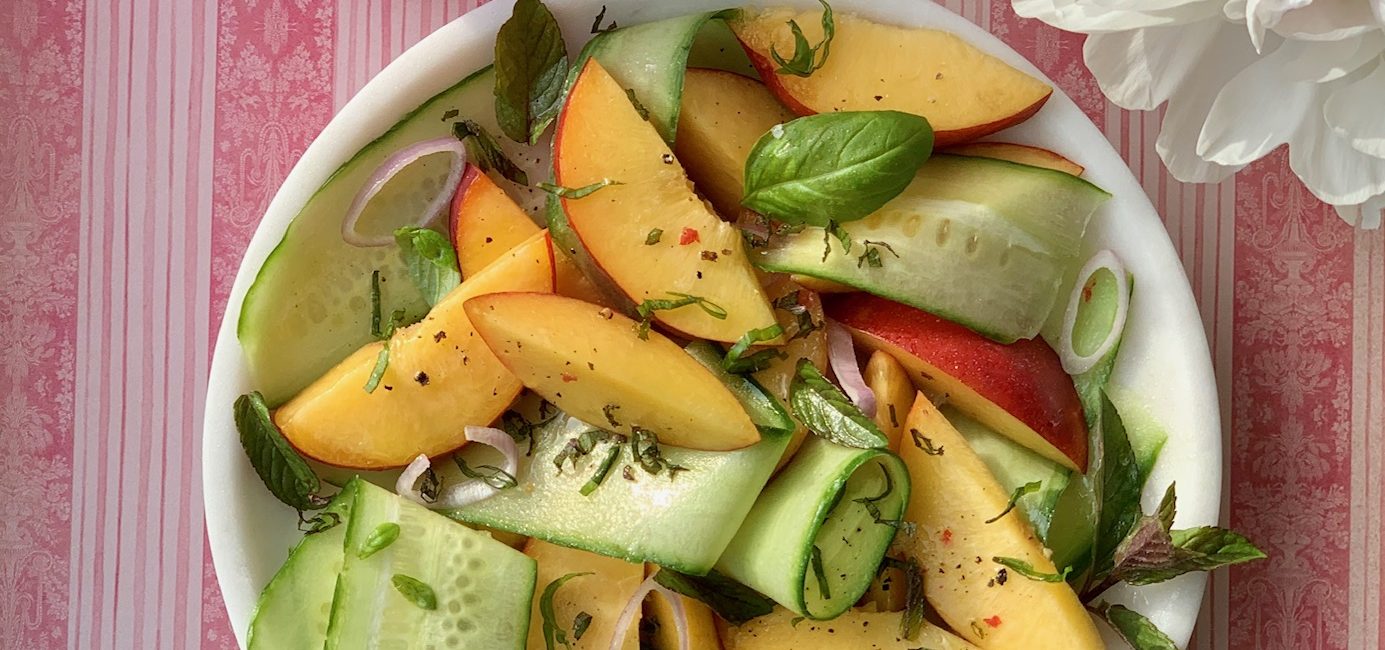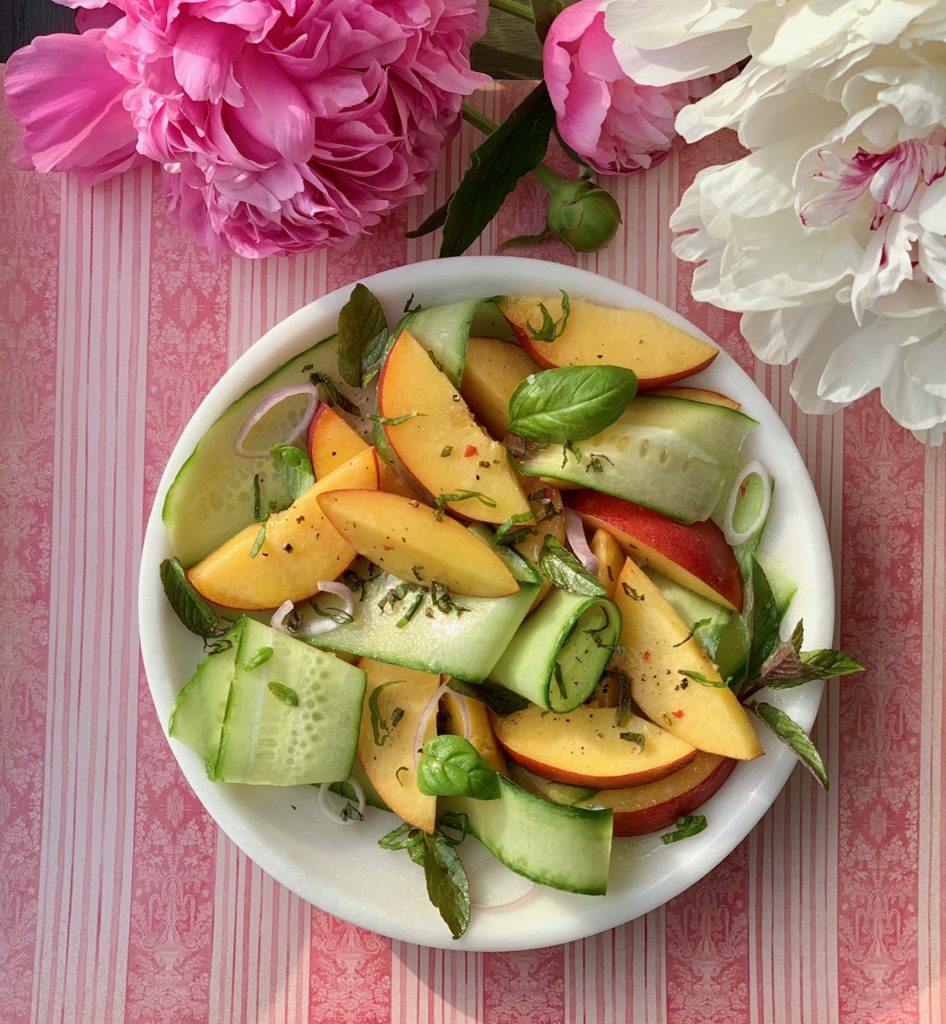 If you want someone to smile, say "peaches".  It works for photographers, and it will work for you, too, if you're serving up anything that features this enticing blushy fruit. Juicy, sun-ripened peaches are easy to pick right now, whether you do your picking at a roadside stand, U-pick orchard, or your favorite grocery. With peaches on hand, there's no reason you can't make something delightful right this minute. Here are 3 healthy recipes made with lushly sweet peaches. Simple and delicious, they're a quick and easy way to take a bite of what's fresh.  
Peaches and nectarines are similar stone fruits, but nectarines are smaller, firmer and smoother than peaches. Peaches are better suited to baking and softer-textured recipes, whereas nectarines stay firm and hold up better for cooking. Nectarines are almost genetically identical to peaches, with the exception of one gene, and that's the one with the fuzz on it. A nectarine is just a peach without the fuzz. 
Pair peaches with your favorite rosé wine and make Peach Ice Pops. Vibrantly peach colored, they are light and refreshing. A fun way to start, or end, a summer meal and a perfect treat for the hot days ahead. Using the entire peach, rather than just mixing fruit juice with wine, adds fiber, making these a frozen treat that's better for you. 
Grilled Nectarines are an easy way to make something fussy looking without fussing at all. Served with orange zested ricotta and a drizzle of honey, they're an easy appetizer, side or dessert. For an easy dinner, grill nectarines or peaches with chicken and add pesto. Brush fruit halves with pesto and grill, cut side down, until softened and warmed through, about 2-3 minutes. Grill chicken until lightly charred and golden brown, about 7-9 minutes, brushing chicken with pesto while it grills.  Turn and brush other side with pesto, continuing to grill until cooked through, about another 5-7 minutes or until internal temperature measures 165º F. Plate a generous mound of arugula on a serving platter and squeeze lemon juice over all. Drizzle with olive oil, then season with sea salt and freshly ground black pepper. Top with grilled chicken and peaches and drizzle with additional pesto.
Light and refreshing, Peach and Cucumber Salad makes the most of your deliciously ripe peaches. Combined with thin strips of cucumber and fresh mint and basil, it's a snapshot of summer on a plate. It takes just a few minutes, but it's oh so good. If you want to make it heartier, you can add crumbled feta, goat cheese, or cotija and some toasted nuts or seeds of your choice. And while we're talking salads, why not add some peach or nectarine slices to your caprese? 
Try one, or all, of these and enjoy the sweet taste of summer.
Peach Ice Pops
1 pound ripe peaches ( about 4, chopped)
1 cup rosé wine
1 Tablespoon fresh lime juice
1 to 2 Tablespoons honey
salt
Purée peaches, wine, lime juice, honey and salt in a blender until smooth. Using a 12-pop ice mold, divide purée among molds, filling to 1/2 inch from top. Freeze for 1 hour, then add sticks and freeze until firm, at least 4 hours. 
Per Pop 39 cal, 6.5g carb, 0.5 g fiber, 6 g sugars (2 g added sugars), 0g fat (0g sat fat), 0 mg cool, 11 mg sodium
Grilled Nectarines
1/2 cup fresh ricotta
1/2 teaspoon grated orange zest, plus more for garnish
1/4 teaspoon kosher salt
4 nectarines
2 teaspoons coconut sugar
4 Tablespoons chopped pistachios
honey to drizzle, optional
In a small bowl, combine ricotta, 1/2 teaspoon orange zest and salt. Stir together, then set aside. 
Heat grill to medium. Cut nectarines in half and sprinkle cut sides with coconut sugar. Grill, cut sides down, until slightly charred and beginning to caramelize, about 1 to 2 minutes. Turn and continue to grill, covered, 1 minute more. Transfer to individual plates or bowls.
Spoon ricotta over nectarines, then sprinkle with chopped pistachios, additional orange zest and a drizzle of honey, if desired. 
Per Serving 124 cal, 5 g pro, 18 g carb, 13 g sugars (2 g added sugars), 4.5 g fat (2.5 g sat fat), 16 mg cool, 146 mg sodium
Peach and Cucumber Salad
2 Tablespoons olive oil
1 Tablespoon white wine vinegar

 

1/4 teaspoon each kosher salt and ground black pepper
1 small shallot, thinly sliced
1/2 small red chili, thinly sliced
2 ripe peaches or nectarines, cut into 1/2-inch thick wedges
1 Kirby cucumber
1/4 cup fresh basil, torn
1/4 cup fresh mint, torn

 
Combine olive oil, white wine vinegar, salt and pepper in a small bowl and whisk together. Stir in shallot and red chili. Add peaches or nectarines and let sit, tossing occasionally, for 5 minutes. Cut cucumber into long, thin strips using a vegetable peeler. Fold cucumber into peaches along with fresh basil and mint.  
Per Serving 100 cal, 1 g pro, 9.5g carb, 2 g fiber, 7 g sugars (0 g added sugars), 7 g fat (1g sat fat), 0 mg cool, 123 mg sodium
– recipes and nutritional information from Prevention Magazine, July 2022