Pasta with Silky Eggplant Sauce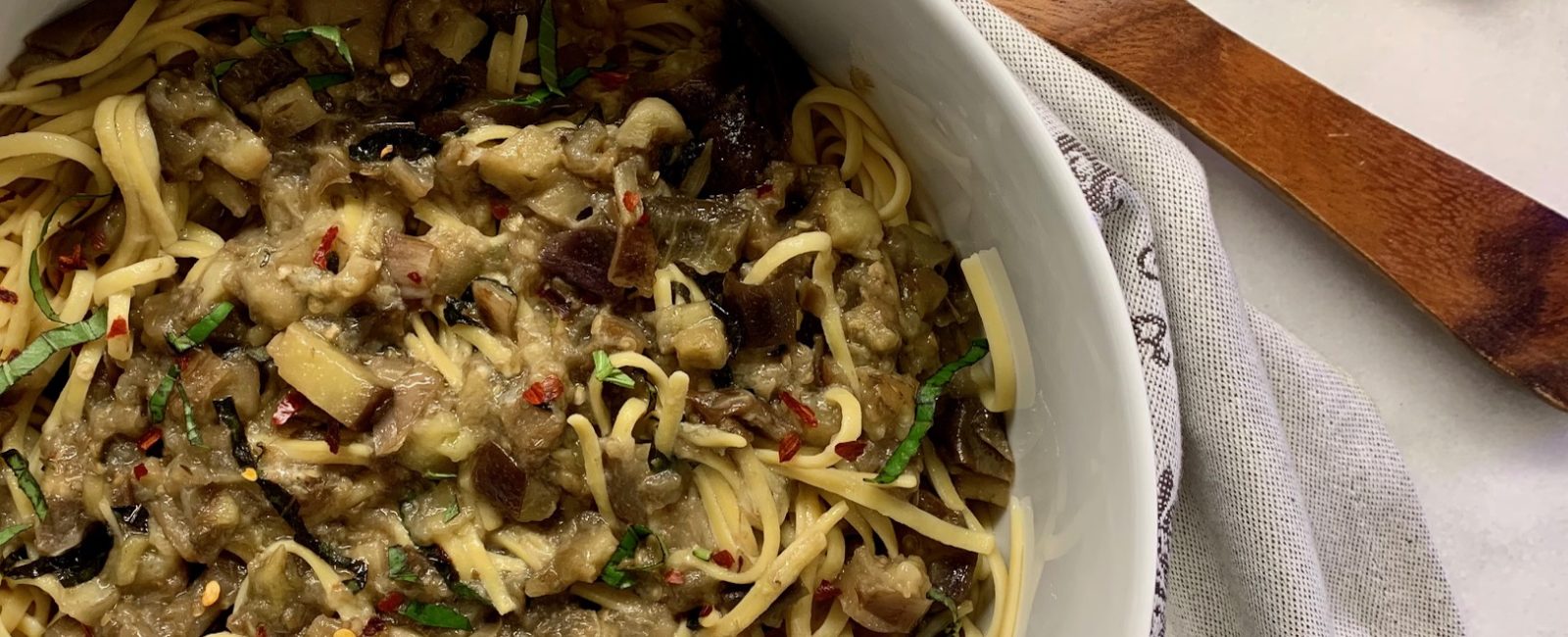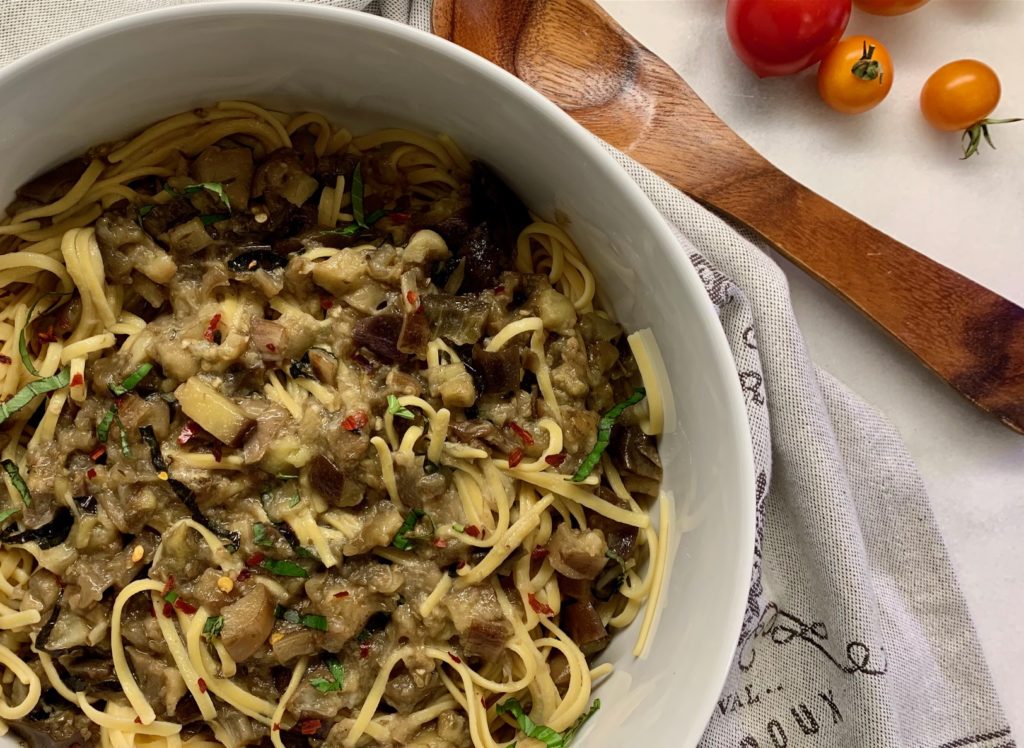 Three beautiful eggplants peeked out from the bottom of my CSA box this week. Shiny, deep dark purple, they were so perfect I dared not admire them long. Eggplant waits for no one. It will go from "Oh, wow!" to "Oh, no!" faster than you can say, "But, I just bought this!" 
There are plenty of ways to do eggplant, all delicious, some more labor intensive than others. When eggplant looks good at the market, I am always inclined to make caponata, the Sicilian eggplant appetizer I grew up with. Or ratatouille. That end-of-summer recipe that brilliantly combines everything that seems to be ripening all at once. 
Here's a quick, easy and totally delicious way to enjoy eggplant. It's low fuss, big flavor and it's all about the cooking technique. Start with fresh, firm eggplants that are heavy for their size. Eggplants at their best are much less likely to be seedy and bitter. You do not need to cut the eggplant precisely. It's going to get mashed anyway so just roughly dice it. When the eggplant cooks down it becomes silky and makes a most amazing sauce. 
Add sun dried tomatoes (only if you want to) and fresh basil and toss with your pasta. That's it! Riff if you like: capers, chile oil? Parmesan optional. This pasta was made for leftovers. It's good cold or room temperature, and makes a nice pasta salad. Or, add eggs and turn it into a next day frittata. 
Now try other vegetables. Cauliflower, broccolini, zucchini …
Pasta with Silky Eggplant Sauce
salt
1 pound eggplant, cut into 1/2-inch slices
1/3 cup extra-virgin olive oil, plus more to finish
3 garlic cloves, lightly smashed
Leaves from 2 sprigs thyme or oregano, chopped
1 cup water or stock
1 pound long pasta (spaghetti, linguine, etc.)
2 Tablespoons minced sun-dried tomatoes
6 leaves basil, cut into chiffonade
freshly ground black pepper
Lightly salt slices of eggplant then stack them together on a plate. Let stand for 20 minutes to remove bitterness. Meanwhile, pour olive oil into a wide, heavy saucepan set over low heat. Add garlic cloves and let warm while pan heats. Using a clean paper towel, dry eggplant, then cut into chunks. When you can smell garlic and start to hear it sizzle, add eggplant; stir to coat thoroughly with oil. Add thyme or oregano and stir. Turn heat to medium-high and continue to cook until eggplant starts to turn translucent and soften; add liquid. Once boiling, turn to medium-low and cover. Stir occasionally so the bottom doesn't stick. 
While eggplant cooks, bring a large pot of salted water to a boil. Add pasta and cook until al dente. 
While pasta is boiling, check on eggplant. The liquid should be reduced and mostly absorbed after about 20 minutes. When it looks mashable, mash with a spoon until silky-smooth. Adjust seasoning with salt and pepper to taste. 
Drain pasta and toss with mashed eggplant. Stir in tomatoes, basil and freshly ground black pepper. Drizzle with additional olive oil, if desired. 
– recipe by Francis Lam, Food52