Pantry Salad and 11-Can Soup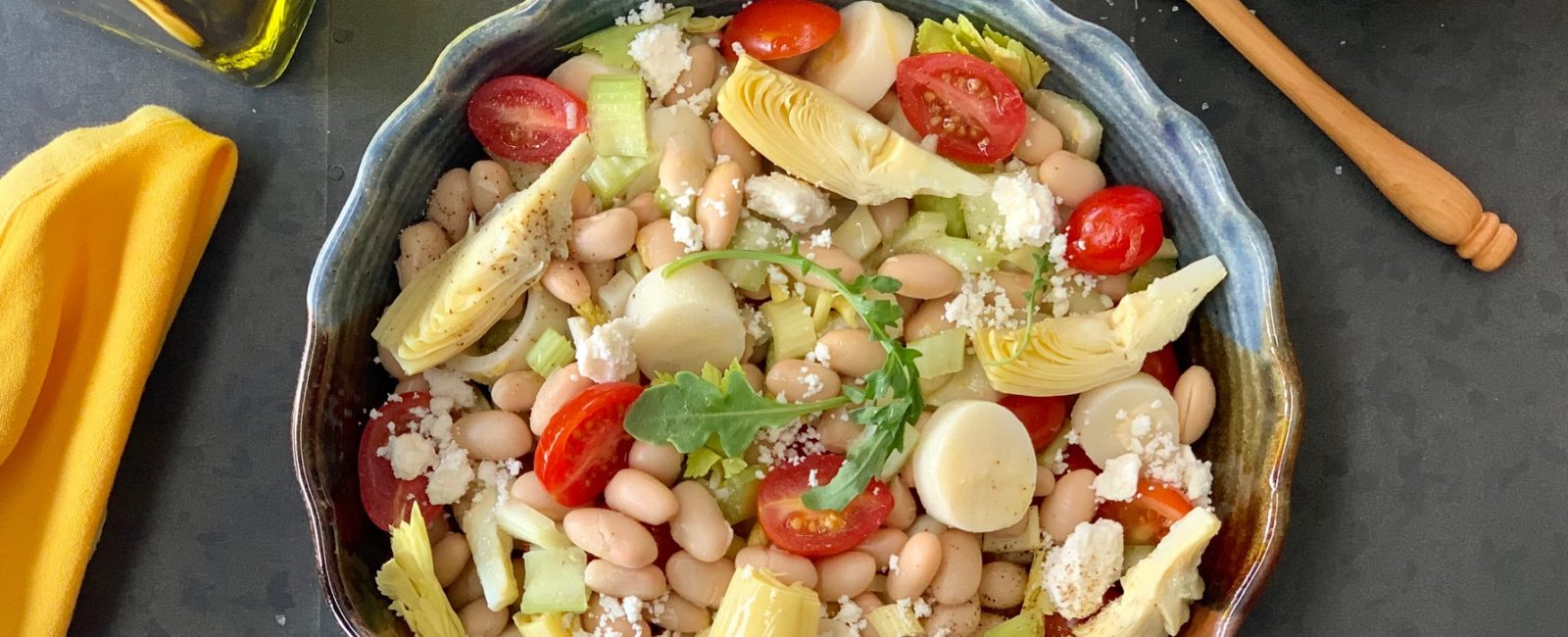 Look no further than your pantry for dinner. Put those staples to good use with these two recipes that are made mostly from canned goods. Packed with hearty ingredients, Pantry Salad is a filling lunch or dinner. Satisfying enough to serve as an entree, but equally good as a side, tuck it into the fridge and you'll have something good to eat for several days. Make it ahead. It's perfect for lunch, picnics, potlucks or travel. Use low sodium or no salt added beans and taste before adding any additional salt. Celery adds requisite crunch, but you could also add other diced veggies like bell pepper, cucumber, zucchini, fennel, carrot or jicama to add a bit of texture to the mix. I did not have any on pine nuts on hand, but you could top this with any kind of toasted nut or seed that you like. It's so good, you'll make it again and again.
April is National Grilled Cheese month. The toasted bread and melted cheese combo is always a winner and it's a natural accompaniment for a warming bowl of soup. This 11-Can Soup is an easy way to get dinner on the table quickly. Don't worry about what you don't have and be creative with what you do. Feel free to toss in a fresh item or two, or use frozen vegetables from your freezer. Leave out anything that doesn't appeal to you. Most of all, use what you have. You can make a quick dinner without having to go any further than your pantry. I used frozen red peppers, skipped the tomato sauce and used chicken and vegetable broth instead. I used two cans of Great Northern beans and used frozen green beans, the smaller haricot vert variety, instead of the Italian ones in the recipe. I didn't have canned minestrone, and because my diced tomatoes were unseasoned, I added extra Italian seasoning. It yielded a flavorful soup, filled with interesting ingredients, especially nice with the warm, crusty cheesy toast slices. Delicious! 
While you're hunting for dinner ingredients, take a quick inventory of your canned goods, making note of any that are running low. Check expiration dates and for best flavor and quality, make plans to use anything that's about to expire soon. Canned goods are generally safe to eat past their best if used by date, however dented cans can be a bit more confusing. Any can that is bulging or leaking should always be discarded, but dented ones, in some cases, can be okay. If the dent is over a side or end seam, or has sharp or pointed edges, it is unsafe. I found a great guide with helpful pictures from the Larimer County Public Health Department online. If you have a dented can you are uncertain about, throw it out.
Pantry Salad
One 14- to 15-ounce can low-sodium white beans or black-eyed peas, rinsed and drained
One 14-ounce can artichoke hearts, drained and quartered
One 14-ounce can hearts of palm, drained and cut into about 1/2-inch slices
4 ounces crumbled feta
3 to 4 celery stalks, peeled and cut into about 1/2-inch pieces, plus some coarsely chopped celery leaves
1 cup grape tomatoes, cut in half
3 Tablespoons extra-virgin olive oil
1 Tablespoon finely grated lemon zest plus 1 or 2 lemons, halved
kosher salt
1/4 cup pine nuts, toasted
Combine beans, artichoke hearts, hearts of palm, feta cheese, celery and leaves, tomatoes, oil and lemon zest in a large serving bowl. Squeeze lemon juice over all, then sprinkle with 1/2 teaspoon salt. Toss well, then taste and adjust seasoning if needed. Sprinkle with pine nuts and serve. 
– foodnetwork.com
11-Can Soup and Cheesy Toast
One 16-ounce jar sliced roasted peppers, drained
One 15-ounce can diced tomatoes with garlic and basil
One 15-ounce can tomato sauce
One 15-ounce can cannellini beans, undrained
One 15-ounce can great Northern beans, undrained
One 15-ounce can chickpeas, undrained
One 15-ounce can minestrone soup
One 15-ounce can cut Italian green beans, drained
One 14-ounce can artichoke hearts, drained, quartered
One 8-ounce can sliced mushrooms, pieces and stems, drained
2 Tablespoons prepared pesto
1 Tablespoon dried parsley flakes
1/4 teaspoon dried Italian seasoning
grated Parmesan, for serving
Cheesy Toast:
2 slices ciabatta
2 slices sandwich bread
1 cup shredded mozzarella
2 teaspoons grated Parmesan
1/2 teaspoon Italian seasoning
2 slices Provolone cheese

 

4 slices American cheese singles
Add the canned and jarred items to a large pot. Heat over medium-high heat, stirring to combine. Add the dried parsley and Italian seasoning and bring to a boil, then reduce heat and simmer until thick, about 1 hour. 
For cheesy toast: Preheat broiler. Line a baking sheet with parchment paper or aluminum foil. Lay the ciabatta and sandwich bread slices on baking sheet. For the ciabatta, sprinkle with enough mozzarella to generously cover, then sprinkle each slice with half of the Parmesan and Italian seasoning. Top each ciabatta slice with a slice of provolone. For the sandwich bread, lay 2 slices of American cheese on top of each slice. Broil until the cheese is bubbly and starting to  brown around the edges. Slice the toast in half diagonally. 
Ladle soup into bowls, sprinkle with Parmesan and serve with cheesy toast.
– recipe by Ree Drummond