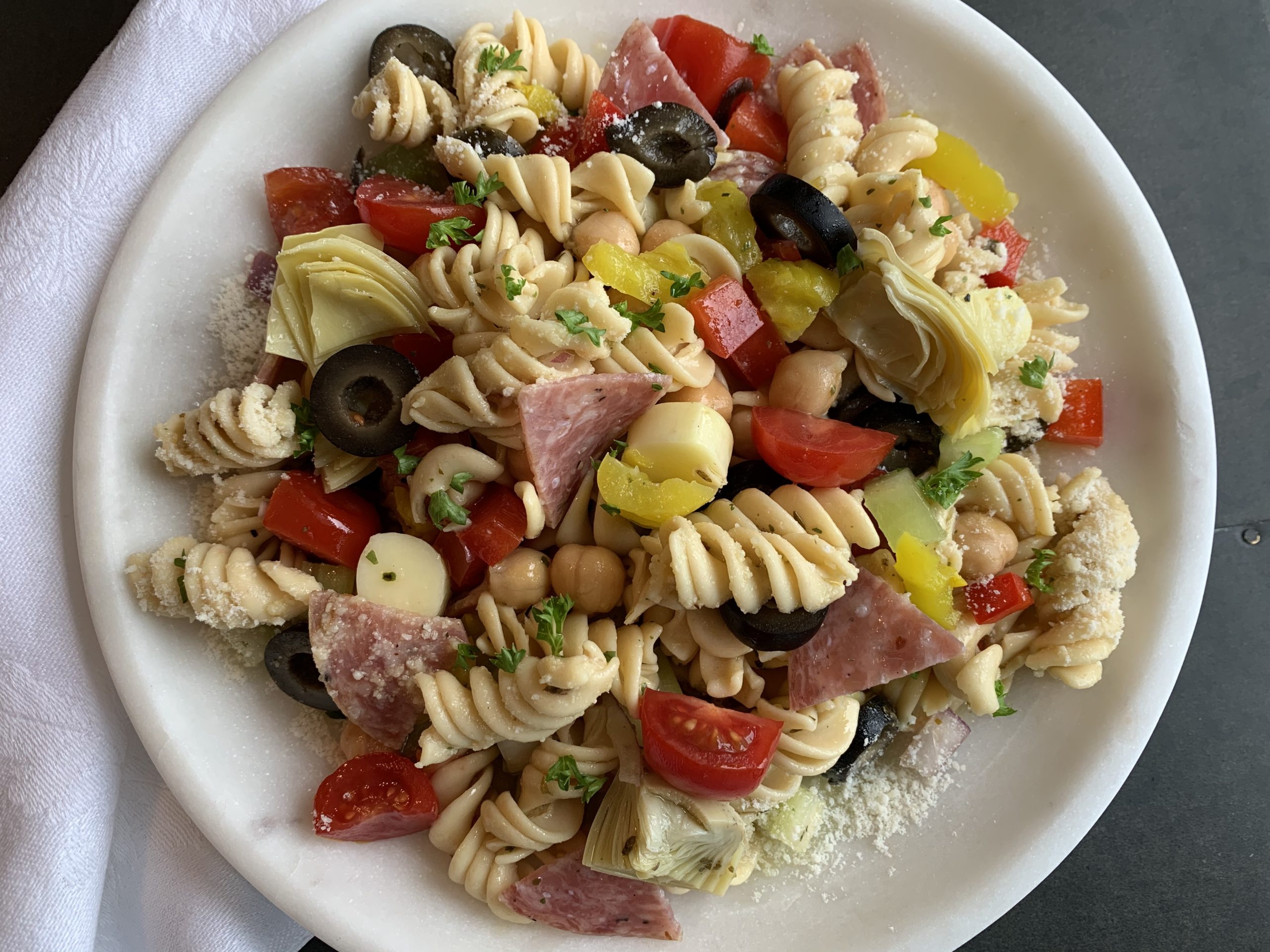 Stumped about what to cook next? Think pasta salad. Fast, fun, and flavorful, Pantry Pasta Salad is the perfect dish to make right this minute. It's a big bowl of antipasto that feeds everyone, and best of all, it lets you be creative with the things you have on hand. 
Omit, add, and substitute where needed. You decide what goes in, and feel free to use more or less of what you choose. Add some additional protein and fiber by using whole grain pasta, or use one of the new lentil or chickpea varieties, which are also gluten-free. Use cured meat, add leftover meat, or leave the meat out altogether and keep it vegan. Add a bean, or not. I love chickpeas here, but white beans, or any other bean that suits you, would be fine. Use whatever cheese you have. I used 2 sticks of string cheese, sliced into rounds, for my mozzarella option. I like using diced celery for crunch, and red bell pepper for color, but you could also use roasted red peppers if you happen to have those on hand.
Do add some of the liquid from the pepperoncini to the dressing. It adds lots of flavor and lets you save your vinegar. If you have bottled Italian or Caesar salad dressing, you could use those, too, and stretch them a bit further with some extra oil and vinegar. Fresh herbs are nice, but not necessary. Dried will do just fine. 
So, forage your fridge. Pilfer your pantry. Use what you have and make a pasta salad. It's everything you want to eat, and it's already in your fridge. Keep cooking. Food heals. It connects. It brings us all together and you're doing an amazing job at it.
Pantry Pasta Salad 
1 8 ounce package rotini, or other shaped pasta

 

1 cup cherry or grape tomatoes, halved or quartered
2 stalks celery, cut lengthwise into 4 sections, then widthwise into 1/4" dice
1/2 cup diced red bell pepper

 

3/4 – 1 cup cubed mozzarella or provolone cheese
3/4 lb. salami, pepperoni, summer sausage or other sausage, cut into cubes

 

3/4 cup ripe olives, sliced

 

1/3 cup pepperoncini, diced
4 marinated artichoke hearts, lightly drained and chopped

 

1/2 can chickpeas, drained and lightly rinsed
1/3 cup diced red onion
fresh parsley, fresh basil (optional)

 
pasta salad dressing:
1/3 – 1/2 cup olive oil
3 Tablespoons red wine vinegar (or white vinegar)
1 clove garlic, grated, or 1 teaspoon garlic powder
1/2 teaspoon dried oregano
1 1/2 teaspoons dried basil
1 teaspoon sea salt

 

freshly ground black pepper to taste
1/2 cup grated Parmesan cheese

 
Cook pasta in salted water, as directed on package, until al dente. Remove from water with slotted spoon and transfer to a large bowl of ice water.
While pasta cools, make salad dressing. Measure olive oil into a liquid measuring cup. Add vinegar, garlic, oregano, basil, sea salt and pepper and whisk.
Drain cooled pasta, then add all remaining salad ingredients. Pour dressing over all and lightly toss together. Sprinkle with Parmesan cheese, tossing one more time. Taste and adjust as needed.