Oven-Roasted Frozen Broccoli and 15-Minute Miracle Minestrone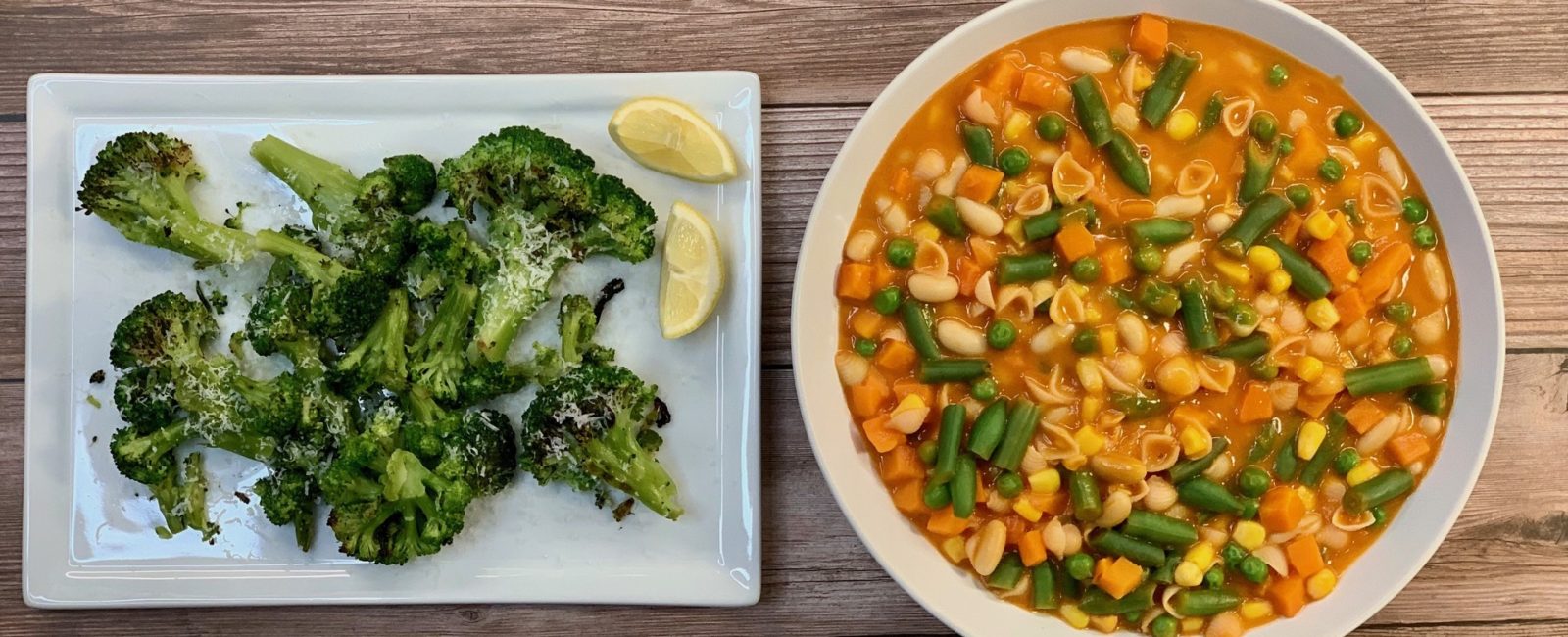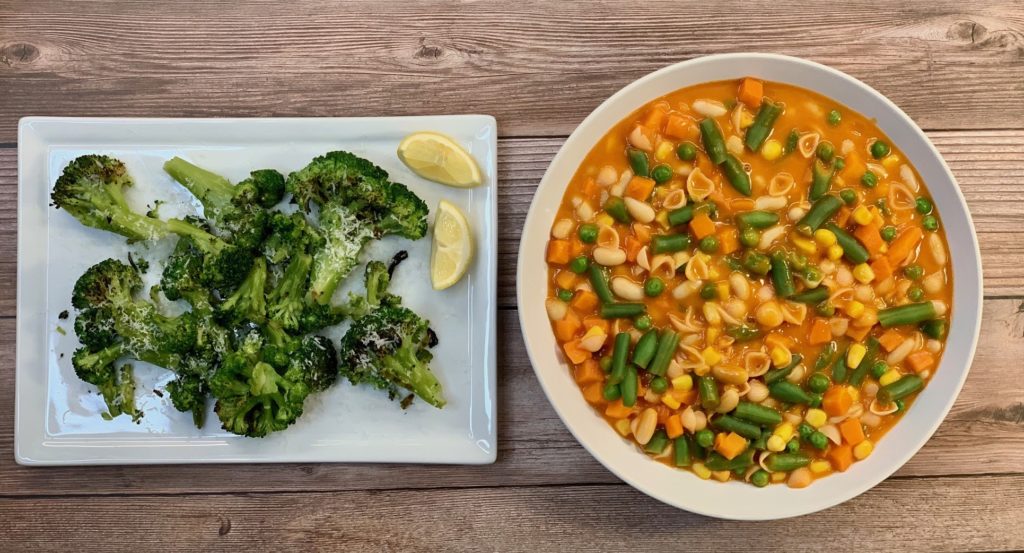 March is National Frozen Food Month and it's a great time to stock up and save money. Peruse the frozen food aisle and be sure to take advantage of the sales and specials many stores will be having. Frozen fruits and vegetables are among the healthiest picks at the grocery store, and because they are harvested at the peak of freshness, they can often be even more nutritious than fresh-stored ones. Keeping some on hand is a speedy and convenient way to make it easy to enjoy a healthy diet. 
According to nutritionists, the 9 best frozen vegetables to keep stocked are edamame, spinach (buy the bag, not the box, so you can pour out only what you need), asparagus, butternut squash, kale, zucchini noodles, broccoli, artichokes, and mixed vegetables. Using any of these will add a nutritional boost to whatever it is you happen to be making, and having a well-planned stash of them ensures you can always make dinner in a pinch. Best of all, there is no prep, cleaning, or cutting, so they're lightning fast to use. And there's no hurry to use them, like there is with fresh ones. Most frozen fruits and vegetables keep for 6 months or longer and many can last up to a year. 
Don't forget about cauliflower, the frozen veggie that can do it all. Roast and season, and you can use it to stuff tacos. Simmer it in milk and purée to make a creamy sauce for rice or pasta, deep fake mashed potatoes, or a light, creamy soup. A handful of frozen cauliflower will thicken your smoothie, adding fiber and creaminess, without adding any sugar or dairy. You can also stir-fry, turn it into fritters, add it to pasta, bake it into a low-carb casserole, or use it to lighten your mac and cheese. (You should definitely keep cauliflower in your freezer.)
Look for a frozen entree or two that you can keep on hand for dinners in a pinch, being mindful of whatever nutritional considerations you may have. Stock up on frozen pizza when you find a sale. You can add additional toppings like veggies, crumbled sausage, pepperoni, Canadian bacon, pineapple, or jalapeños for considerably less than delivery or restaurant prices. 
One of my favorite frozen dinners is Trader Joe's Kung Pao Chicken. I follow the package directions to brown the chicken, then I toss in the veggie packet that's provided along with about 3 or 4 cups of frozen Normandy Vegetable mix to bolster it. I use a lid to help the veggies  steam and keep them vibrant. Once they're cooked, I add the sauce packet and sometimes I will also add about 2 cups of raw shrimp. Stir well, put the lid back on, and let everything simmer away until the shrimp are just right. Add the peanuts, serve over rice, and dinner is done! 
Here are two ways you can use some of those frozen finds. Oven-Roasted Frozen Broccoli is a delicious change from the microwave variety. Start by preheating the baking sheet, then cook the broccoli at high heat to ensure it roasts instead of steams. Add a sprinkling of Parmesan for a boost of flavor, then give it a brief stint under the broiler to ensure a bonus level of caramelization. Be prepared to be pleasantly surprised.
If you have a bag of frozen mixed vegetables and some canned, or shelf-stable, tomato soup, you can transform them into 15-Minute Miracle Minestrone. Add the pasta from a box of mac and cheese (save the cheese for sprinkling over popcorn) and a drained can of cannellini beans, and in under 12 minutes, you've got dinner. Soothing and satisfying, this amply feeds 6 to 8. You can keep it vegan and enjoy as is, or add meatballs, cooked sausage, rotisserie chicken or steak bites. 
Oven-Roasted Frozen Broccoli
1 16-ounce bag frozen broccoli florets (do not thaw)
2 Tablespoons olive oil
1/2 teaspoon kosher salt
freshly ground black pepper
1/4 cup grated Parmesan cheese
1 medium lemon, halved
Arrange one rack in the middle of the oven and one rack in the highest position; place a rimmed baking sheet in the oven, then heat to 450º F. Add broccoli to a large bowl and season with olive oil, salt and a few grinds of black pepper; toss to coat. 
Remove hot baking sheet from oven, add broccoli and spread it into an even layer. Roast on middle rack until broccoli is tender and beginning to brown at edges, about 15 to 18 minutes. Remove from oven. Switch oven to broil. Scatter Parmesan evenly over broccoli. Return to oven and broil on upper rack until cheese melts, 1 to 2 minutes. Squeeze juice from one lemon half over broccoli and toss to combine. Cut other lemon half into wedges and serve alongside broccoli. 
15-Minute Miracle Minestrone
1 quart tomato soup
1 cup water
1 16-ounce bag frozen vegetable medley
1 6-ounce box macaroni and cheese shells, cheese pack reserved for another use
1 15-ounce can cannellini beans, drained
crusty bread, for serving
Combine tomato soup, water, vegetables, and shells in a large soup pot; bring to a simmer over medium heat. Once simmering, reduce heat slightly and cook, stirring occasionally, until pasta is al dente and vegetables are tender, 10 to 12 minutes. Remove from heat and stir in drained cannellini beans. Serve with slices of crusty bread. 
-Busy Philipps