Oven Polenta with Roasted Mushrooms and Thyme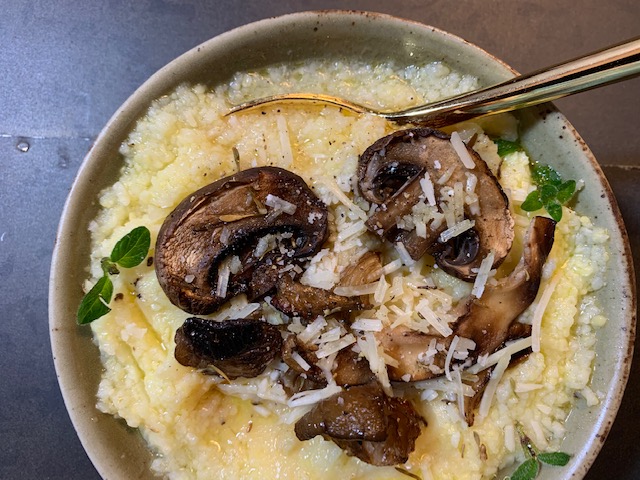 The sun is shining, the birds are singing and the flowers are starting to bloom:  it's springtime in the Northwest!  While it is a taste of what's to come, if you've lived here long enough you know that this will most likely be short-lived.  You'll dig through your drawers to get a t-shirt and some shorts only to be greeted by a dark sky and buckets of rain the next day.  Get this recipe on standby.  It is perfect chill-chasing comfort food and it's something you need to learn how to do.
This recipe is life changing.  If you have ever made polenta you know that it is a time-consuming endeavor.  Someone, usually me, needs to stand guard over the pot while it cooks, stirring laboriously lest it scorch, clump, or stick, all the while guarding their tender forearm skin, mindful of the numerous past assaults from the lava-esque molten porridge.
Fear no more!  While it does eliminate the adrenaline rush from the potential for third degree burns, it more than makes up for it when you get the thrill of opening that pot and peering in on your perfectly cooked polenta.  Yes, perrr-fect!  Indulgent, thick, and creamy, it's just as if you'd endured the many minutes of standing at the stove, whisking and fretting about your forearms. Trust me, you will not be stirring polenta again.
You could use chicken stock in place of the water for extra ooopmh.  You could also add 1/4 cup of mascarpone, whisked in at the end with the Parmesan, for added creaminess. Don't limit yourself to just mushrooms.  Any assortment of broccolini, brussel sprouts, cauliflower, or red bell peppers in place of, or in addition, to the mushrooms would all be good here.  Leftover roasted veggies are good to have on hand, but you won't know this until you have some!
I wanted to hurry things along, so I gave the mushrooms a few minutes under the broiler rather than raising the heat to high for the final 5-10 minutes.  It worked great, but the trade-off is that you must stand guard and watch closely.  They can, and will, burn.  Want meat with that?  Add fully cooked sausage to a sheet pan and warm it in the oven at the same time.
Transfer leftover polenta into an 8×8 baking pan lightly greased with butter or olive oil.  Cover and refrigerate.  Cut into squares (or shapes) and lightly panfry on both sides for crispy polenta cakes.  Top these with some grated Parmesan or serve them with some warm marinara sauce for dipping.  You could also just top with marinara and reheat, maybe adding some meatballs for another meal.
Oven Polenta.  It is all that and then some.  Hang on to this recipe and prepare to be amazed.
Oven Polenta with Roasted Mushrooms and Thyme
1 1/2 lb. mixed mushrooms (crimini, shiitake, oyster, etc.), torn into 1" pieces
4 sprigs thyme, plus leaves for serving
6 garlic cloves, peeled and smashed
Kosher salt, freshly ground black pepper
1/4 cup extra-virgin olive oil
2 Tablespoons unsalted butter
1 cup polenta (gluten-free, if desired)
4 ounces Parmesan, finely grated, plus more for serving
1 Tablespoon red wine vinegar
Flaky sea salt
Place racks in upper and lower thirds of oven and preheat to 325ºF.  Fill a large, ovenproof dutch oven with 4 1/2 cups water and heat over medium-high heat.  Combine mushrooms, thyme sprigs and garlic on a large, rimmed baking sheet; season with salt and pepper and drizzle with olive oil.  Toss lightly to coat mushrooms, then spread evenly on baking sheet.  Transfer to upper rack of oven and roast.
When water is simmering, add butter and a generous pinch of kosher salt.  Whisk to melt butter, then gradually add polenta, whisking constantly.  When mixture reaches a boil, immediately cover pot and transfer to lower rack of oven.  Bake polenta until tender, 25-30 minutes, shaking baking sheet with mushrooms occasionally if needed.
Remove polenta from oven.  Turn oven heat to highest setting and continue to cook mushrooms until crisp around edges, about 5-10 minutes longer.  Meanwhile, carefully uncover polenta and whisk vigorously, scraping the bottom of the pan as you whisk.  Gradually add Parmesan, continuing to whisk until melted and fully incorporated.  Taste and adjust seasonings with more salt and pepper.  Cover and keep warm over low heat until mushrooms are finished roasting.
Remove mushrooms from oven and drizzle with vinegar, tossing to coat.  Spoon polenta into bowls, topping with warm mushrooms, thyme leaves, flaky sea salt and more Parmesan.
– recipe by Claire Saffitz, bon appétit October 2018