Olive Oil and Maple Granola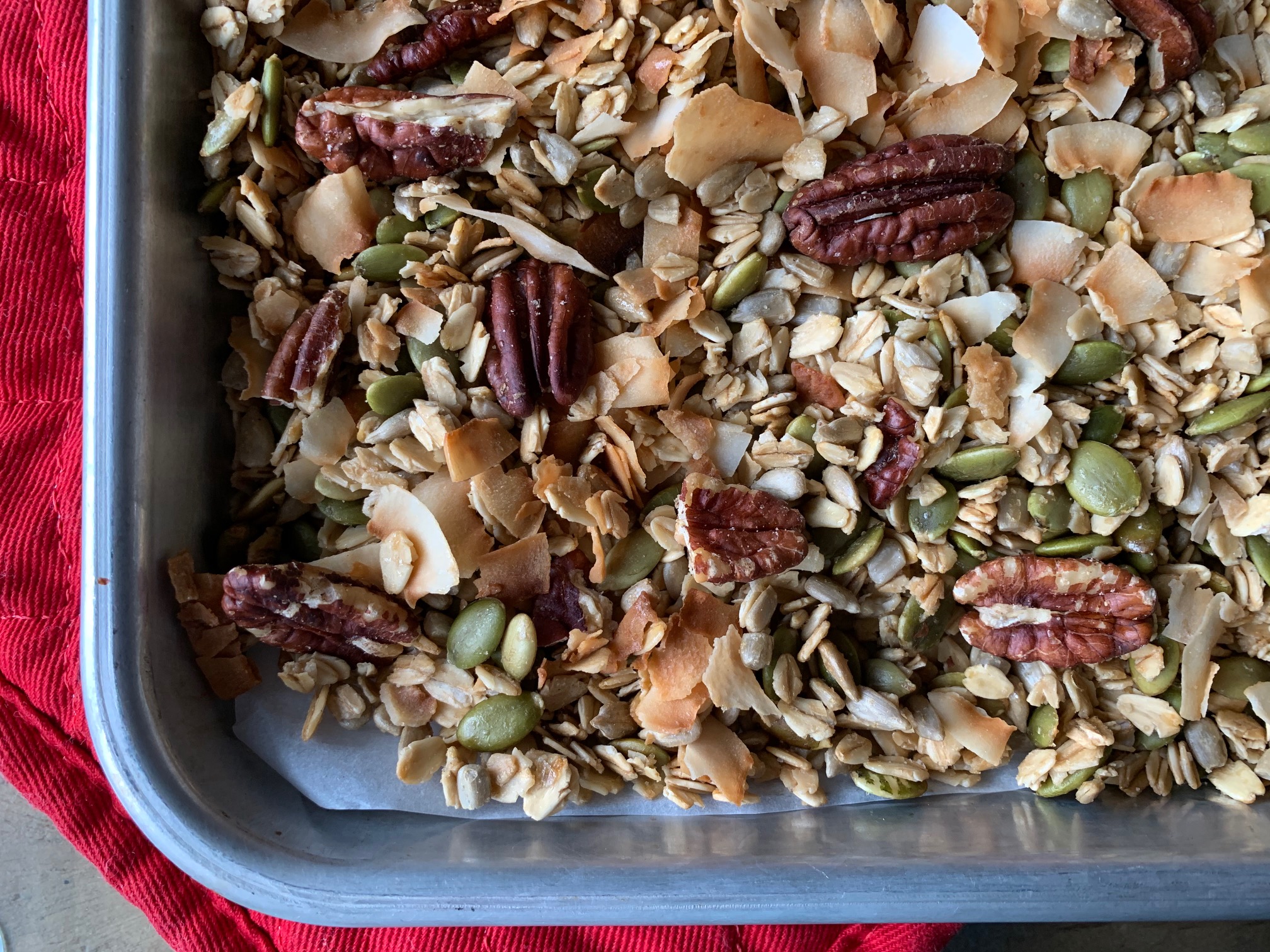 Jingle all the way to the finish line with a quick, easy recipe that you can make faster than reindeer fly. This Olive Oil and Maple Granola is just what you need to survive the last minute hustle and bustle. You can serve it for breakfast, pack it for a snack, take it on a plane, and oh, it makes a nice hostess gift, too. Looking for something thoughtful to food gift or something you can make with your kids? This is it. 
Making your own granola is a game changer. You can tailor the ingredients to include anything you want, including the amount and type of sugar and oil that you use. Olive oil is delicious in this recipe and lends a flavorful balance to the salty and sweet components, but you could use coconut oil if you like, which will give your granola slightly more coconut flavor. Use gluten-free oats and just the maple syrup if you are avoiding refined sugar, or swap in coconut sugar instead. Make it zero waste and use up little bits of any seeds and nuts you may have hanging out in your pantry, or try adding an overripe banana or pear, or some applesauce to use those up, as well. Try adding or swapping cashews, almonds, pistachios or walnuts. You can also add sesame, chia, flax, or hemp seeds to make this even more nutritious and healthy. If you want to add dried fruit, do it at the end so it doesn't burn. If you want to add chocolate, wait until your granola is fully cooled.
Addictively good, you can adjust this recipe so that you can get just the right amount of crunchy, toasty, salty sweetness that you like. I decreased the 3/4 cup maple syrup in the original recipe to 1/3 cup, and reduced the olive oil from 1/2 cup to 1/4 cup. I also reduced the 1/2 cup brown sugar to 1 tablespoon. The results were delicious. Not too sweet, not too salty, but a golden, toasted, loose crumble. If you like your granola clumpy, stir it less, and also consider adding more of the maple syrup and brown sugar. 
Make breakfast better for you or someone you love. This is truly the most amazing granola you have ever eaten and if you make some now, you can stash it to serve Christmas morning. If you can keep from eating all of it yourself, it also packs well, and would be especially thoughtful if you are going to be an overnight guest. So grab a bowl, grab a spoon, and make something merry. It won't be long until we hear those sleigh bells and Christmas will be here.
Olive Oil and Maple Granola  
3 cups old-fashioned rolled oats (gluten-free, if desired)
1 cup hulled raw pumpkin seeds
1 cup hulled raw sunflower seeds
1 cup unsweetened coconut chips
1 1/4 cups raw pecans, whole or coarsely chopped
1/3 cup pure maple syrup
1/4 cup extra-virgin olive oil
1 Tablespoon light brown sugar
1 pinch coarse salt, plus more, to taste
Preheat oven to 300ºF. Line a large, rimmed sheet pan with parchment paper. Combine oats, pumpkin seeds, sunflower seeds, coconut, pecans, maple syrup, olive oil, brown sugar, and 1 teaspoon salt in a large bowl and mix together, stirring until well combined. Spread mixture evenly onto prepared sheet pan. Transfer to oven and bake for about 45 minutes, stirring every 10 to 15 minutes, until granola is toasted. Taste and season with more salt, if desired. Let cool completely. Store in an airtight container, up to one month. 
– adapted from Nekisia Davis' Olive Oil and Maple Granola, January 2012