Old Fashioned Gingerbread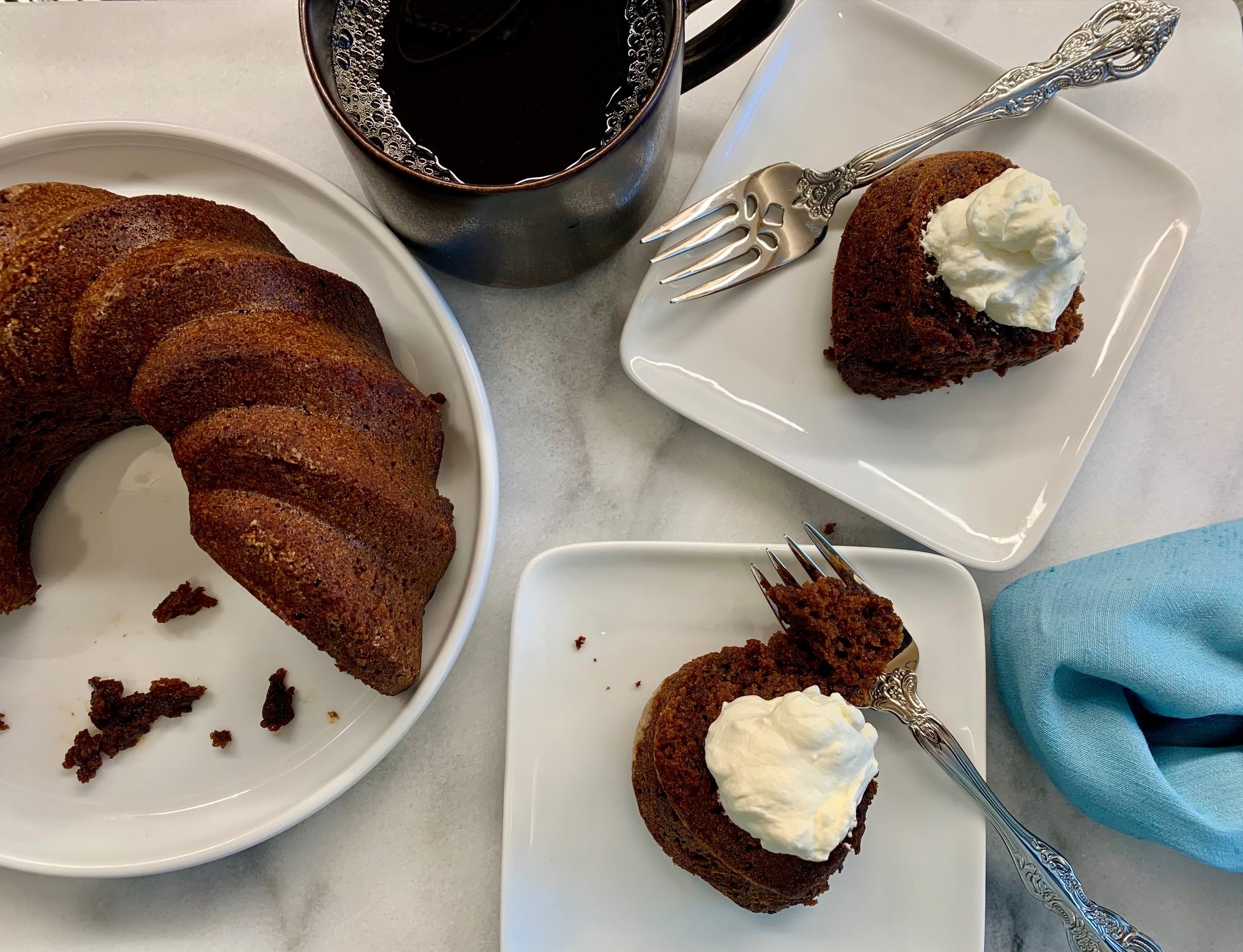 Why shut off the good spirits when we flip the calendar page? Embrace health and sensible eating, yes, but don't plunge, nudge. Focus on your fruits and veggies, but make sure to leave a little fun in there, too. A bit of cake is good for the soul. Made with fragrant spices whisked together with just a few pantry ingredients, this Old Fashioned Gingerbread is warm and soothing – a slice of happy comfort to help you ease in to January.
Deceptively better for you, this cake contains no butter and just 1/4 cup of oil. Canola or vegetable oil will work here, but I used olive oil. Molasses adds sweetness and sneaks in some minerals like iron, while prunes lend potassium and fiber. To make the purée, blend 2/3 cups of pitted prunes with enough warm water to reach a thick, baby food-like consistency. I used a mix of 1/2 cup of gluten-free flour, 1/2 cup of brown rice flour, and 1/2 cup of sorghum flour to add fiber and still keep the crumb light, but you could use AP flour or any mix of flours that you like. Unlike most cakes, this one gets better over time, so enjoy it over several days. 
Make good spirits last by keeping January a happy month. Consider leaving your lights up longer this year. Even just a string or two. It could make all the difference to someone you don't even know and truly help to brighten what are the coldest, darkest days of the year. The warm glow of Christmas lights cheer the heart long after the days of merry and bright have passed. Keep the lights on for hope and kindness. It's a small ripple but it casts a big wave. The lights are still glowing at my house and they will be for a while. 
Old Fashioned Gingerbread
2/3 cup prune purée
2/3 cup molasses
2/3 cup boiling water
1/4 cup canola, vegetable, or olive oil
1 teaspoon baking soda
1/2 teaspoon kosher salt
1 large egg
1 1/2 cups flour (can be gluten-free)
2 heaping teaspoons ground ginger
1 teaspoon ground cinnamon
1/4 teaspoon ground nutmeg
1/4 teaspoon ground allspice
1/4 teaspoon ground cloves
1/4 teaspoon ground black pepper
Preheat oven to 350º F. Generously grease and flour a 9-inch square pan. Combine prune purée, molasses, boiling water and oil in a medium bowl and whisk together. Add baking soda and salt and whisk again. Let batter stand 25 minutes. Whisk in egg.
While batter stands, combine flour, ginger, cinnamon, nutmeg, spice, cloves and ground black pepper in a small bowl and whisk together. Add dry ingredients to batter and whisk until smooth. Pour into prepared pan. Bake 20 to 25 minutes or until a toothpick inserted in center comes out clean. Cool for 10 minutes in pan, then transfer to a wire rack to cool completely, about 1 hour. Wrap tightly in plastic wrap or store in an airtight container at room temperature for up to 3 days. 
To serve: cut into squares and sprinkle with powdered sugar, if desired, or serve with whipped cream. 
– adapted from Southern Living