Northwest Harvest Apple Cake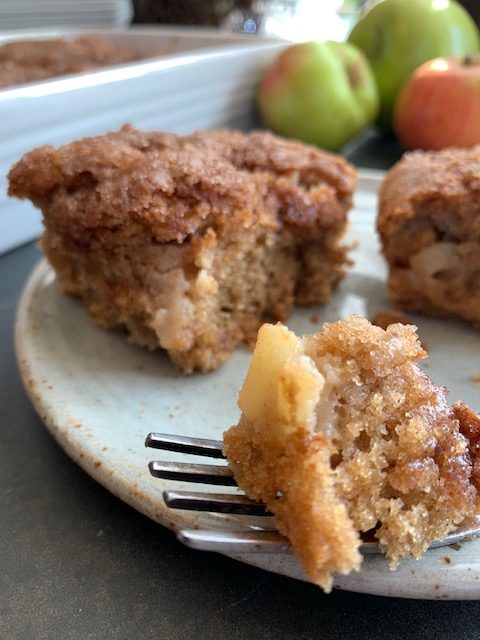 Northwest apples have returned! You can do your picking at the grocery, but why not try a quick stop to one of our local farms? There is nothing like the flavor of fresh fruit and vegetables and if you're not taking advantage of our what's growing right here, you're missing out. I stopped at a nearby farm and bought an ear of corn last week and it was the best one I've had all summer.  We are lucky to have local farms, so be sure to support them. Having access to this convenient supply of seasonal produce is what makes living here so great. Thanks, farmers! 
A friend with an apple tree shared some of her apples with me. Fragrant and sweet, they are just delicious, but I wanted to bake something with them, too. This Northwest Harvest Apple Cake is quick and easy, and you can make it in one bowl. Topped with cinnamon and sugar like a coffee cake, it has tender chunks of apple and a moist, dense crumb.  
Set your egg on the counter about an hour ahead so that it can warm to room temperature. To make this vegan, use egg replacer, non-dairy milk of choice, and vegan butter or buttery spread. I used kefir in this recipe, but you could also use buttermilk. To make your own buttermilk, measure 1Tablespoon of vinegar or lemon juice into a measuring cup, then fill cup with milk (or non-dairy milk) until it reaches the 1 cup line and stir. Let stand for 5 to 10 minutes. I also used 1 to 1 Gluten Free Baking Flour from Bob's Red Mill to make this gluten-free. 
This was the first time I baked with kefir. I have been adding it to yogurt with fruit, and mixing it into salad dressings ever since I read about a study exploring how drinking kefir may tame the inflammation related to cancer treatments, apparently by helping to heal the GI tract. Unlike the probiotics from yogurt and supplements that need to be replaced every 2 weeks, the ones from kefir stay established. I like the plain variety from Trader Joe's, and to get the maximum benefit I would use it in things that aren't being heated, like dips, salad dressings, and smoothies. 
Northwest Harvest Apple Cake
1 cup brown sugar
1/3 cup oil
1 egg
1 cup kefir, buttermilk, or alternative milk

 

1 teaspoon vanilla
1 teaspoon baking soda
1 teaspoon cinnamon
2 cups flour

 

2 cups peeled, chopped apples
topping:
1/3 cup sugar
1 teaspoon cinnamon
1 teaspoon butter
Preheat oven to 325ºF. Lightly grease a 9×13 pan. Combine brown sugar, oil, egg, kefir or milk of choice, vanilla, baking soda and cinnamon in a medium bowl and mix together. Add flour and use a hand mixer on medium speed to incorporate into a thick batter. Fold in apples and pour batter into pan.
Combine all ingredients for topping in a small bowl and use a fork to blend together. Sprinkle topping over batter. Bake for 45 minutes or until tester inserted in center comes out clean. Serve warm.