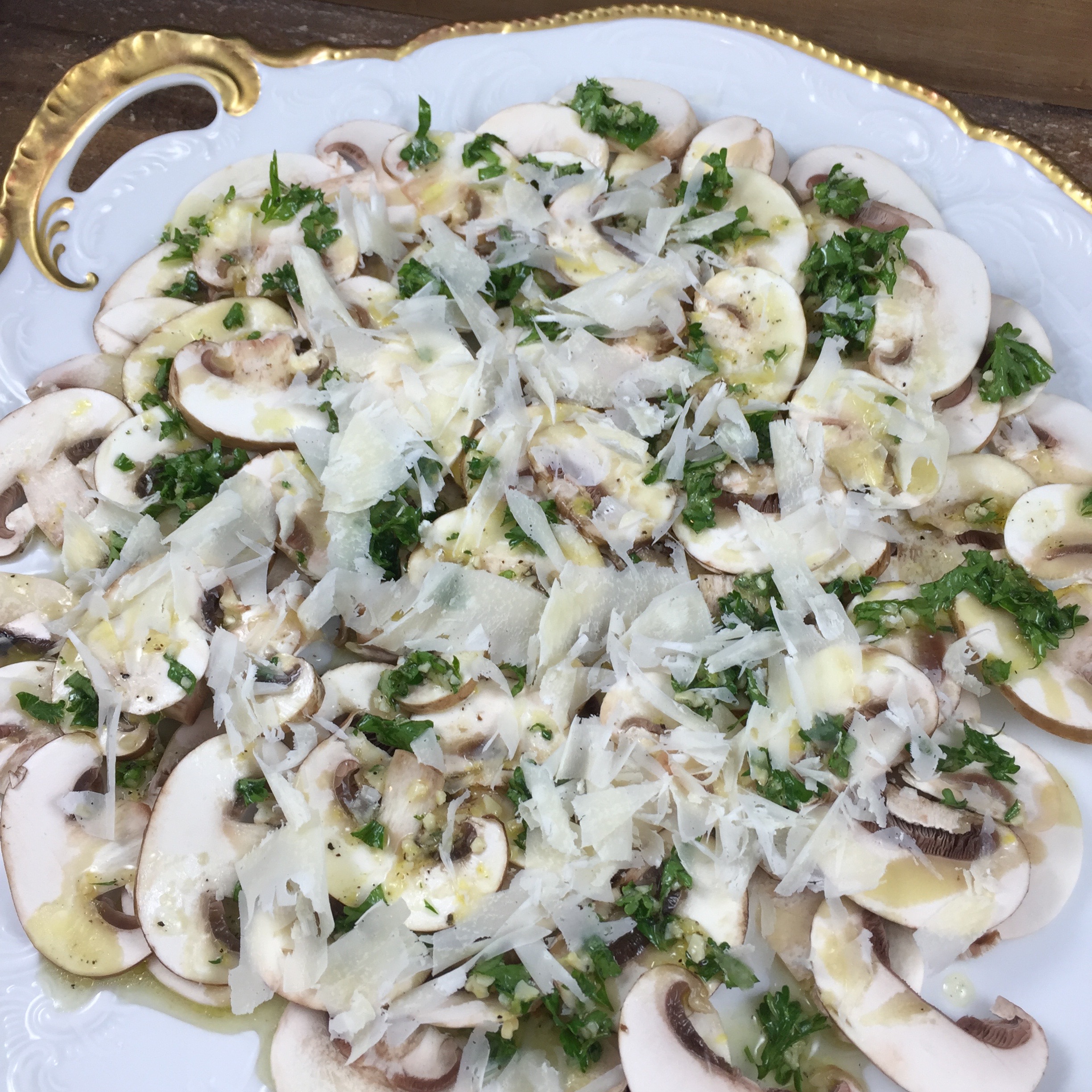 Most of us can recite the usual suspects from a buffet line-up without any difficulty…  Cheese plate, chip 'n dip, a hot appetizer or two, a cold cut plate, maybe something skewered, but hey, what is that?  Definitely mushrooms, but you've never seen them done up quite like this before.  It looks so unusual you have to have a spoonful, and you know what?  It's good!
If you are looking for something unexpected to take to that holiday get-together, this is it.  Traditional holiday fare can be a little heavy.  This is light, fresh and dare I say it, healthy.  Mushrooms are an excellent source of B vitamins.  Their Vitamin D has been shown to inhibit cancer cells, and their potassium helps regulate blood pressure.   Olive oil has been recently touted as reducing the risk of developing breast cancer when used to supplement a Mediterranean diet.   So… not only does this taste good, but it's good for you!
I loved this recipe because the end result looked impressive, but making it was fast and easy.   It was also inexpensive, and who couldn't use a little of that this time of year?  Here it is, as it appeared in the December issue of Cooking Light, with the exception of a few small changes.  I didn't like the idea of using raw garlic so I sauteed it a little first.  Also, it seemed a bit dry after drizzling the juice mixture, so I think you should use two tablespoons in the garlic/lemon mixture and reserve the other tablespoon (and maybe more!) to drizzle at the end.  I used freshly ground black pepper instead of the white.  All good.
Get a pretty plate, and make this quick!
Mushroom Carpaccio With Gremolata And Shaved Parmigiano
3 large button mushrooms,  2 1/2 to 3 inch diameter
3 cremini mushrooms, 2 1/2 to 3 inch diameter
1 cup fresh flat-leaf parsley leaves, finely chopped
1 tablespoon grated lemon rind
2 garlic cloves, minced  
3 tablespoons fresh lemon juice
1/4 teaspoon kosher salt
1/4 teaspoon coarsely ground white pepper, plus more for garnish
3 tablespoons extra-virgin olive oil
2 tablespoons shaved Parmigiano-Reggiano cheese
Wash mushrooms gently, being careful to remove any dirt.  Pat dry.  Trim the bottom ends, leaving stems intact.  Cut mushrooms into very thin vertical slices and arrange on platter so they overlap slightly.  Warm 2 tablespoons of olive oil in a small saucepan.  Add chopped garlic and sauté over low heat until golden and fragrant.  Remove from heat and let cool.  Combine parsley and lemon rind in a small bowl.  Combine lemon juice, salt and pepper in another bowl.  Gradually add oil and garlic to lemon juice mixture, stirring constantly with a whisk.  Drizzle juice mixture evenly over mushrooms.  Sprinkle with parsley mixture and shaved cheese.  Garnish with a few grinds of pepper and a final drizzle of olive oil.  Let stand at room temperature for at least 15 minutes before serving.