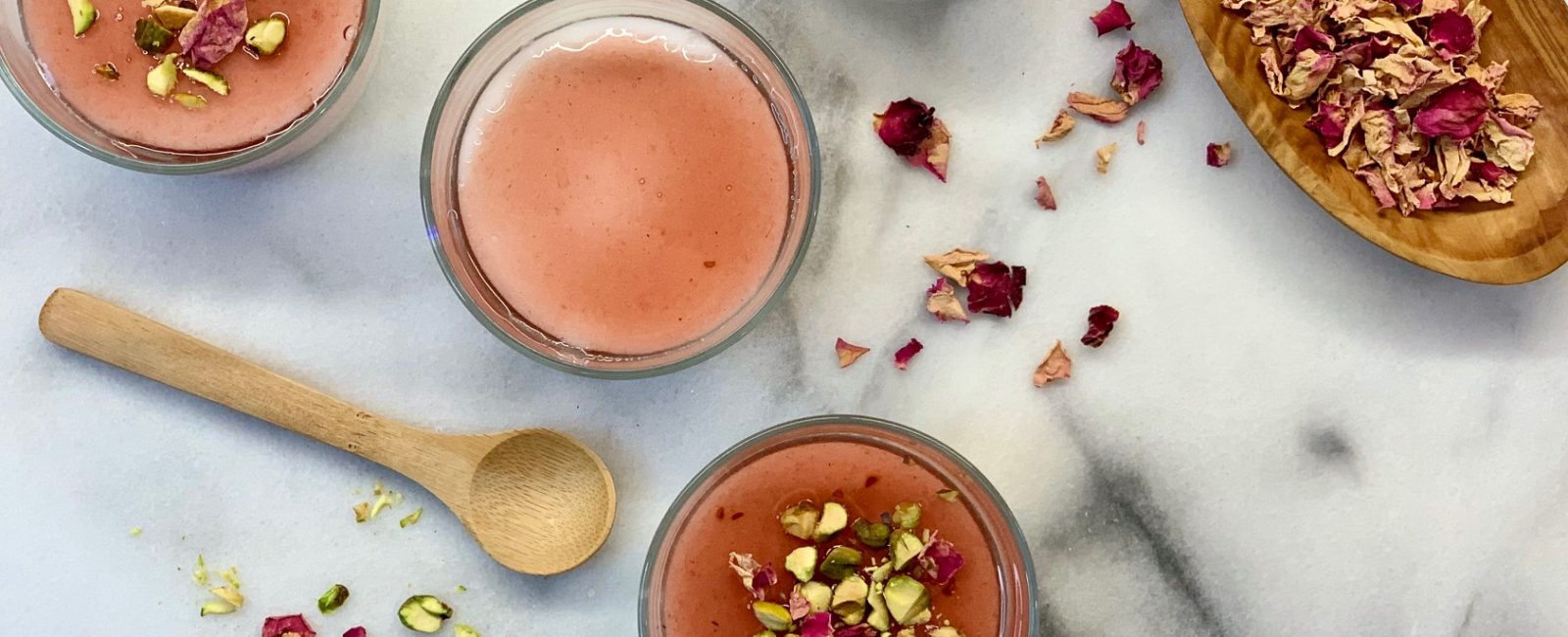 End your spring celebration with something different. Malabi Pudding is perfect for Passover, but equally enjoyable any time of year. A delicious rose water milk pudding, this custard-like dessert is gluten- and egg-free and can be vegan as well, if made with non-dairy milk. The pudding comes together quickly and requires only a few ingredients, and because it needs to chill in the refrigerator to set, it's a perfect make-ahead dessert. The rose water scented pudding is silky and light, but not too sweet. Topped with a pretty pink raspberry syrup and chopped pistachios, this iconic Israeli dessert is deliciously different and it's one you should try.
To make these dairy-free, I used coconut milk. However, almond milk, especially if it's homemade, is a more traditional option. Try adding a pinch of cardamom to your pudding, or you can add a few cardamom pods to infuse the milk as it simmers. Although rosewater is the traditional flavoring, you can also use orange flower water and top with orange marmalade and chopped crystallized ginger. For a sweet-tart dessert, try topping with a bit of pomegranate molasses and garnishing with pomegranate arils (seeds). You can find rosewater at specialty markets. I found some at Anoush Deli and International Food Market.
Next, try this lightened up Hollandaise Sauce. This swoon worthy version is seriously simple, not to mention a lot better for you. Flavorful and rich, even without the eggs and butter, it's made with a yellow bell pepper, but you'd never guess. It reheats perfectly, so you can make it ahead, and will keep well for several days if you have any left.
If you're thinking about an alternative to ham this year, try a different take on Eggs Benedict. Add sautéed spinach to make Eggs Florentine. You can use roasted portobello caps filled with spinach in place of the english muffins, or serve your eggs over some lightly creamed spinach or kale set atop a warmed polenta round. I love Eggs Sardou: artichoke bottoms topped with creamed spinach, thin strips of prosciutto or Serrano ham, eggs and hollandaise. Or, add cooked lump crabmeat and sliced tomato and make Crab Eggs Benedict. This time of year, you can't go wrong sneaking some steamed asparagus on top. 
Try something unexpected. Make something different. However you celebrate, end on a sweet note – and enjoy!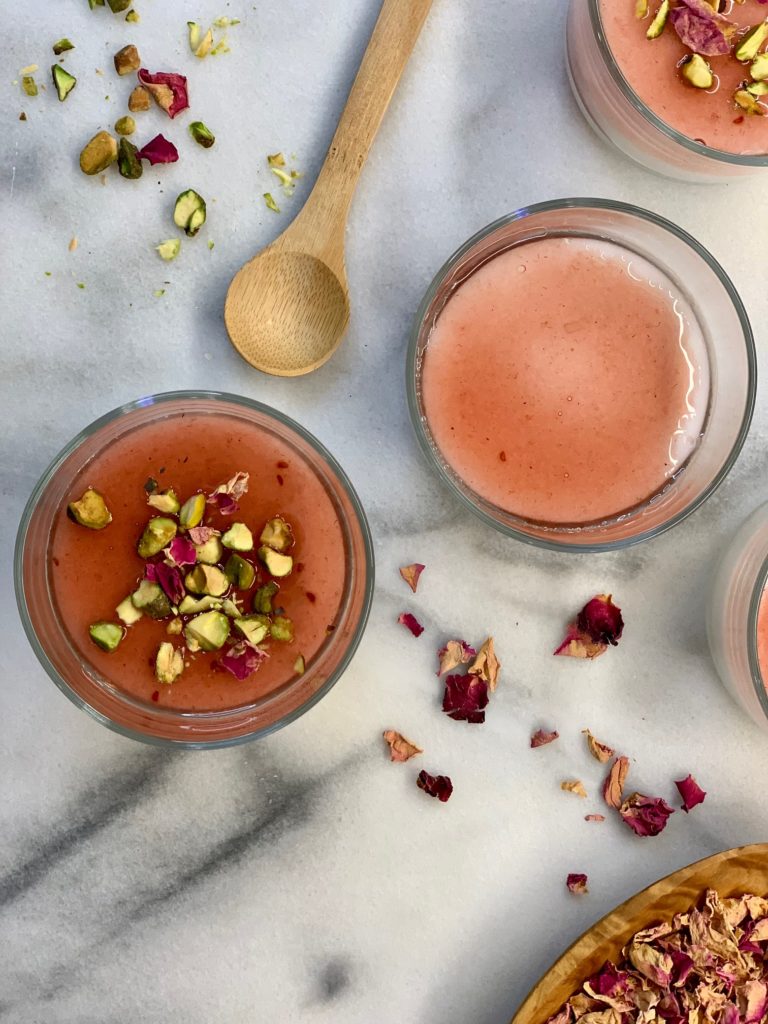 Malabi Pudding 
4 to 6 servings
pudding:
3 cups whole milk, or milk of choice, divided
1/4 cup cornstarch
1 Tablespoon rose water

 

1/3 cup sugar, or sweetener of choice
raspberry rose syrup (optional):
1/4 cup sugar
1/4 cup water
2 Tablespoons seedless raspberry jam
1 teaspoon rose water
optional garnishes:
slivered almonds, chopped pistachios, or walnuts, shredded coconut
Combine 1/2 cup of milk with cornstarch and rosewater in a small bowl. Mix well with a fork or whisk, until mixture is smooth and lump-free. Set aside.
Combine remaining 2 1/2 cups of milk with sugar in a medium saucepan set over medium-high heat. Bring to a boil, stirring frequently, until sugar dissolves. Once bubbles break the surface, reduce heat to low. Stir cornstarch mixture, then add it to the simmering milk, stirring constantly. Cook pudding at a gentle simmer, stirring frequently, about 5 to 7 minutes, or until it coats the back of a spoon. 
Pour or spoon into 6 to 8 serving dishes. Allow to cool slightly, then cover with plastic wrap and refrigerate at least 3 hours (pudding will firm as it cools).
While pudding chills, make the syrup. Combine sugar, water, and jam in a small saucepan set over medium high heat. Bring to a simmer, stirring to dissolve the sugar and incorporate the jam. Once mixture is smooth, remove from heat and stir in the rose water. Transfer to a dish and refrigerate until ready to serve. To serve, spoon a little syrup over the top of the pudding and garnish with slivered or chopped nuts or coconut, if desired. 
– recipe from thespruceeats.com
Hollandaise Sauce
1 yellow bell pepper, seeded and cut into eighths
3 ounces (6 tablespoons) light or reduced-fat cream cheese
1 teaspoon lemon juice
1/2 teaspoon Dijon mustard
1/4 teaspoon kosher salt or coarse sea salt
Place bell pepper strips in a microwave-safe bowl and add about 1 tablespoon of water. Cover and microwave on high for 2 minutes or until bell pepper pierces easily with a paring knife.  Drain and transfer immediately to blender.  Add cream cheese, lemon juice, mustard, and salt to blender.  Puree until the sauce is smooth and has no visible bits of pepper. Transfer to microwave safe bowl. Rewarm gently before serving.
– joybauer.com