(It's Almost…) Summer Rolls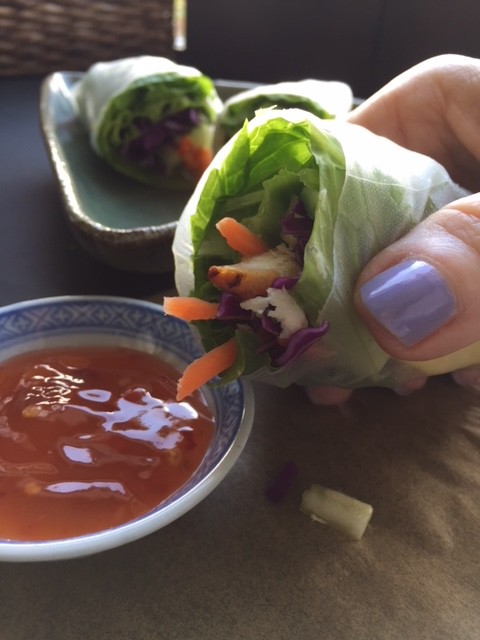 Are you ready for the sunshine?  Whether you are celebrating 420, Arbor Day, or Earth Day, there will be plenty of green on tap for this weekend.  Get out in the fresh air and take in some of those rays.  These salad rolls are just the thing to pack in a cooler and take along.  Fun and easy to make, they are perfect for a picnic, road trip, or wherever the day may take you.
Just like the ones you get when you eat out, salad rolls are becoming so popular you can even find them in the sushi bars at some grocery stores.  If you want to make them yourself, head to the Asian section of your grocery store.  You can find the spring roll wrappers there, as well as sweet chili and peanut sauces for dipping.
Prep all your fillings ahead and put everything in small bowls so you can just assemble and roll.  I like to leave the peel on my cucumber, but I do remove the small bit of seed that seedless cucumbers have.  Leaf lettuce works best.  Use the ruffled edges and remove the hard center of each leaf for neat, easy rolling.  Save yourself a small bit of prep work and buy your carrots already julienned.  When you are finished with your rolls, you can use whatever leftover veggies you may have for quick salad or sandwich add-ins.  You can add meat, tofu or shrimp to your rolls, or just keep them veggie.  You can also add fresh mint, cilantro, or Thai basil if you want.  And sometimes I roll the ends in, sometimes, I don't.  Every time I make these, I do something different.  Here's a link for making them with cellophane noodles that also has a recipe for peanut sauce.  I was in a hurry today, so I used Trader Joe's sweet chili sauce, which I always keep on hand because I think it's really good.  I also used last night's grilled chicken.  (Always make extra.)
So mow your lawn, plant some flowers, go for a hike… but just get out there.   It's going to be a beautiful weekend.  You need to get outside!  Grab that cooler, fill it with some good stuff and get going.
Summer Rolls
1 4.7 oz package spring roll wrappers
1 small head leaf lettuce, rinsed well, patted dry, and separated into leaves
cooked shrimp, firm tofu, or leftover meat of choice
1 cup matchstick cut seedless cucumber
1 cup thinly sliced red cabbage
1/2 cup julienned carrot
1 avocado, cut into slices
peanut and/or sweet chili sauce for dipping
Fill a 9 1/2 inch pie pan halfway with warm water.   Immerse one wrap in the water, agitating it with your fingers until it softens, 30 seconds more or less.  Using both hands, remove from water and set it on a clean work surface.  Lightly blot with a clean dish towel to remove excess water.  Working from the edge closest to you and starting about 1 inch from the edge, layer a few lettuce leaves, followed by meat (if using), cucumber, cabbage, carrot, and avocado.  Dampen your fingers with a little water and pick up the edge of the wrapper closest to you, folding it over the filling and tucking firmly, being careful not to tear the wrapper.  Fold both sides in (or leave them exposed) and continue to roll the filled wrapper until it's snugly closed.
Repeat with remaining wrappers, replacing water if needed.  Slice wraps with a sharp knife and serve with peanut and/or sweet chili sauce on the side.  Store covered in refrigerator.