Ice Tray Cheesecake Bites and Chocolate Magic Shell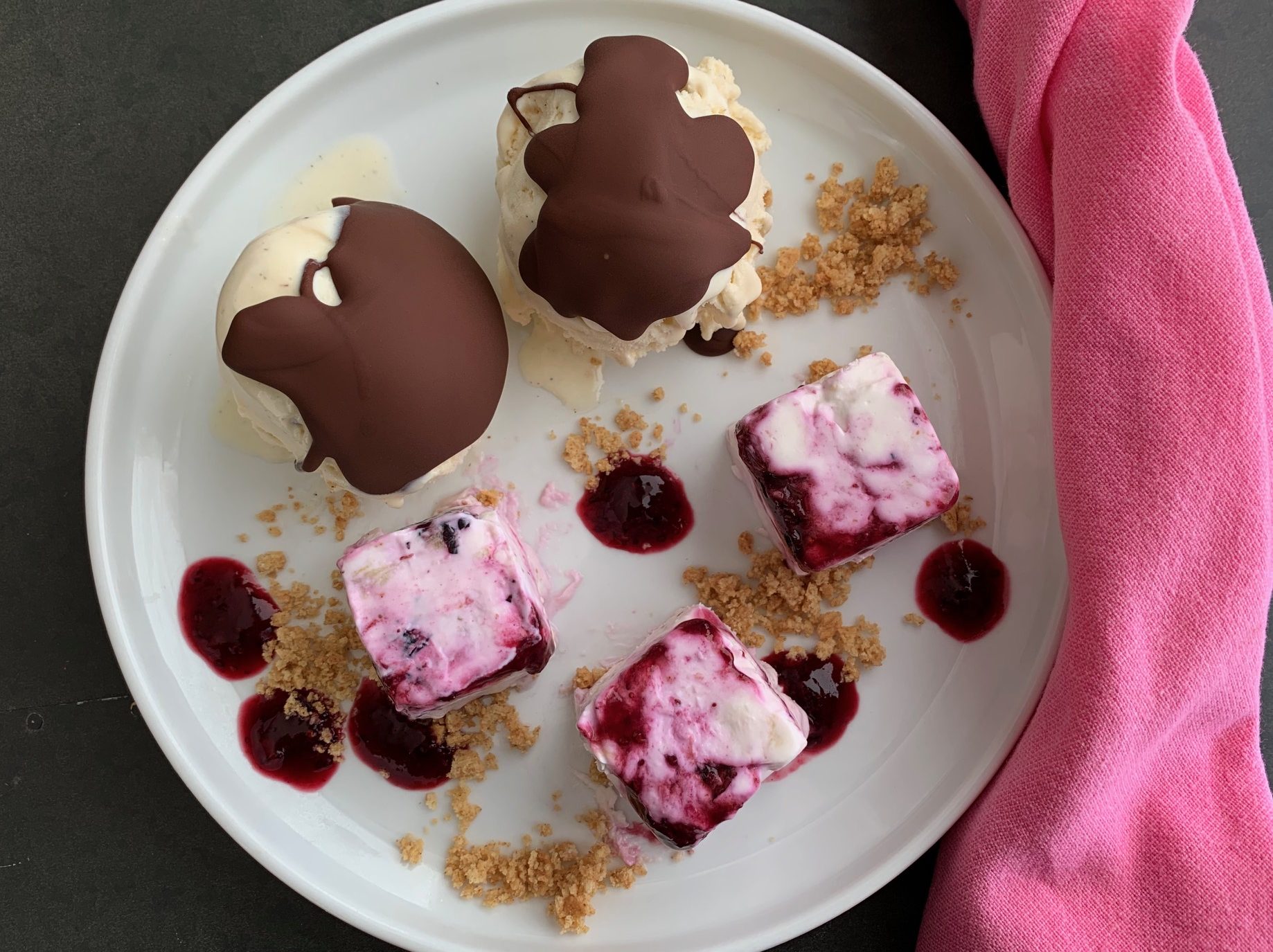 Never mind the heat, it's all about staying cool. Here are two chilly desserts that are fast, fun and easy to make right at home. Nothing says summer like ice cream and who doesn't love a dipped cone? Here's how to bring a little of that vacation ice cream shop to your kitchen. If you have chocolate chips and coconut oil, and perhaps a kid or two you are trying to keep busy, you are well on your way. The melted mixture needs to cool before you use it, so make your Magic Shell ahead of time.
Magic Shell 
1 cup good-quality semisweet or bittersweet chocolate chips
2 Tablespoons coconut oil
Combine chocolate chips and coconut oil in a Pyrex liquid measuring cup. Microwave on high, 20 seconds at a time, stirring after each interval until completely melted and smooth. Let cool to room temperature before spooning or pouring over ice cream. Allow to set before serving. 
Store leftovers covered, at room temp, for up to 1 year. Reheat briefly if needed. 
– recipe by Debbie Koenig, today.com
Ice Tray Cheesecake Bites are a fun, no bake way to make cheesecake. Goat cheese helps to give these a lighter texture and subtly enhances the flavor. You can substitute any fruit jam that you like. I made quick jam by microwaving 1 cup of blueberries with a splash of water for 1 minute on high heat, then adding 1 teaspoon of chia seeds, stirring, and letting it stand several minutes until it thickened. You can top the cream cheese cubes with the graham cracker mixture before freezing, or leave it off and spoon the crumbles onto each serving plate before adding the frozen cheesecake, adding some fresh berries if you like. 
Ice Tray Cheesecake Bites 
8 ounces cream cheese, at room temperature
5 ounces goat cheese, at room temperature

 

1 Tablespoon fresh lemon juice
zest of 1 lemon
confectioner's sugar, or sweetener of choice, to taste
1/4 cup blueberry jam
12 graham cracker sections
2 Tablespoons melted butter or coconut oil
Combine cream cheese, goat cheese, lemon juice, zest and confectioner's sugar or sweetener in a medium bowl and beat until smooth. Spoon cream cheese mixture into a silicone ice tray, dividing evenly among 12 cubes. Spoon a small bit of jam into each cube and using a toothpick or skewer, swirl the jam and cream cheese together. 
Break graham crackers into small rectangles and add to quart size zip-top bag. Use a rolling pin or kitchen mallet to crush crackers into crumbs. Add melted butter or coconut oil and stir together until the mixture resembles wet sand. Spoon a little of the graham crust on top of each cheesecake, pressing down gently with the back of a spoon, making sure to cover surface evenly. 
Transfer tray to freezer and chill for at least 4 hours or overnight. Remove cheesecake bites from tray and let sit for 10 minutes before serving. 
– adapted from Goat Cheese and Blueberry Cheesecake, Ice Tray Treats