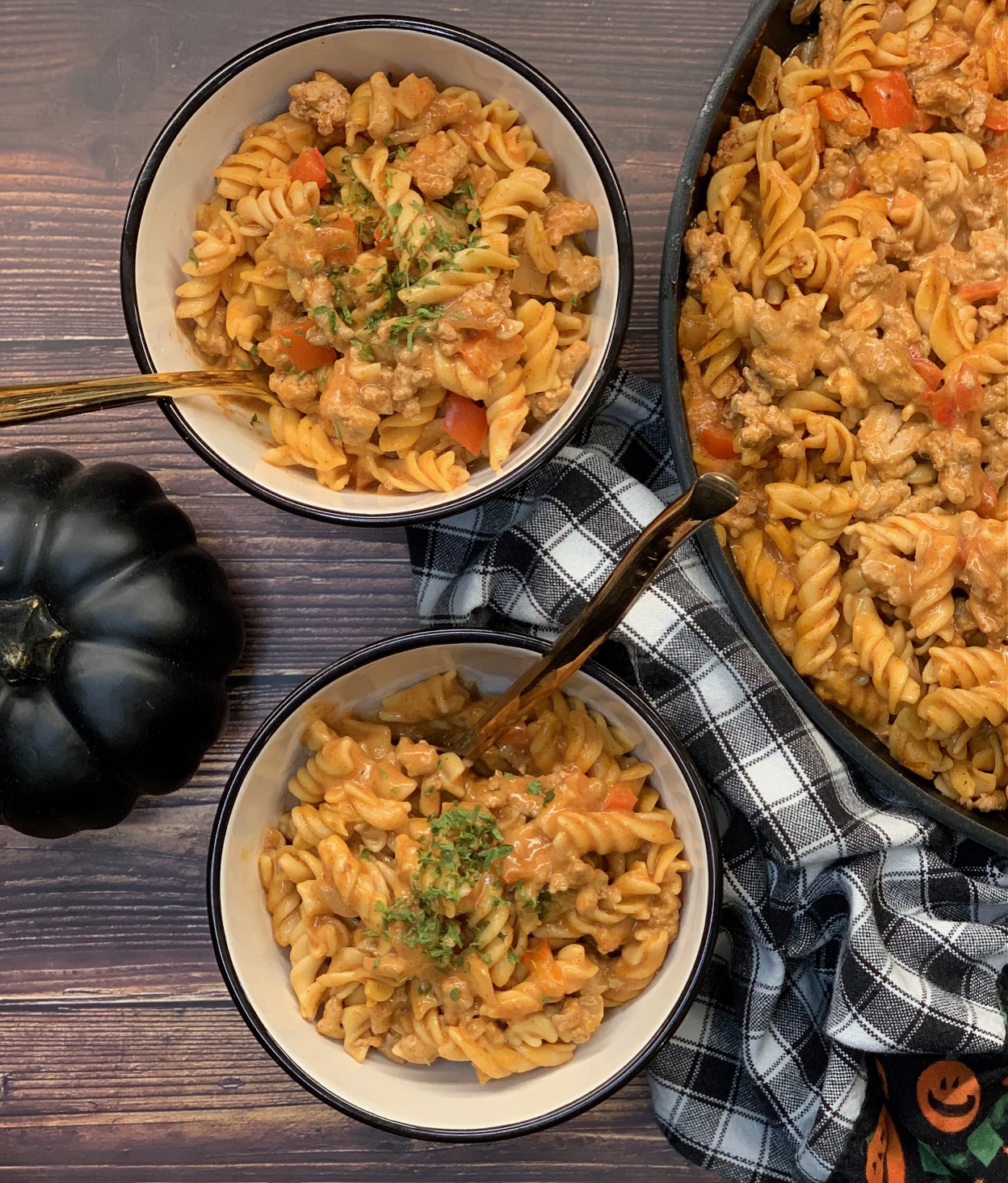 I can't remember anything my mom made for Halloween dinner, but I do remember her costumes. I can still see her, sewing pins between her teeth, making last minute adjustments as we tried to wriggle out the door. I am sure she fed us something warm and nutritious before sending us out into the cold. Soup and grilled cheese sandwiches? Or maybe stew with some spooky name she conjured to cleverly tempt us into eating something other than candy. 
My mom could sew like nobody's business, a skill she unfortunately did not pass down to me. Every Halloween, her expertise transformed me into something I wasn't: a pint-sized bride, a pink ballerina, even an "I Dream of Jeanie" genie, just like the one Barbara Eden made so trendy. My mom could sew so perfectly that her costumes could transform you into anything your heart desired. 
But before I was old enough have a choice was another story. I was a live Raggedy Ann – cute, yes – but very uncomfortable. My dad used masking tape to make the stripes on the stockings, the stiff white lines wrapping in careful circles round and round around my little red tights. He definitely got the desired look, but those stockings pinched all night.  
The worst indignity was the year I was Santa. I had a red velvet suit with a big, wide (mens!) belt, heavy black boots, and a beard. My mom sewed a big Santa bag to complete the outfit, which meant that I didn't get to carry the giant orange pumpkin that was de rigueur in the sixties. It was a beautiful costume, authentic in every way, but what little girl wants to be Santa? I cried in the back seat between stops and could hardly wait for the night to be over. That costume made me so unhappy I couldn't wait to take it off.
Halloween is full of drama. Don't worry too much about dinner. Make something warm and filling and you won't hear a boo out of anyone. This Ghastly Ghoulash is a quick and easy one pan dinner that everyone can agree on. Filled with hearty ground beef and tender pasta in a creamy tomato cheese sauce, it's easy on you and economical, too. Somewhere between a beef chili and a meaty pasta, it's soothing and satisfying. It's a perfect fall dinner, and it's just the thing to feed your little goblins before they head out for an evening of fun. 
For a leaner option, I used ground turkey in place of the beef, but you could use ground chicken or even sausage. Substitute lentils, mushrooms, or beans and vegetable broth and non-dairy products to make this plant-based. Use any shaped pasta that you have on hand. I used Banza chickpea pasta to make this gluten-free while also adding some additional fiber and protein.
Cook the pasta for the minimum time so that it stays toothsome and keeps its shape. I used 2 tablespoons of tomato paste in place of the diced tomatoes and the sauce because I wanted this to be less tomatoey. The spices are up to you. You can add dried thyme, oregano, or Italian seasoning, about 1 teaspoon or more of whatever you prefer. 
You can add extra veggies to the mix, especially if they're ones that your kids like. Corn, peas, diced carrots, or a little baby spinach can all be stirred in at the end. Or be sneaky and use your food processor to finely chop some zucchini. It will cook down so much that no one will notice it in the mix. I didn't measure the cream or the cheese. I just poured in a splash of cream and sprinkled a heavy handed amount of cheese over the top. You can use sour cream in place of the heavy cream if you like. 
Halloween dinner should not be a challenge.  Save your energy for those costumes.
Ghastly Ghoulash 
1 Tablespoon olive oil

 

1 red or green bell pepper, cut into 1/2-inch pieces
1 medium yellow onion, chopped (about 3/4 cup)
1 pound lean ground beef (90/10 or less)
3 cloves garlic, chopped, or 1-2 teaspoons garlic powder

 

1 Tablespoon paprika
freshly ground black pepper
3 cups beef broth (or 3 cups water plus 1 Tablespoon Better Than Bouillon Beef Concentrate)
1 15-ounce can tomato sauce
1 15-ounce can diced tomatoes

 

2 Tablespoons Worcestershire sauce
12 ounces elbow (or other) pasta
1/4 cup heavy cream

 

1 cup shredded mild cheddar cheese

 

1 American cheese slice, torn into small pieces
salt to taste
chopped fresh parsley, for garnish

 
Heat olive oil in a large pot or Dutch oven over medium heat. Add bell pepper and onion and cook, stirring occasionally, for just a few minutes. Add ground beef and cook until onion is softened and ground beef loses its pink color, about 15 minutes, breaking up beef with a spoon as it cooks. Drain excess fat if needed. Add garlic or garlic powder, paprika and black pepper. Cook and stir, 1 minute.
Add beef broth, tomato sauce, diced tomatoes, and Worcestershire sauce to the ground beef mixture and stir to combine. Bring to a simmer, then add pasta and reduce heat to medium-low. Cook, continuing to stir occasionally, until pasta is al dente, about 8 minutes or according to package directions. 
Reduce heat to low. Add a generous splash of heavy cream, sprinkle with cheese and add cheese slice. Stir until cheese is fully melted and creamy. Taste and adjust, adding more cream, cheese or salt if desired. Garnish with fresh parsley and serve.