Endive, Arugula, Fennel, and Orange Salad with Beets, Blue Cheese and Walnuts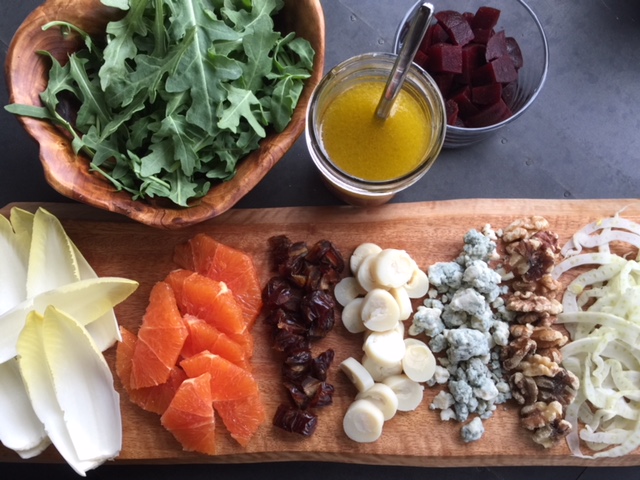 Don't make that salad the same old way.  Tossing everything in a bowl and soaking it in dressing gets tiresome. Why not mix things up a bit and do something different?  Greens and all the toppings you can imagine take on a whole new light when they're served in an unexpected way.  Brimming with all things fresh and bright from the market right now, this salad board features lots to choose from and let's everyone have a say on what ends up on their plate.  This non-traditional approach will transcend multi-generations and varieties of picky eaters.  Finicky toddlers, vegan/ethical-eating teens, food restrictive older folks, allergy/sensitive anyone, and just plain "I don't like that!" eaters.
Feel free to adjust quantities according to the size of your crowd, and as usual, get creative.  Leave out whatever you like or don't have – add in whatever suits your mood.  Substitute another cheese, maybe goat, or perhaps shaved Manchego or Parmesan?  Swap Marcona almonds, toasted hazelnuts, pine nuts, or pecans for the walnuts, or go nut free and use pumpkin or sunflower seeds. Save time and buy your beets already roasted and peeled, like the one's they have in the refrigerated produce section at Trader Joe's.
Making your salad this way also cuts down on food waste.  Everything that's left can be put away for tomorrow's salad, or perhaps now that it's cut and prepped you can reimagine it into some other dish. You can do everything way ahead of time, and because it's undressed, this salad will hold up to a long evening and still look great.
Endive, Arugula, Fennel and Orange Salad with Beets, Blue Cheese, and Walnuts
1 head endive, leaves pulled off
2 cups arugula
2 Cara Cara oranges
3 dates, pitted and sliced into small chunks
1/2 cup hearts of palm, sliced round
1/3 cup crumbled blue cheese
1/3 cup toasted walnuts
1 fennel bulb, cored and thinly shaved or sliced
3 small beets, roasted, peeled and cubed
dressing:
3 tablespoons freshly squeezed orange juice (from one half of an orange)
2 tablespoons white wine vinegar
2 tablespoons white balsamic vinegar
2 teaspoons coconut aminos (or substitute honey, maple syrup, or agave) to taste
1/4 cup extra-virgin olive oil
3/4 teaspoon kosher salt
freshly ground black pepper
Cut both oranges into halves, reserving one half of one of the oranges for juice.  Using a sharp knife, peel and remove pith from other halves and cut oranges into neat sections.   Place endive leaves, orange slices, dates, hearts of palm, blue cheese, walnuts, and fennel onto wooden board in rows.  Mound arugula into a small bowl and spoon beets into another small bowl to serve with salad board.
Combine all dressing ingredients in small, lidded jar and shake well to combine. Place bowls and dressing alongside salad board and serve.