Crunchy Winter Slaw with Asian Pear and Manchego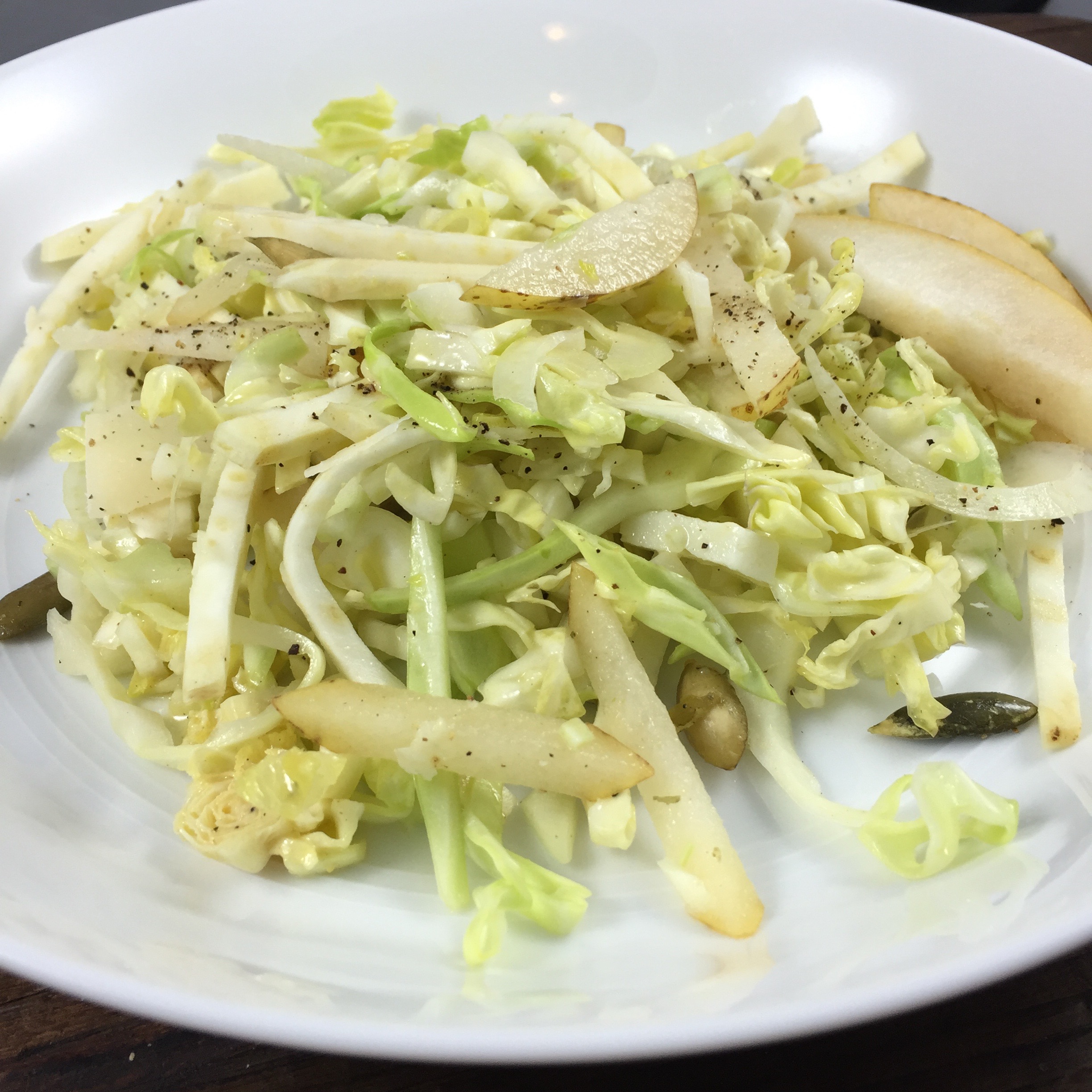 Green comes in many shades, like this beautiful, pale green winter slaw from Bon Appetit.  Bright, lemony and crisp – it is just perfect for these first days of spring.  The slicing and dicing takes a bit more work, but the end result is salty-sweet and complex – worth every bit of effort.
Definitely use a mix of cabbage and fennel.  Combined with the celery root, daikon, and pear and balanced with the lemon, mustard, and maple you get the maximum variation of flavors.   Every bite is a crunchy little taste of spring.
Use a mandoline to thinly slice the fennel.  It speeds up prep and gives you those thin, restaurant-style shavings.  You can find roasted, salted pumpkin seeds at Trader Joe's and skip the step of having to roast them yourself.  I used only 1 tablespoon of maple syrup and found this to be sweet enough, so be sure to taste as you go.  This salad makes 4 generous servings.  Enough to serve as a salad course, or if you don't eat all of it at one time, it will keep well for the next day's lunch.
Crunchy Winter Slaw With Asian Pear and Manchego
1/3 cup raw pumpkin seeds (pepitas)
1 teaspoon plus 1/4 cup olive oil
Kosher salt, freshly ground black pepper
3 tablespoons fresh lemon juice
1 tablespoon Dijon mustard
2 tablespoons pure maple syrup
4 cups very thinly sliced green cabbage and/or fennel
1 1/2 cups matchsticks Asian pear (from about 1/2 large)
1 1/2 cups matchsticks peeled celery root (from about 1/4 small) or celery
1 1/2 cups matchsticks peeled daikon (from about 1/2 medium)
3 ounces Manchego cheese, shaved, divided
Preheat oven to 350 degrees.  Toss pumpkin seeds, 1 teaspoon oil, and salt and pepper on a rimmed baking sheet.  Bake about 5 minutes, or until golden brown and puffed.  Let cool.  Finely chop 2 tablespoons of the pumpkin seeds.
Combine chopped seeds, lemon juice, mustard, maple syrup, and 1/4 cup olive oil in medium bowl and whisk.  Season with salt and pepper.
In a large bowl combine cabbage and/or fennel, Asian pear, celery root, daikon, most of the Manchego, and the remaining pumpkin seeds.  Drizzle dressing over the top and toss to combine.  Taste and adjust seasoning with additional salt and freshly ground pepper.  Plate and top each serving with additional Manchego.