Cranberry Orange Balsamic Vinaigrette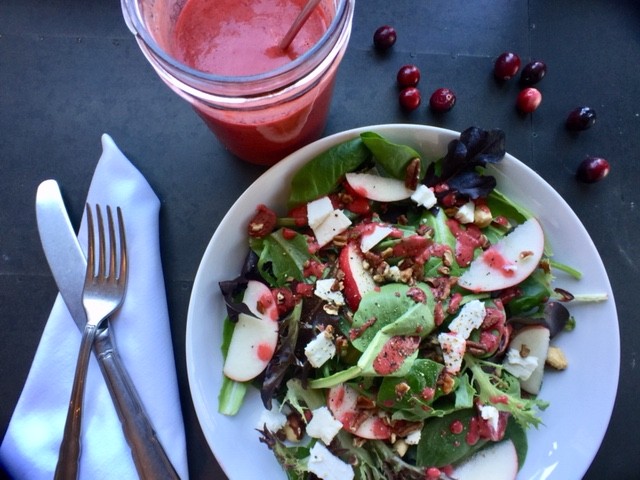 Still smiling from all the excitement at the 2018 Cranberrian Fest in Ilwaco.  Ever since discovering that we have cranberry bogs so close to home, I have been wanting to visit one and I had all the enthusiasm of an elementary schooler when we arrived early Saturday morning.  One of the bogs was already flooded and a team of wader clad workers was hard at work rounding up the berries and herding them to the large piece of harvesting equipment that was churning away.
There are currently 235 growers on the West Coast from British Columbia to Oregon, and 99% of local growers are  part of an Ocean Spray cooperative.  We met a lot of nice people who shared what they do with cranberries.  While I was picking out the two huge bags we took home, I got into a very animated discussion with one of the growers who gave me great detail about how to make cranberry infused vodka.  I talked to one of the harvesters who took time to show me how his wet suit and pants keep him thoroughly dry.  And I talked to a lady on the shuttle who told me about how she bakes with fresh cranberries.  And now I can check "visit a cranberry bog" off my bucket list.
What will I do with all the cranberries?  Some are obviously destined to be turned into the Cranberry Port Conserve our family enjoys every Thanksgiving.  I will freeze some to add to glasses of champagne and beverages for a merry pop of red all through the holidays.  Some will go into hurricane holders with candles for decoration.  And I will use some now to make a quick salad dressing that will add a little reminder of how fun fall is in the Northwest.
Anyone can make this.  The ingredient list is simple and will make about a pint of dressing, which is more than enough for several salads.  Using a whole orange and the white balsamic vinegar adds enough sweetness that you don't need to add any sugar, but if you feel the dressing needs more sweetness you could drizzle in a bit of honey.  It is light and healthy, and with only 3 tablespoons of oil, you can add a bit of festive cheer to any salad you make this holiday season.  Make some and make some more.  This pretty red dressing makes a nice host or hostess gift, too.
If you want to visit a cranberry bog, the harvest will continue through the end of this month.  Here's a link to the Pacific Coast Cranberry Research Foundation Museum and Gift Shop.  Get an early start.  The best time to see harvesting is at 9 a.m.
Cranberry Orange Balsamic Vinaigrette
1 medium navel orange, peeled and sectioned
1 cup fresh cranberries
1 teaspoon Dijon mustard
1/2 cup white balsamic vinegar
1/2 teaspoon onion powder
1/2 teaspoon kosher salt
3 tablespoons extra virgin olive oil
Add orange sections, cranberries, Dijon mustard, balsamic vinegar, onion powder, and salt to blender and process until smooth and combined.  With blender running, add olive oil, streaming slowly to emulsify.  Cover and store in refrigerator.
Northwest Cranberry Salad
organic field greens
thinly sliced apples and/or pears
toasted hazelnuts, pecans, walnuts or almonds
pumpkin or sunflower seeds
feta, chèvre, blue, or Humboldt Fog cheese, crumbled
Cranberry Orange Balsamic Vinaigrette
freshly ground black pepper
Combine field greens, apples and/or pears, nuts or seeds, and cheese in individual bowls or salad plates.  Drizzle with vinaigrette and top with freshly ground black pepper.