Crab Cakes and Rhubarb, Cardamom and Pistachio Cake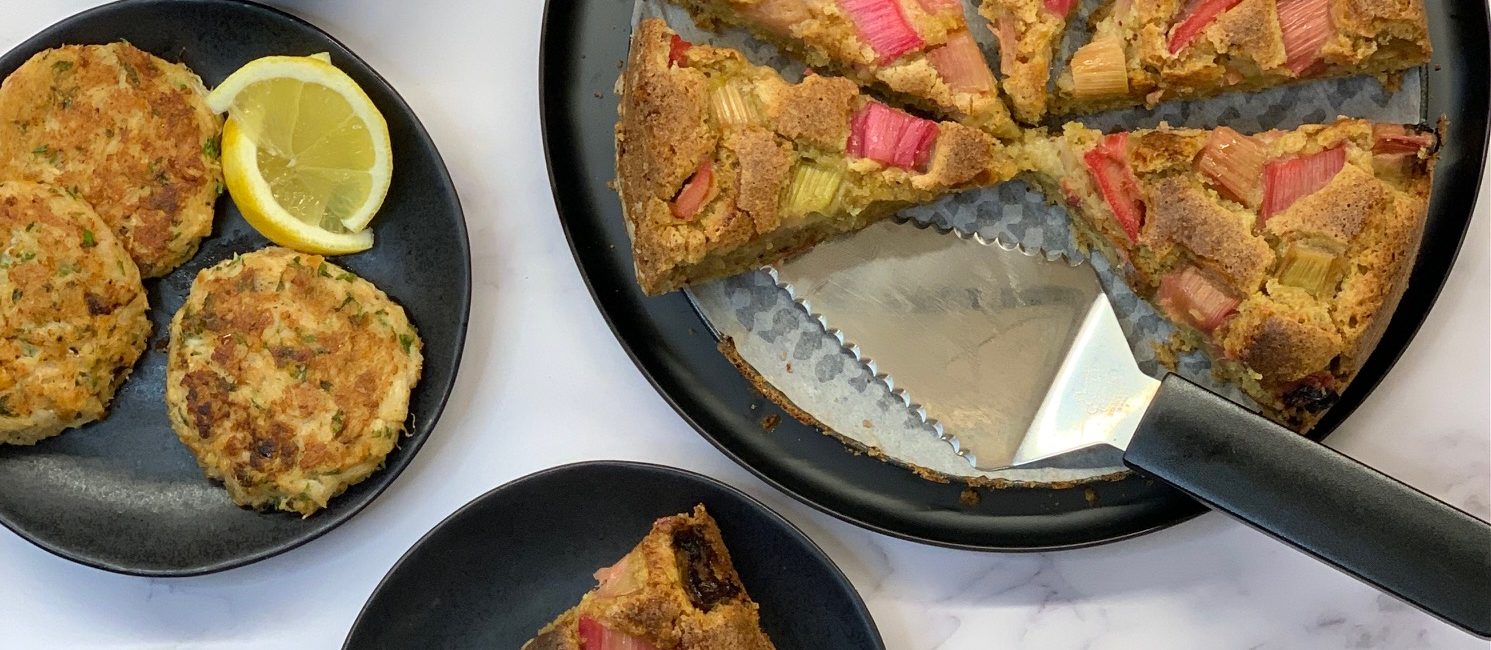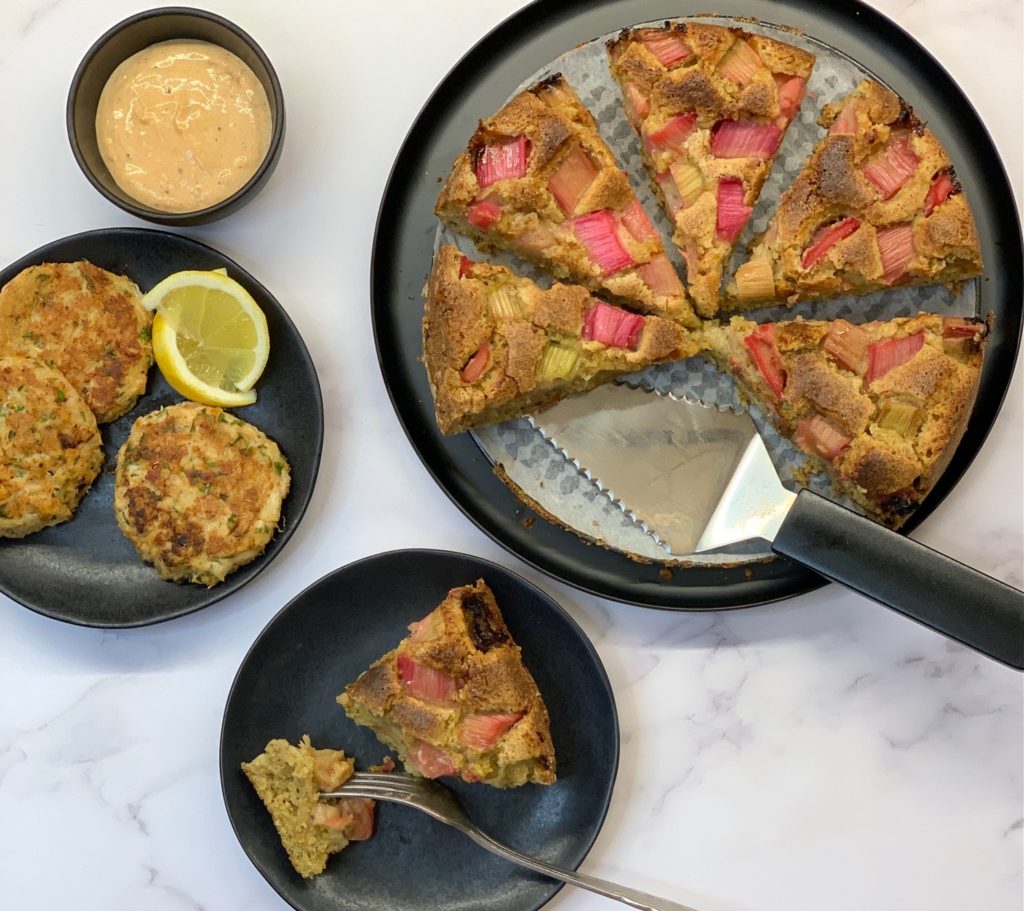 Let's eat cake! Crab and rhubarb, that is. Whether you recreational crab or happen to notice a good sale like I did, crab cakes are always a treat to enjoy. The most delicious crab cakes I have ever eaten were at the Old Ebbitt Grill in Washington, DC. Opened in 1856, the Old Ebbitt is just steps from the White House and is noted to be the oldest saloon in Washington DC. They are famous for their crab cakes and for good reason. They are light as a feather, golden browned, and seasoned to perfection. We had a wonderful, exhausting time seeing all the history and taking in all of the museums on that family trip, but the crab cakes remain among the high points. We shared a plate for the table and I remember wanting to order another, but our entrees came so quickly I didn't get the chance. I have eaten crab cakes since, but none of them compared. 
Making them at home couldn't be easier. The ingredient list is small, which keeps crab the focal point, and it really shines through. Do not use liquid crab boil! It is highly concentrated and I'm fairly certain this is not what the chef intended when he shared this recipe. Use Old Bay Seasoning if you happen to have that on hand, or you can make your own crab boil seasoning from individual spices.
Empty your crabmeat into a large bowl and pick though it to be sure that there aren't any shells or cartilage. Push everything to the side of the bowl, then add the mayonnaise, crab boil seasoning, chopped parsley, Dijon mustard, and water. Stir the mayonnaise and seasonings together so that everything is evenly combined, then fold it into the crabmeat to thoroughly mix. 
I tried breaking up the crackers by hand like the recipe instructed, but I noticed large pieces when I crumbled the first cracker. To break them into an even breadcrumb-like consistency, put your crackers in a small resealable bag and pound them with a rolling pin or meat tenderizer. To make these gluten-free I used gluten-free pretzels, broken up in the same manner. Do not add salt! Between the saltine crackers and the Old Bay Seasoning you will have plenty. Form your crab cakes and refrigerate for at least 30 minutes. This will help hold them together before frying. Use a cast-iron skillet coated with a little avocado or canola oil to pan-fry, or you can broil your crab cakes, if you prefer.   
Next, a spring bake perfectly suited for celebrating. Serve up a slice of this lovely Rhubarb, Cardamom and Pistachio Cake to enjoy with a cup of tea while you watch the coronation of England's latest monarch. It has been 70 years since the last coronation, and who knows how long until the next one, so why not get into the spirit and make something special to mark this occasion. This cake is extremely fast to pull together. You can have everything mixed and ready to bake in just 10 minutes. 
I love rhubarb and will bake with it any chance I get. You could also use plums, strawberries with a bit of lemon, or raspberries, cranberries, tart cherries or a tart variety of apple for this cake. My rhubarb was rather large, so I cut it into 1/2-inch lengths instead the 1-inch as directed. Plant-based milk is used to make this dairy-free, and aquafaba, the liquid from canned chickpeas, replaces eggs to make this vegan. It helps to bring the sponge together and gives it an almost macaroon-like texture. Make sure to let the cake cool completely, otherwise it will be damp when you cut into it. I left the metric measurements in place because I like them for baking, but also included the imperial conversions. 
Caster, or castor, sugar is a type of fine granulated sugar that is widely available in the United Kingdom. Granulated sugar will usually work as an alternative and it will work just fine in the recipe below. I made this using Bob's Red Mill Gluten-Free 1 to 1 Baking Flour, following the conversion below to make it self-rising, and worked perfectly. 
Seize the season. Make cake and celebrate! 
Crab Cakes
1 pound jumbo lump crabmeat
1/3 cup mayonnaise

 

2 teaspoons crab boil seasoning

 

1 Tablespoon chopped parsley
1 Tablespoon Dijon miustard
1 Tablespoon water
4 salted crackers
Pick the crabmeat over to remove shells and cartilage. Combine mayonnaise, crab boil, parsley, mustard, and water and mix until smooth. Add mayonnaise mixture to the crabmeat and mix, being careful not to break up the lumps of crabmeat. 
With your hands, break up saltines into crumbs then mix into the crab mixture. Form into patties and pan-fry or broil the cakes until golden brown. 
-Old Ebbitt Grill, Washington, DC 
Rhubarb, Cardamom and Pistachio Cake
200g rhubarb, trimmed (about 2 cups)
260g caster sugar, divided (1 1/3 cups)
150g shelled pistachios (1 cup)
1/4 teaspoon sea salt
1/2 teaspoon ground cardamom
60ml chickpea water (aka aquafaba) (1/4 cup)
90ml olive oil (6 Tablespoons)

 

2 Tablespoons rose water
100ml plant-based milk (1/4 cup plus 2 1/2 Tablespoons)
250g self-raising flour*, sifted (1 1/2 cups plus 1 Tablespoon)
1 teaspoon baking powder
Preheat oven to 200ºC (392º F). Grease and line the base of a 20cm (8-inch) springform cake tin. Cut the rhubarb into 3cm (1-inch) lengths and place in a medium bowl; toss with 30g (1 1/2 tablespoons) of caster sugar and set aside. 
Blitz pistachios in a food processor until very fine, then add remaining 230g caster sugar, salt, cardamom, and pulse to combine. Add chickpea water, olive oil, and rose water and blitz until smooth. Pour in milk and blitz again. Transfer mixture to a medium bowl; fold in flour and baking powder until mix just comes together, then scrape batter into the lined tin. 
Scatter rhubarb evenly over the top, then bake for 50-55 minutes, until cake has risen and is cooked through. The rhubarb should be slightly caramelized, the edges of the batter slightly macaroon-like and the middle damp. Remove from oven, leave in tin to cool for 10 minutes, then unclip and put on a wire rack to cool completely. Serve with a dollop of plant-based yogurt or cream, if desired. 
-Georgina Hayden
*to make self-raising flour:  for every 1 cup of all-purpose flour, add 1 1/2 teaspoons baking powder and 1/4 teaspoon fine sea salt.