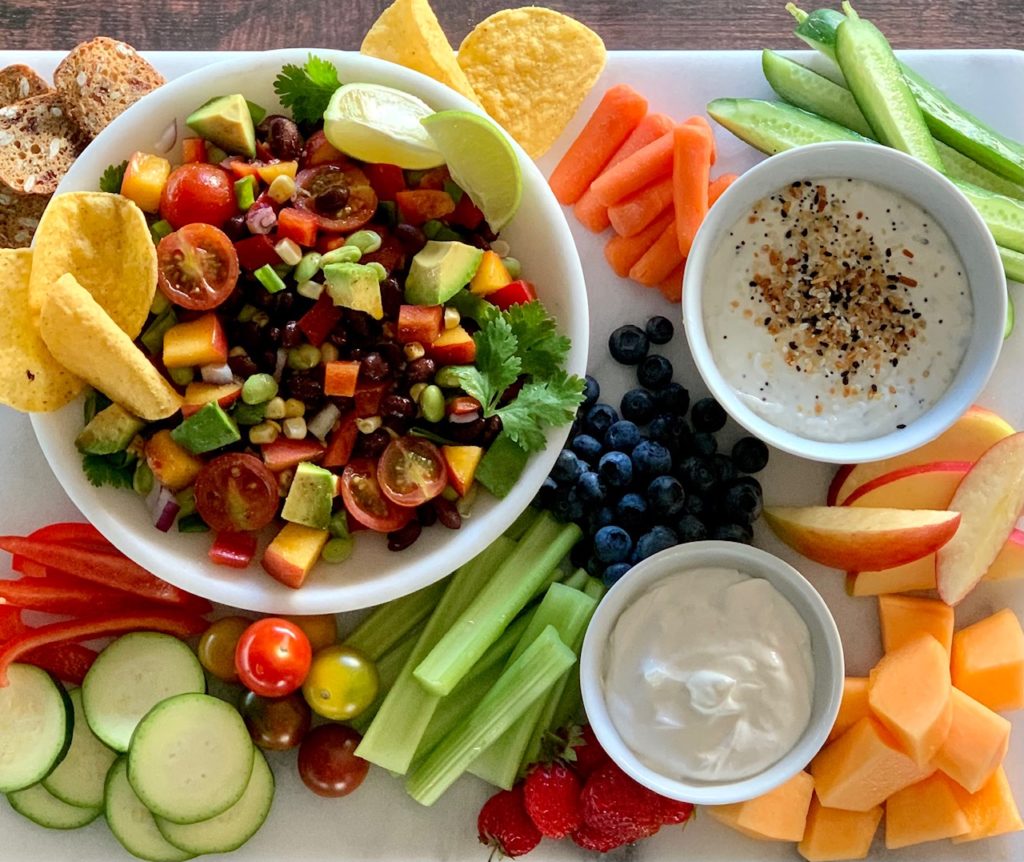 The heat is definitely on this week. When it gets this hot, the last place you want to be is the kitchen. Warmer temperatures can definitely wreak havoc with your appetite, not to mention your desire to cook. Make something refreshing and beat the heat with cooling dips that let you eat light. These three dips will help you make the most of what you have, whether it's a few berries from your garden or the last of the carrots in your crisper. 
Plant-based and packed with protein, Cowboy Caviar is made from good-for-you ingredients that you most likely have in your fridge or pantry. Simple and healthy, it's made from fiber-filled, longevity-boosting beans, plus anti-inflammatory vegetables and herbs, like peppers, onion and cilantro. Toss these together with a lightly seasoned vinaigrette, and you've got a low fuss, no cook, delicious dish to snack on or sub for a meal. Economical and infinitely adaptable, it keeps well for several days. Swap as you like to make this heartier pico de gallo. I used canned black beans and traded edamame for the black-eyed peas. Vibrant and nourishing, it's just right for a day when it's just too warm. 
Make a thick and creamy, healthier dip to eat with all those garden veggies. This next easy dip is made with Dash Everything But the Salt seasoning blend. Perfect with sturdy vegetables like celery, peppers, carrots, cucumbers, radishes and snap peas, you can also serve it with whole-grain bagel chips, pretzels, or crackers. You can use regular Everything But The Bagel seasoning if sodium isn't a concern, or make your own salt-free seasoning out of dried garlic, dried onion, sesame seeds, and poppy seeds.
Let's not forget dessert. For the easiest whipped cream fruit dip ever, try this Whipped Yogurt Dip. Made with only two ingredients, you can use the whipped topping of your choice and substitute other types of yogurt, as well. I used Truwhip and nonfat plain Greek yogurt. It was light, fluffy and tangy, with just the right amount of sweetness, not too thick or thin, just perfect for dipping with fruit. I like that you can make this with flavored yogurt, too, and the Two Good variety called for in this recipe has only 2 grams of sugar per 5.3 ounce cup. I wanted to try making a smaller batch, so I mixed equal amounts of yogurt and Truwhip, 1 cup of each, and it was just right.
If you can't stand the heat, get out of the kitchen. Eat light and stay cool!
Cowboy Caviar
1 1/2 cups cooked black beans, drained and rinsed
1 1/2 cups cooked black-eyed peas, drained and rinsed
2 cups cherry tomatoes, halved
1 cup corn kernels
1 red bell pepper, stemmed, seeded, and diced
1/3 cup diced red onion
1/3 cup sliced green onion
1 medium jalapeño pepper, finely chopped
juice of 1 lime
2 large avocados, pitted and diced
1 medium peach, pitted and diced
1/4 cup cilantro
tortilla chips, for serving
dressing:
2 Tablespoons plus 1 teaspoon red wine vinegar
2 Tablespoons extra-virgin olive oil
1 teaspoon chili powder
1 teaspoon cumin
1/2 teaspoon cayenne
1/2 teaspoon honey
1 clove garlic, minced
1/2 teaspoon ground black pepper
sea salt, to taste
Combine black beans, black-eyed peas, tomatoes, corn, bell pepper, red onion, green onion, jalapeño, and lime juice in a large bowl and stir together.
In a small bowl, whisk together vinegar, oil, chili powder, cumin, cayenne, honey, garlic and ground black pepper. Pour dressing over bean mixture, then fold in avocado, peach, and cilantro. Season to taste with salt. If time allows, refrigerate 1 hour. Serve with tortilla chips. 
 – adapted from Well + Good 
Dash Everything But the Salt Dip
1/3 to 1/2 cup feta cheese, finely crumbled
1/2 cup light sour cream
1 cup nonfat or low-fat Greek-style plain yogurt (thicker brands work best)
1 Tablespoon lemon juice
3 Tablespoons Dash Everything But the Salt Seasoning blend
Mix feta, sour cream, yogurt and lemon juice together in a medium bowl. Mix in Dash seasoning and stir until well combined. Refrigerate and let chill 30 minutes; stir before serving. Serve with veggies or whole-grain chips. 
– joybauer.com
Whipped Yogurt Dip
1 container light Cool Whip, Truwhip, or dairy-free Cocowhip
1 container Two Good Yogurt (flavor of your choice)
Mix whipped topping and yogurt together in a small bowl until fully combined. Serve with fresh fruit. 
– eatthis.com