Cold Sesame Noodles with Cucumber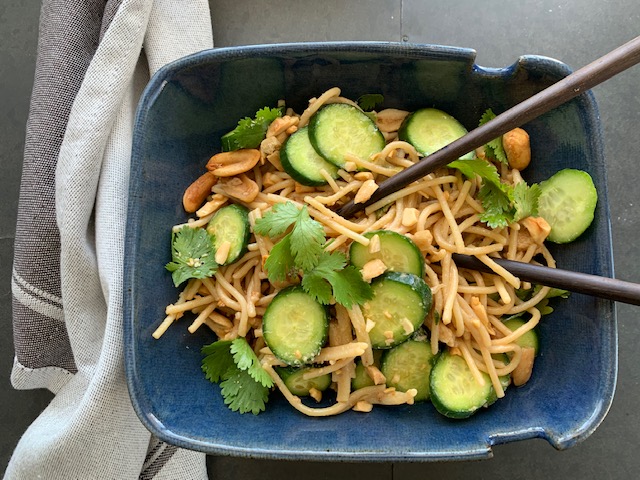 Need something to keep your cool while the weather stays hot? A cold noodle salad is just how to do it. Bracingly cool, Cold Sesame Noodles with Cucumber are just like take out, but you can make them at home. 
Keep your pasta on the firm side for this recipe, so it keeps its shape. I wanted to keep the house cool, so I tried making pasta in the Instant Pot (directions below). I used Barilla gluten-free spaghetti and was very surprised at how well it cooked. In the interest of speeding things up, I omitted the grated cucumber called for in the original recipe and just kept mine sliced, for a nice contrasting crunch. Coat the inside of your measuring cup lightly with a little oil before measuring the peanut butter for easy clean up. As always, taste as you go, adding more or less of any ingredient to suit your liking. If you want to add spiciness, try adding either the pepper flakes or the sriracha.
The coated noodles will keep well in the refrigerator for several days, but to keep this looking "just made" fresh add the cucumbers, cilantro, and chopped peanuts on the day you plan to serve it. 
Cool, crisp, and make-ahead. Now that's using your noodle!
Cold Sesame Noodles with Cucumber
8 ounces spaghetti, pad thai-style rice noodles, or ramen noodles

 

1 Tablespoon peanut oil
1/4 cup peanut butter

 

1/2 teaspoon toasted sesame oil
3 Tablespoons rice vinegar
3 Tablespoons soy sauce
2 teaspoons toasted sesame seeds
1 – 2 Tablespoons honey
2 Tablespoons freshly grated ginger, or 1 Tablespoon ground ginger
2 garlic cloves, mined
1 Tablespoon red pepper flakes (optional)
1 Tablespoon sriracha or other red chile sauce (optional)
2 Persian cucumbers, thinly sliced
1 scallion, chopped
1/4 cup roasted, salted peanuts, chopped
1/4 cup fresh cilantro leaves, chopped
stovetop:
Add water and ice to a large bowl. Bring a large pot of water to a boil. Add noodles and cook according to package directions until al dente. Drain and transfer to bowl of ice water until well chilled, about 5 minutes. Drain noodles and drizzle with peanut oil, tossing to coat.
instant pot:
Add dried pasta to the Instant Pot and add water until it barely covers pasta, about 1/2 inch above at most (about 4 cups of water). Shut lid, seal valve and manually set to low for half the time recommended on the box. Release pressure manually. Stir noodles. Drain and cool in ice water, as above, then drain and toss with peanut oil.
In a large bowl, combine peanut butter, sesame oil, rice vinegar, soy sauce, sesame seeds, honey, ginger, garlic, red pepper flakes and sriracha, whisking until smooth. Add half of the scallion, cucumber, and peanuts; stir. Add chilled pasta and toss to coat. Transfer to serving bowl. Top with remaining sliced cucumber, cilantro, scallion and peanuts. 
-adapted from the recipe by Patricia Heaton as seen on Epicurious