Classic Succotash and Chopped Salad with Cornbread Croutons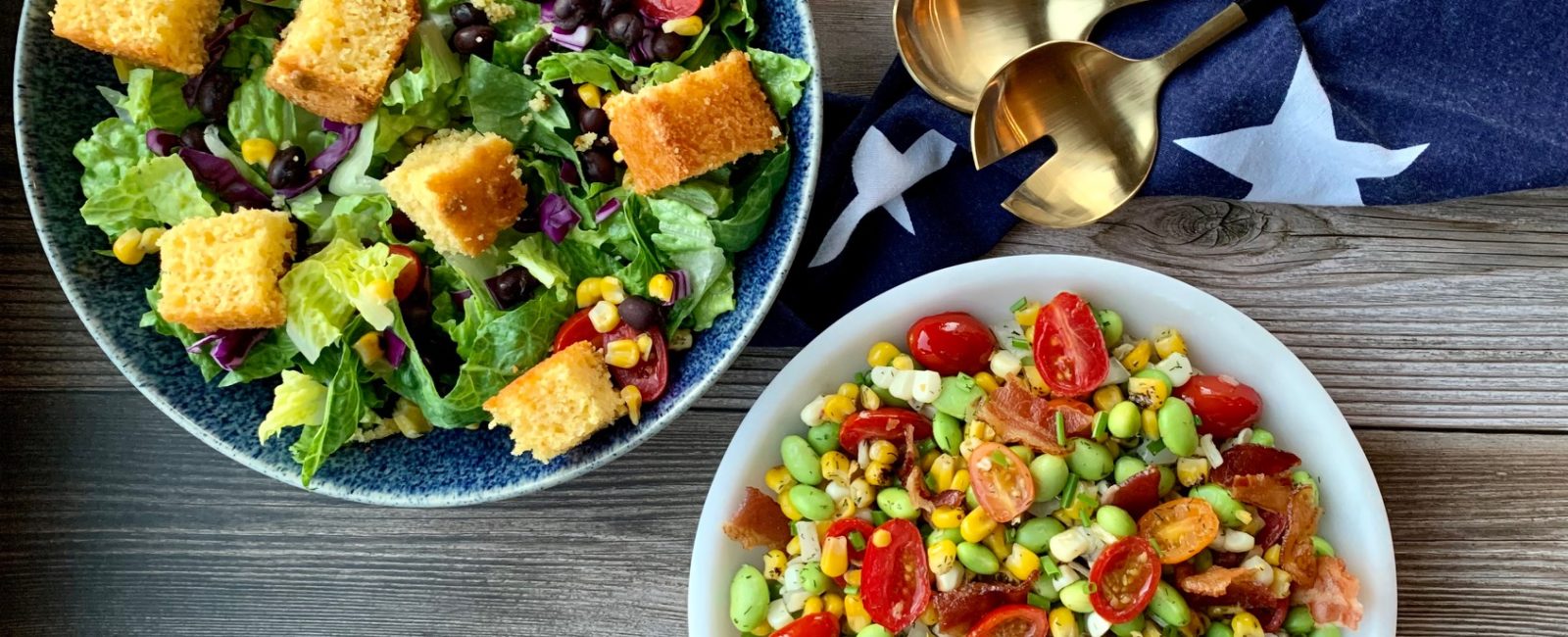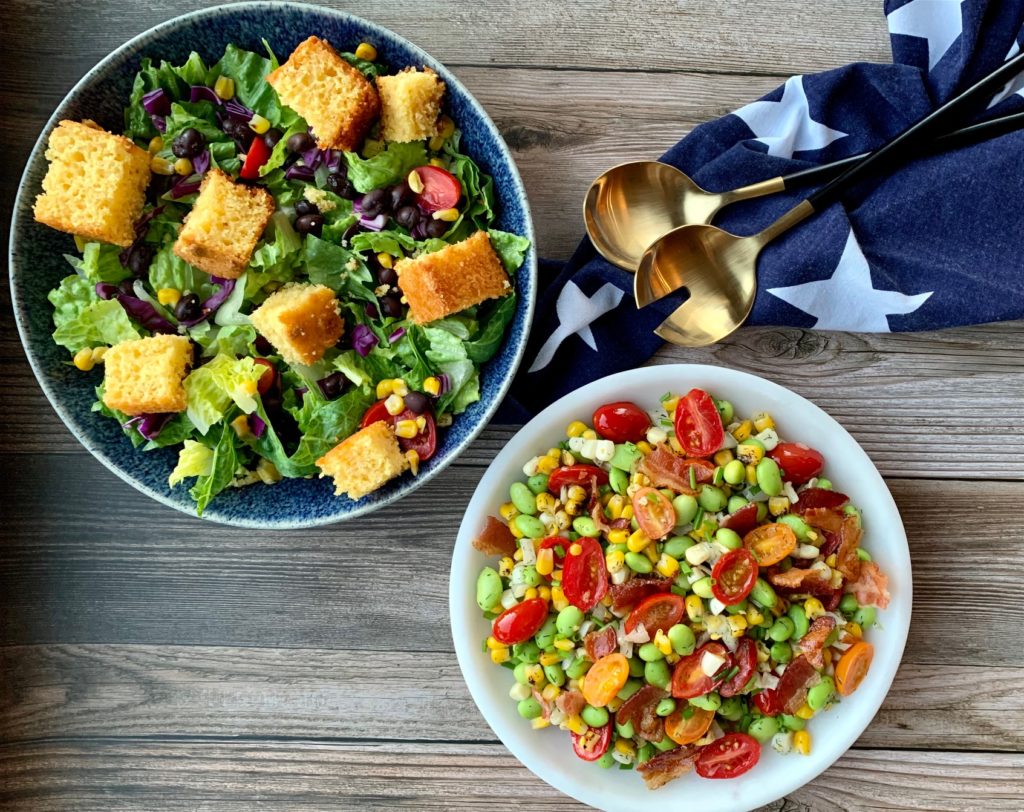 When my kids were small, we would end every school year with a bucket list. We'd sit together and make a plan, listing all the things we wanted to see and do over the summer. Now is the time to make your summer bucket list. Let your kids stay up way past their bedtime to look at the stars, bask in blissfully bare feet, and play games in the grass. Open the windows and let the breeze blow in. Ride a bike. Embrace the campfire, or the grill in your back yard. Get out the garden hose and run in the sprinkles. Set up a comfy chair in the shade of a tree and read a great book. Go for a picnic. Pick berries. Go to the library. Make homemade pickles and jam. Visit the zoo. Pick some fresh flowers. Get out the sidewalk chalk, blow some bubbles, drape the kitchen table with a blanket and camp out underneath. Make ice cream and freshly squeezed lemonade. Make memories. 
Here's to an old-fashioned Fourth. Hamburgers and hotdogs on the grill, homemade potato salad, and a freshly baked pie. Add to the festivities with some new dishes to round out your fare. Both are great paired with barbecue and are also easy to make and take to a cookout.
It's hard to go wrong with Classic Succotash. With exuberant vegetables at their peak flavor, this traditional Southern side is the perfect potluck or picnic dish. Practical and easy on your budget, succotash lets you elevate an abundance of summer produce in an effortless way. A delicious mix of vegetables and peas, besides the traditional lima beans, onions, corn, okra and fresh herbs, it can include whatever else you might have on hand. Brimming with flavor and color, this humble dish makes good use of what's available and can serve as a side or main dish, depending on your needs. Skip any ingredients you don't like or have, and swap as you please. My favorite swap is edamame. You can cook frozen edamame in the microwave in much less time than it takes to cook beans on the stove, saving time and keeping your house cool as well. Without the bacon it's a great plant-based recipe to have in your rotation all summer long. 
Give your usual salad a little barbecue style with this Chopped Salad with Cornbread Croutons.  It's a nice, fresh option and it couldn't be easier. Use cornbread mix and your favorite bottled ranch dressing to speed things up, or if you have time, make your own. I used canned black beans in place of the black-eyed peas and because the cornbread was so perfect out of the oven, I opted not to toast the cornbread cubes. They were golden brown, dense, and cut into pillowy little squares, just perfect for topping salad. 
Have fun, live large, and make the most of your summer. Have a fabulous Fourth!
Classic Succotash  
2 cups fresh lima beans

 

1/2 small yellow onion
4 fresh thyme sprigs
1 garlic clove
3 uncooked bacon slices
1 medium sweet onion, chopped
3 cups fresh corn kernels, about 6 ears
1 pint cherry tomatoes, halved
2 Tablespoons unsalted butter
1 Tablespoon red wine vinegar
1 1/2 Tablespoons chopped fresh dill
1

 

1/2 Tablespoons chopped fresh chives
Combine lima beans, yellow onion, thyme and garlic in a medium saucepan. Cover with water and bring to a boil over medium-high heat; reduce heat to medium and simmer, stirring occasionally, 20 minutes or until beans are tender. Drain beans, reserving 3/4 cup cooking liquid. Discard yellow onion, thyme and garlic.
Cook bacon in a large skillet over medium heat for 7 minutes or until crisp, turning once. Remove bacon, placing on paper towels to drain; reserve 2 tablespoons drippings in skillet. 
Sauté onion in hot bacon drippings over medium-high heat for 5 minutes. Stir in corn and cook, stirring often, until corn is tender, about 6 minutes. Stir in tomatoes, cooked lima beans and 3/4 cup reserved cooking liquid. Cook, stirring occasionally, 5 minutes. Stir in butter and remaining 3 ingredients. Season with salt and pepper. Sprinkle with crumbled bacon. 
-southernliving.com 
Chopped Salad with Cornbread Croutons
1/2 cup cubed cornbread (1/2-inch cubes)

 

6 cups shopped romaine lettuce (about 1/2 head or 2 hearts)
1 1/2 cups thinly sliced red cabbage (about 1/4 head)
1/2 cup canned black-eyed peas, drained and rinsed
1/2 cup frozen fire-roasted corn kernels, thawed (or fresh corn kernels)
1/2 cup halved cherry tomatoes
1/4 cup diced pimientos, rinsed
1/2 cup ranch dressing
1/2 cup thinly sliced red onion (about 1/4 onion)
Preheat oven to 350º F. Spread the cornbread cubes on a small baking pan. Bake until golden, about 8 to 10 minutes, flipping halfway through. Let cool.
Combine lettuce, cabbage, black-eyed peas, corn, tomatoes and pimientos in a large bowl. Add dressing and toss to coat. Serve topped with red onion and cornbread croutons. 
-recipe by Justin Sutherland, Food Network magazine