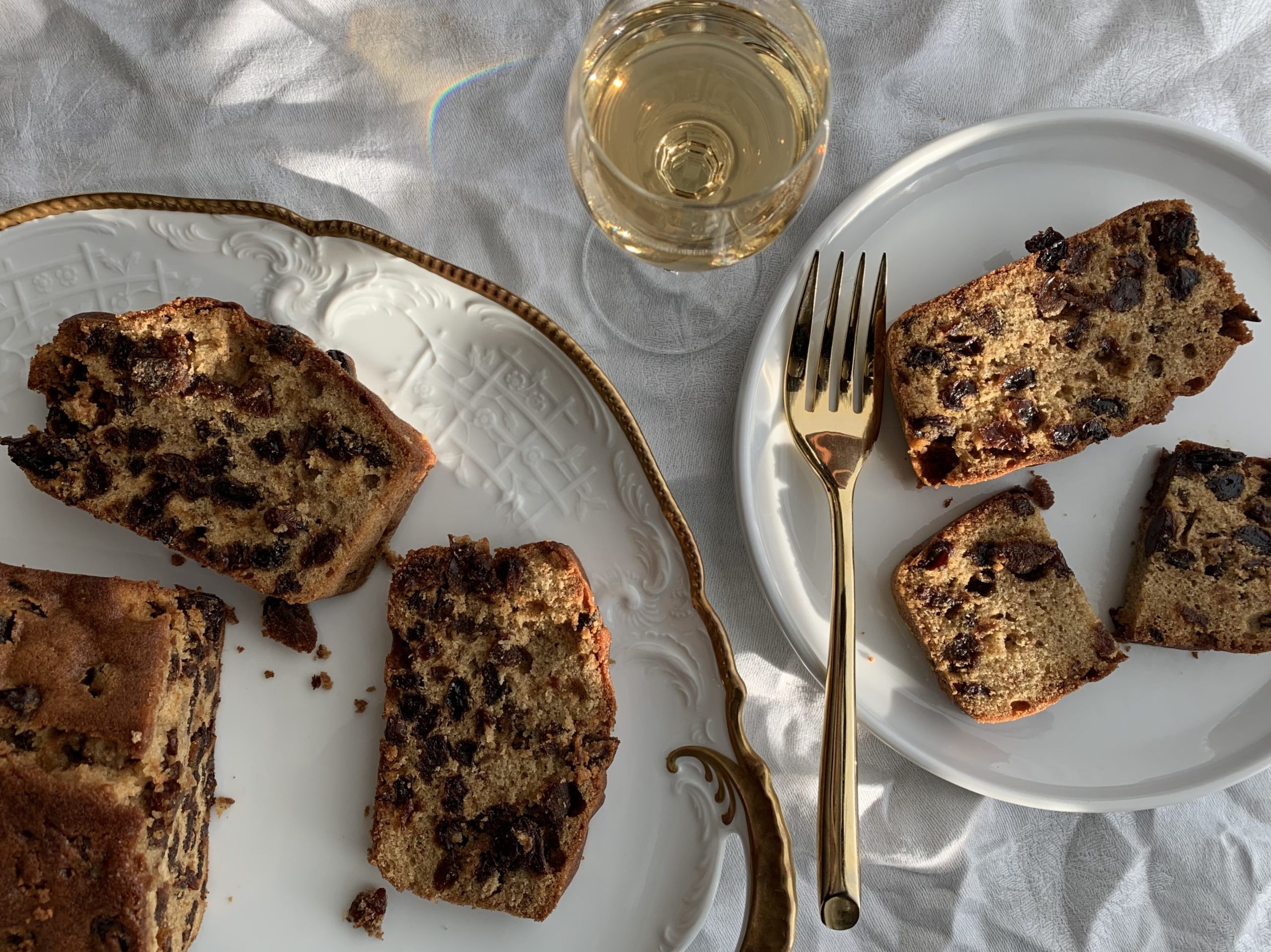 My mantra:  Happiness now. Why wait until tomorrow if you can have happiness right this minute? This recipe contains two things you need for happiness now:  a little Christmas spirit and a lot of brandy. Sure, the rest of the world is grilling corn and flipping burgers. Let them fawn over summer fruit. We aren't waiting, you and I. We are going to make a Christmas Cake. 
Perfect for pandemic baking, the brandy soak will soften dried fruit that's past its prime, so scan your pantry and use up whatever you may have. I did not have the requisite amounts or types of raisins on hand, so I used 2 cups of raisins and 10 dried apricots cut into small pieces. You can use brandy, sherry, or rum, if you like. And be generous when you spoon it over the warm cake.  I plan to make another cake with gluten-free flour next. And dried cherries. The recipe that follows bakes in an 8-inch loaf pan. Set your timer for 60 minutes, then check your cake at 10 minute intervals. 
The cake smells delightful – just like Christmas. Enjoy a few slices now. Wrap the rest of the cake tightly, first in a layer of plastic wrap and then store in a zip-top bag. Label, date, and freeze the rest (if you can bear it) for something you can look forward to this Christmas. And that's happiness now. 
Christmas Cake
1 1/2 cups raisins
3/4 cup golden raisins
1/2 cup dried currants

 

4 soft fresh dates, pitted and chopped
1/2 cup slivered almonds
1/2 cup brandy
9 Tablespoons unsalted butter, softened
1/2 cup plus 2 Tablespoons light brown sugar
2 eggs
1 cup plus 2 Tablespoons all-purpose flour, sifted
1/8 teaspoon baking soda
1 teaspoon ground cinnamon
1/2 teaspoon ground allspice
3 Tablespoons brandy, plus more (lots more)
Combine raisins, currants, dates and almonds in a large bowl. Cover with brandy and mix to combine. Cover bowl with plastic wrap and allow to soak in a cool, dark place overnight. Mix occasionally the next day until ready to bake. 
Preheat oven to 275º F. Line an 8-inch loaf pan with 2 layers of parchment paper. Add butter and sugar to a medium bowl and beat on medium speed for 8 minutes or until light and creamy. Add eggs, one at a time, beating well after each addition. Set aside.
Add flour, baking soda, cinnamon and allspice to the soaked fruit. Mix well until all fruit is evenly coated with flour. Pour batter over fruit mixture and stir until combined. Spoon into prepared pan and smooth top. Bake about 1 1/2 hours or until cake is brown and cooked when tested with a skewer. 
Spoon extra brandy over cake while still warm, then allow to cool completely before turning out. Store airtight, up to 2 months, in a cool, dark place. 
 – adapted from recipe by Donna Hay, Christmas Feasts and Treats