Chopped Thai Salad with Peanut Sauce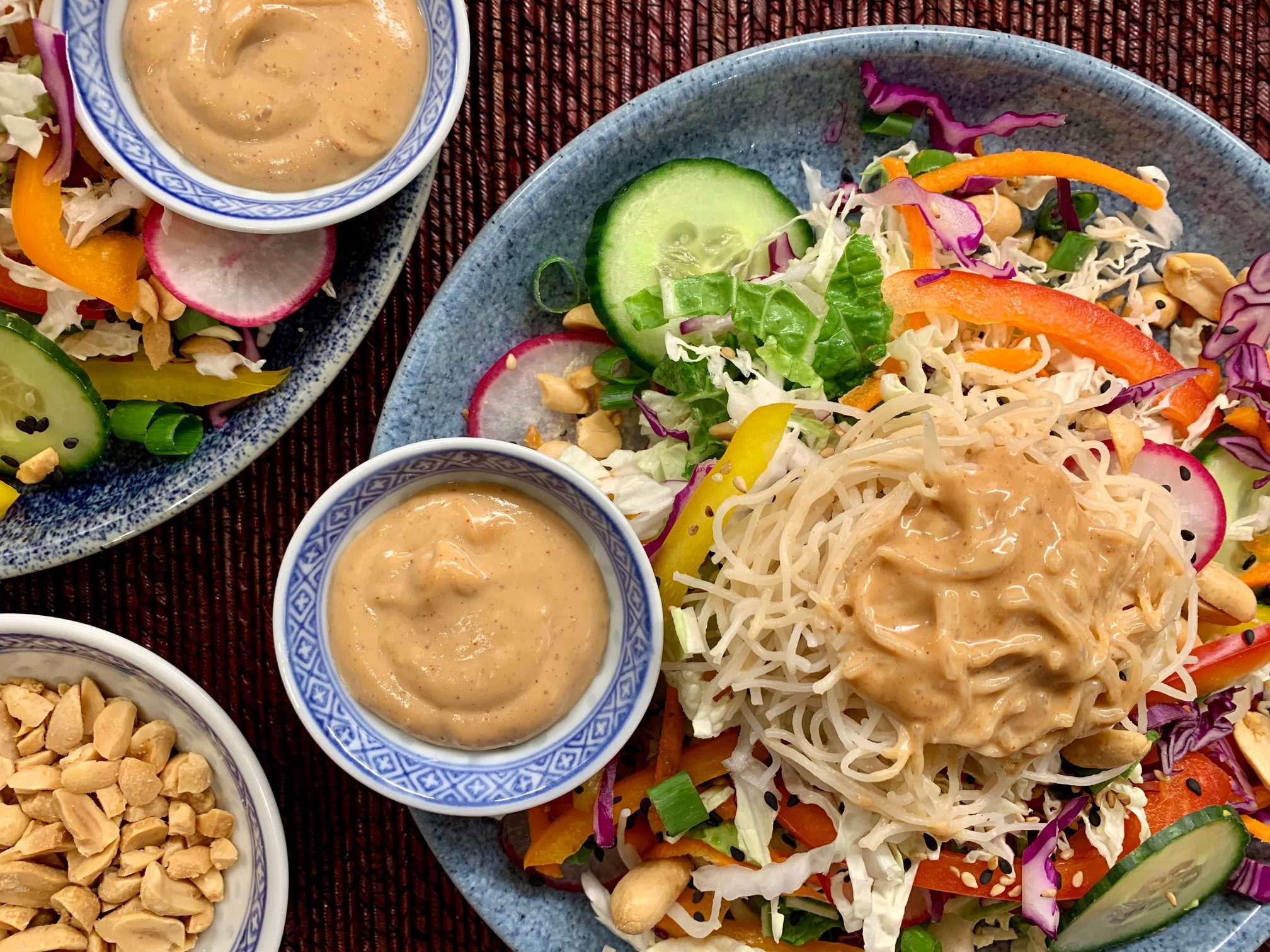 Home. Certainly, it's the place where you live, but more importantly it's the community around you. That place we all call home. This week's recipe is a shout out to local farmers. They feed us and share what they grow with the community and for that they deserve some love. 
Earlier this year, we joined a CSA and it changed and enriched our lives in so very many ways. We ate better. We tried new recipes. We had more variety in our diet. And we experienced a bond with the land and the community that you just can't get from a grocery store. Each week when we pick up our box we see Steve. He looks up from his work for a minute and we exchange waves from the socially, but not emotionally, distant area across the field. We gather the food that he's sharing and for those few moments all is right with the world. So, thank you, Steve, and thank you other local farmers as well. You make our families and our communities so much better, not just with the local food you provide, but also with the experiences that we share when we source our food close to home.
Fresh and crunchy, this Chopped Thai Salad with Peanut Sauce is packed with veggies and full of flavor. The creamy peanut dressing and fun noodles make this salad a hit with kids. You can use honey, brown sugar, or any kind of substitute that you like for this recipe. I am still creatively cleaning through my pantry so I used raw coconut nectar. Ramen noodles are another suitable stand-in, but using thin rice noodles gives this Thai take-out cred, plus they're gluten-free. Toss the noodles into the salad with the dressing or use them, either plain or lightly dressed, to top your salad. Keep it veggie and serve with edamame, or add chilled shrimp or shredded rotisserie chicken for a zero cook way to get dinner on the table and … get your kids to eat their veggies. 
Most of the vibrant veggies in this recipe were beautifully grown by Steve. 
Chopped Thai Salad with Peanut Sauce
peanut sauce
1/2 cup natural, no-sugar added creamy peanut butter
1/2 cup canned coconut milk
1/2 Tablespoon tamari or soy sauce
1/2 Tablespoon rice vinegar

 

1/2 teaspoon garlic powder
1/2 teaspoon grated fresh ginger
1 teaspoon freshly squeezed lime juice
1/2 Tablespoon honey
1/2 Tablespoon raw coconut nectar
salad
1 8.8-ounce package thin rice noodles

 

2 cups Napa cabbage, thinly sliced
1 cup purple cabbage, thinly sliced
2 large carrots, shredded
2 radishes, thinly sliced
1 red bell pepper, thinly sliced
1/2 yellow bell pepper, thinly sliced
1/2 English cucumber, thinly sliced
1/2 cup chopped green onion (green part only)
1 Tablespoon black sesame seeds (or toasted sesame seeds)
1/2 cup peanuts, roughly chopped
Combine all ingredients for peanut sauce in blender or small food processor and blend until smooth. Taste and adjust, then thin with water until creamy salad dressing consistency. 
Bring 8 cups of water to a boil in a large pot. Add rice noodles, stir lightly and let stand 3 minutes or until firm-tender. Drain well then transfer to a pot of ice water to hold.  
Combine Napa and purple cabbage, carrots, radishes, red, yellow and orange bell peppers, cucumber, green onion and sesame seeds in a large bowl. Toss with dressing just before serving. Top with noodles and chopped peanuts.  
– adapted from recipe by Flavor and Savour