Chocolate Banana Muffins and No Bake Energy Balls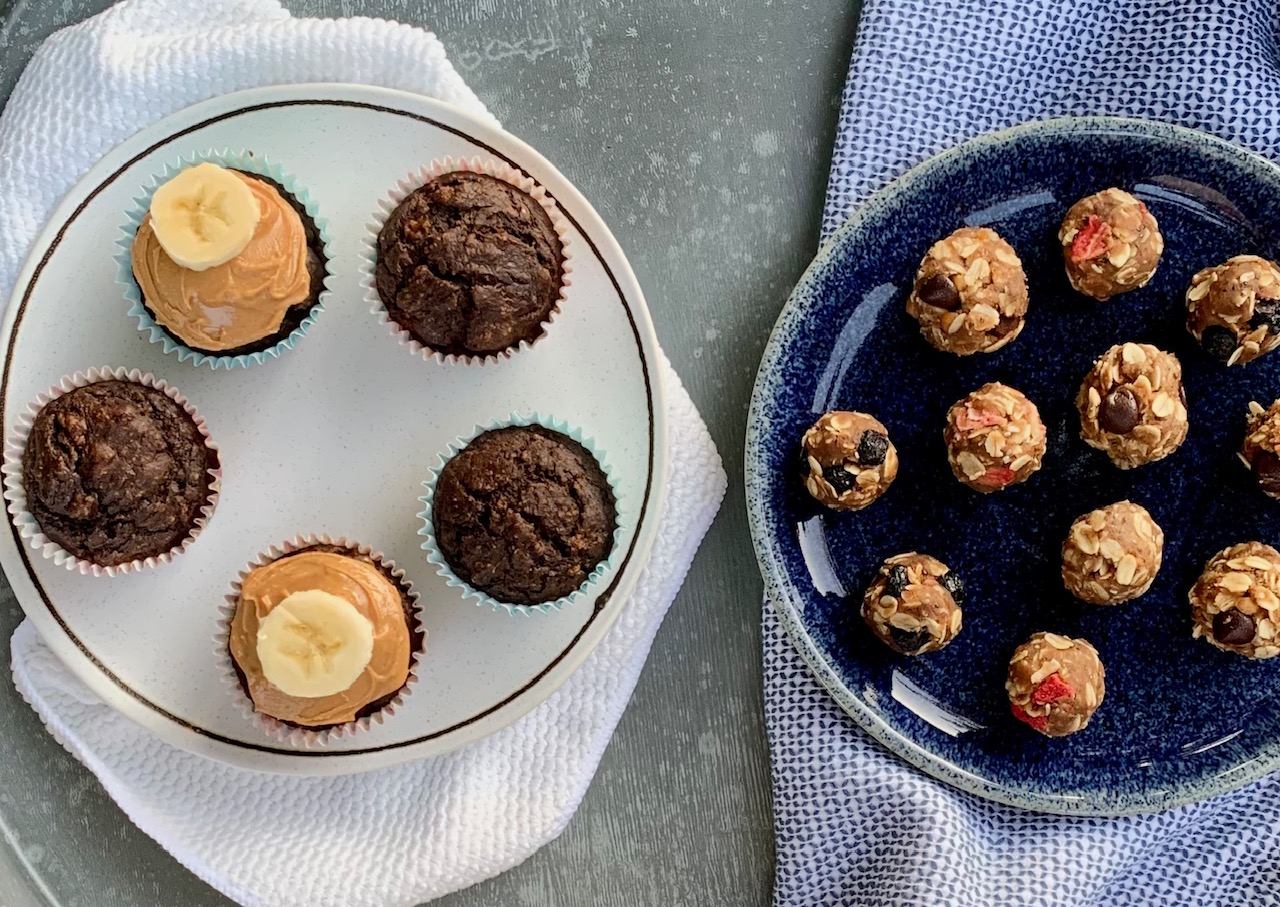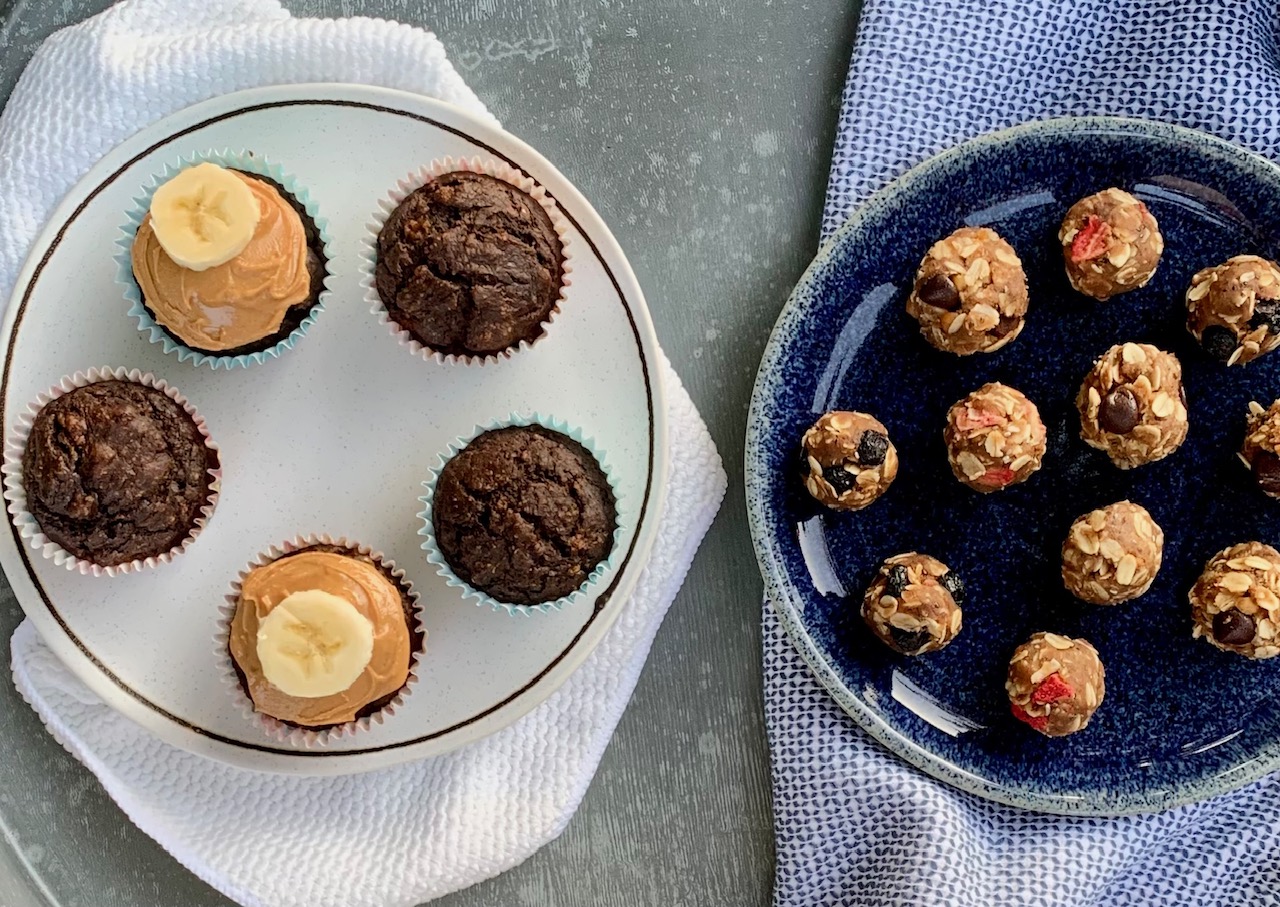 I can't help but sneak a furtive glance at the school supplies when I'm shopping. I feel the tug of the brand new lunch boxes, I yearn to buy pencils and erasers, and I quite literally have to redirect myself before I succumb to tossing a box of new crayons in my cart. I can still feel the excitement of a brand new school year, even if my children have been fully grown for some time now, and it always tears at my heart. 
This is your big chance to make the most of those last days of summer. Cook with your kids, or just feel like a kid yourself, with a few treats to get you in that back to school vibe. Start the school year on a healthy note with these Chocolate-Banana Muffins. Chocolatey and delicious, your kids (and even you) will find them irresistible. They are loaded with things you can feel good about eating, so that makes them a healthy breakfast, even if they might seem like they're not. Cocoa powder provides flavanols to enhance brain power, focus and memory, and bananas provide potassium, fiber, and natural sweetness. Eggs, buckwheat and oats add a healthy dose of protein, and of course, whole grains are a good source of fiber.
You can make these easy breakfast muffins in no time at all and baking these with your kids would be a perfect back-to-school activity to do together while they are still at home. Using paper liners adds a little flair to your baked goods, but you don't need to use them. While they do look cute, inevitably some of the muffin ends up stuck to the liners, so most of the time I bake without them so there isn't any waste. Once they're fully cooled, I like to wrap each muffin individually in plastic wrap and refrigerate them, so they're good to go. If you are making them this week, you could even pop some of them into a resealable freezer bag and freeze them.  
I used a mix of buckwheat flour and oat flour to make these gluten-free and enhance the fiber and vitamins. Buckwheat is a highly nutritious whole grain, and is a good source of protein and fiber. And while the name may contain the word "wheat," it is not a wheat grain or a grass, but is technically a pseudo-grain, so it's gluten-free. Using buckwheat adds an earthy flavor infusion and darker hue to your recipes, and it can be a healthier alternative to regular flour or wheat flour.
I didn't have any coconut milk on hand, but I did have a large container of coconut yogurt. I measured a scant 2 tablespoons into a liquid measure and added water to equal 1/4 cup. I used 2 tablespoons of maple syrup, and the muffins turned out lightly sweet. If you'd like these to be on the sweeter side, use 1/3 cup. 
My muffins baked in 15 minutes, so be sure to check yours a little ahead of time. They were a little tricky to test with a toothpick because the melted chocolate chips looked a lot like wet batter, but I knew they were done because I could smell a freshly baked chocolate aroma and the tops looked dry and firm. Serve these for breakfast, tuck into lunchboxes, or make them an after school snack. If you'd like to add a little more protein, top with peanut butter and add a few slices of banana to garnish. 
No Bake Energy Bites are something else you can make this week to get a little ahead. They are perfect as an after school snack, or would make an easy breakfast. Using crunchy peanut butter adds a bit of texture and a little crunch. You can substitute other nut butters, or use sunbutter if peanut allergies are a concern. These get some natural sweetness from the banana, but you can make them sweeter by adding a tablespoon of honey or maple syrup to your peanut butter mixture. 
Add in optional mini chocolate chips, freeze-dried blueberries or strawberries, shredded coconut, or other dried fruit cut into small pieces. These freeze well, so you can make several batches for the busy weeks ahead. 
Send your kids off with a smile. Make something fun for breakfast. Pack a treat in their lunch. And be ready with a great snack when they get home. 
Chocolate-Banana Muffins
12 muffins
1 1/2 cups whole-wheat flour (or 3/4 cup buckwheat flour plus 3/4 cup gluten-free oat flour)
1/4 cup cocoa powder
1/2 teaspoon kosher salt
1 teaspoon baking soda
3 medium-large ripe bananas, mashed (about 1 1/2 cups)
1/4 cup milk of choice
1/3 cup maple syrup

 

2 large eggs, lightly beaten
1 teaspoon vanilla extract
1/2 cup mini semi-sweet chocolate chips
peanut butter, banana slices (optional)
Preheat oven to 350º F. Mist a standard muffin tin with nonstick oil spray or line with cupcake liners. Set aside.
Add dry ingredients (flour, cocoa, salt, and baking soda) to a medium mixing bowl and whisk together. In a separate smaller bowl, combine wet ingredients (mashed banana, milk, maple syrup, eggs and vanilla) and stir until well-combined.  
Add wet ingredients to dry ingredients and mix until the batter is well-blended and there are no streaks of flour. Do not overmix. Gently fold in chocolate chips. Divide batter between 12 prepared muffin tins. Bake on middle rack for 20 to 22 minutes. Let cool before eating. Optional: top with peanut butter and a few slices of banana just before serving. 
Banana Bread Muffin Variation: omit cocoa powder and add an additional 1/4 cup whole wheat flour. 
No Bake Energy Balls
1/2 large banana, mashed

 

1/2 cup peanut butter

 

1 teaspoon vanilla extract
1/4 teaspoon ground cinnamon

 

1 cup old-fashioned oats (not quick-cooking oats)
2 Tablespoons ground flaxseeds (flaxseed meal)
2 teaspoons chia seeds
optional add ins:

 

2 Tablespoons mini semi-sweet or dark chocolate chips, freeze-dried blueberries or strawberries, shredded coconut, or other dried fruit cut into small pieces
Mash banana in a medium bowl, then add peanut butter, vanilla extract and ground cinnamon. Stir until well combined. Mix in oats, ground flaxseed, and chia seeds, stirring until thoroughly mixed. Stir in optional add ins as desired.
Roll mixture into 1-inch balls. Refrigerate in a sealed container for up to 1 week, or freeze up to 3 months.