Chipotle and Pumpkin Chicken Tortilla Soup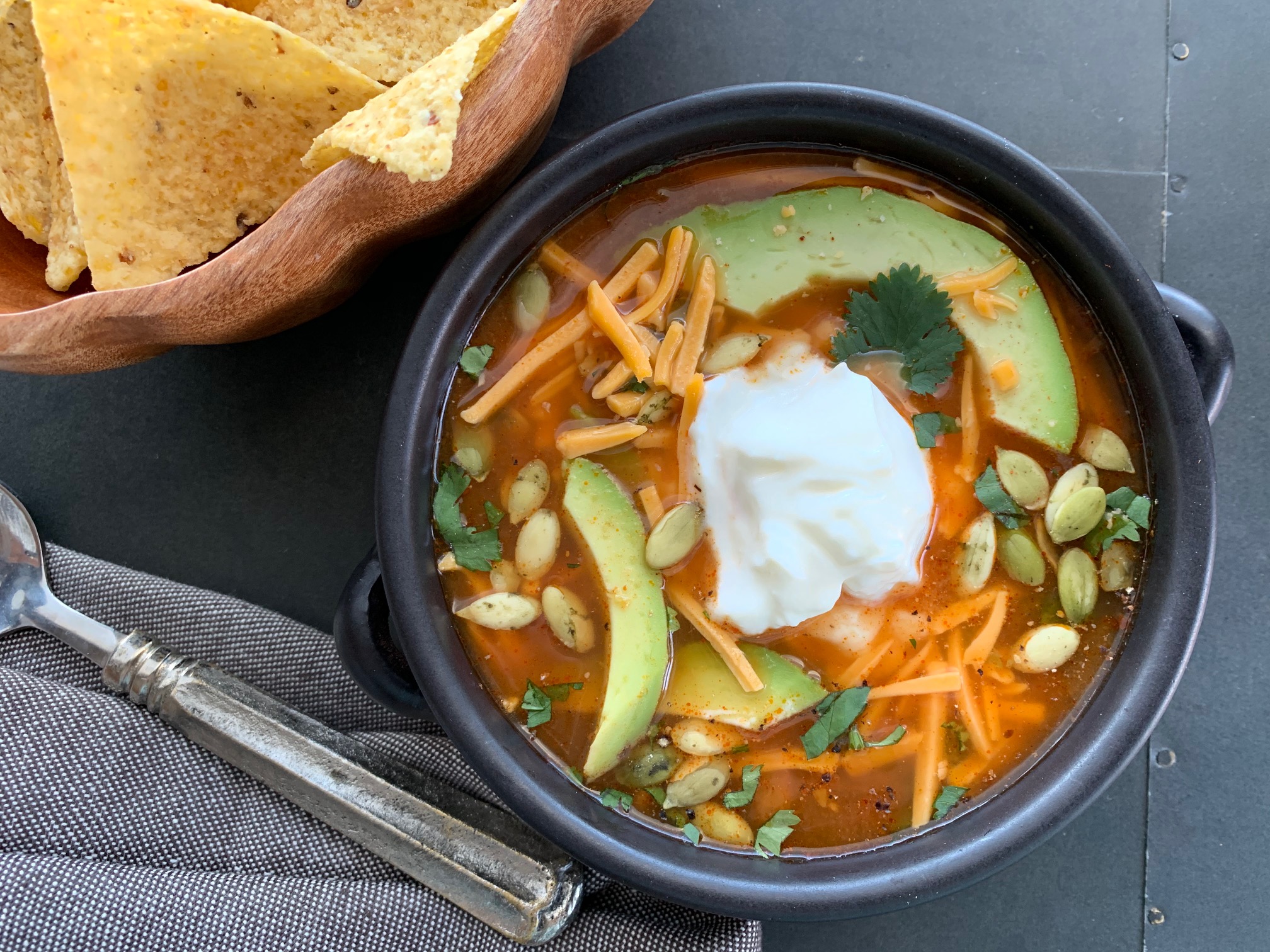 One of my favorite recipes for soup also happens to be one of the easiest. I have been desperately making dinner for a very long time, so a cookbook called Desperation Dinners really called to me. I bought this book believing it would solve all of my dinnertime dilemmas, but the reality is that there was only one recipe I ever managed to make: Chicken Tortilla Soup. I loved this recipe because it made delicious soup using two things I usually managed to have on hand – chicken broth and salsa. I loved it because it was a good way to use up leftover chicken, or make good use of a rotisserie one. I loved it because I could quickly stir up a pot while I was simultaneously supervising homework. I loved it because it got dinner on the table and my family loved it.  And you will, too.
The original recipe called for frozen chopped onions and bottled minced garlic, but I have always used fresh onion when I make this. I have used the bottled garlic on occasion, but in all honesty, there have been more than a few times when I have been in such a hurry that I skip the onion and the garlic altogether and just rely on the fact that they're already in the salsa. I used chicken breasts to keep this leaner, but you could definitely use thighs, or a mix of both. If you like corn or beans in your tortilla soup, you can add fresh or frozen corn kernels or some black or pinto beans. Add these at the end, when you stir your shredded chicken back into the soup.
I tried adding pumpkin and chipotle peppers to the familiar, easy recipe I love so much and it made this soup even better. I did, however, decide to skip the lime juice. If you make this without the pumpkin, add a tablespoon of fresh lime juice when you add the broth and salsa.
The colder weather and added darkness make a piping hot bowl of something warm even more appreciated. Make yourself some soup.
Chipotle and Pumpkin Chicken Tortilla Soup
1 Tablespoon olive oil
1/2 large yellow onion, chopped (about 1 cup)
2 cloves garlic, chopped
1 teaspoon chili powder
1/2 teaspoon ground cumin
4 cups chicken broth, or,
1 heaping Tablespoon Better Than Bouillon Roasted Chicken Base +

 

4 cups water
1 cup bottled salsa
2 skinless, boneless chicken breasts (about 1 pound)
1 cup fresh or frozen pumpkin pureé

 

(or about 1/2 of a 15 ounce can)

 

2 chipotle peppers, chopped (from 1 – 7 ounce can chipotle peppers in adobo sauce)
freshly ground black pepper

 
for topping: 
4 ounces baked or regular tortilla chips
1/2 cup shredded low fat sharp Cheddar cheese

 

1/2 cup light sour cream
fresh cilantro
fresh avocado slices
1/3 cup toasted pumpkin seeds
Heat oil over medium heat in a large Dutch oven or soup pot. Add onion and cook until translucent, stirring often. Add garlic and continue to cook and stir, being careful not to burn. Remove from heat and add chili powder and cumin, stirring a few minutes more, letting the residual heat from the pan warm your spices. Return to heat and add chicken broth and salsa. Stir to combine, then add chicken breasts and bring to a low boil. Cover, reduce heat to low and let simmer, cooking until chicken reaches an internal temperature of 160º F. Remove chicken and transfer to cutting board. Let stand for 5 minutes, then shred with 2 forks. 
Add pumpkin pureé, chipotle peppers, a teaspoon of adobo sauce and shredded chicken to soup and stir. Season with freshly ground black pepper then taste and adjust with additional chipotle pepper if desired. Hold soup over low heat until ready to serve. Ladle into bowls and serve with tortilla chips, shredded cheese, sour cream, cilantro, avocado, and pumpkin seeds for topping.