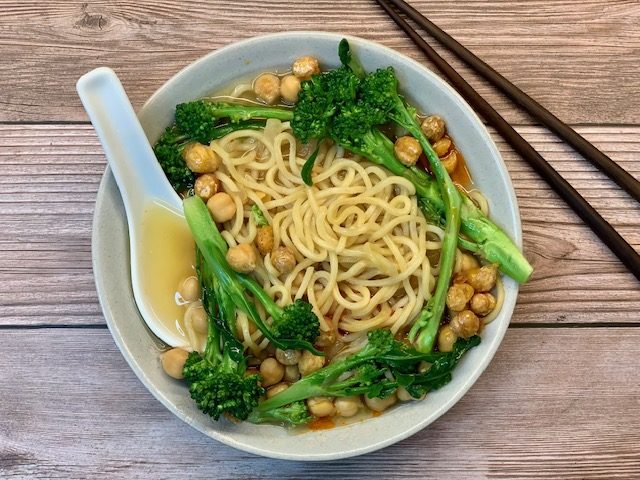 New year, new start. January is a time to refresh and renew, return to normal eating and spending, and give our stomachs and our wallets a rest from all the overindulging. This Chickpea Noodle Soup is filled with umami, to help you ease out of the holiday and back into everyday eating. Flavorful and filling, without being heavy, it's warm, soothing, and just right for tonight's dinner. Beans and noodles are both economical, too, so you can make an easy dinner and save money at the same time. It's so delicious, no one needs to be the wiser. 
This flavorful soup is vegetarian and can be gluten-free as well, depending on your choice of noodle. The deliciously savory broth is made from nutritional yeast, onions, garlic and ginger plus a helpful bit of miso to add complexity. Two kinds of chickpeas, some fried for a crunchy topping, some tender from simmering in the broth, add body, along with a generous amount of tender noodles. Broccolini adds the final touch, a sweet and vegetal component, nestled into the broth and noodles.
I swapped in olive oil, instead of the vegetable, for the health benefits, but you can use any neutral oil that you prefer. Skip measuring and use a heavy handed drizzle, about 2 tablespoons, which is just enough to pan fry the chickpeas and sauté the onions. You can use any type of noodle, dried or fresh, and if you use fresh noodles, like yakisoba, ramen or pan-fry noodles, you can just add them to the broth for the final minute or two to warm them through. If you don't plan to eat all of the soup at once, however, warm the noodles separately, then ladle the soup over the noodles, rather than adding them to the broth. Doing so will help your noodles keep their consistency for later servings.  
Go ahead and use two tablespoons of miso, or even double the amount. You can taste as you go and always choose to add more, if needed. Ditto for the rice vinegar. You can leave the broccolini in larger pieces as directed, or you can cut it into 2 inch bite-sized pieces, which are easier to eat. If you can't find broccolini, feel free to use another quick-cooking green, like thinly sliced bok choy.
There is no better time to embrace healthy eating, economizing, and organization than the start of a new year. With this fresh start, comes a great chance to get your kitchen life in better order. Let's do this together. We'll start slow and easy and I promise you that at the end of 2023 you are going to be in a much better place, saving money, eating better and most importantly, saving precious time. For now, get yourself a 3-ring binder. Next week we are jumping in. Here's to a bright new year! 
Chickpea Noodle Soup
4 servings
1/4 cup vegetable oil
2 15.5-ounce cans chickpeas, rinsed, divided
1/2  teaspoons kosher salt, plus more
1/4 cup nutritional yeast, plus more
1 large onion, finely chopped
1 2-inch piece ginger, peeled, finely grated
4 garlic cloves, finely grated
1–2 Tablespoons chickpea miso or yellow miso
6 cups water
1 8–10-ounce package dried udon or other wheat noodles or 16 ounces fresh wheat noodles (such as yakisoba, ramen, or pan-fry noodles)
8 ounces broccolini, halved lengthwise if thick
1 teaspoon (or more) unseasoned rice vinegar
Cilantro leaves with tender stems (optional) and chili oil (for serving)
Heat vegetable oil in a large heavy-bottomed pot set over medium-high heat. Pat dry a heaping 1/2 cup chickpeas and add to oil in pot (stand back to avoid pops and splatters). Cook, stirring often, until chickpeas crisp and have golden brown shells, about 3 minutes. Remove pot from heat, then use a slotted spoon to remove chickpeas to a paper towel-lined plate. Season chickpeas with kosher salt and a generous sprinkle of nutritional yeast; set aside.
Return pot to medium-low heat. Add onion to remaining oil and cook, stirring often, until softened and translucent, about 3 minutes. Add ginger and garlic, and cook, stirring until fragrant, about 1 minute. Add 1/4 cup nutritional yeast and yellow miso, and cook, stirring to coat, 30 seconds. Add water and remaining chickpeas and bring to boil. Reduce heat, partially cover, and simmer gently; stir occasionally, until flavors have melded, 15-20 minutes. 
Meanwhile, if using dried noodles, prepare by cooking in a medium pot of boiling salted water according to package directions. Drain and rinse under cold water. 
Add broccolini, halved lengthwise if thick, to broth and cook until bright green and tender, about 2 minutes. Add cooked noodles or fresh noodles and cook until heated through (and cooked, if using fresh noodles), about 2 minutes. Remove from heat and stir in rice vinegar. Taste and adjust seasoning with more salt and vinegar if needed. 
Divide soup among bowls. Top with cilantro and chili oil (if using), and reserved chickpeas. 
-bonappetit.com