Chicken Thighs with Creamy Mustard Sauce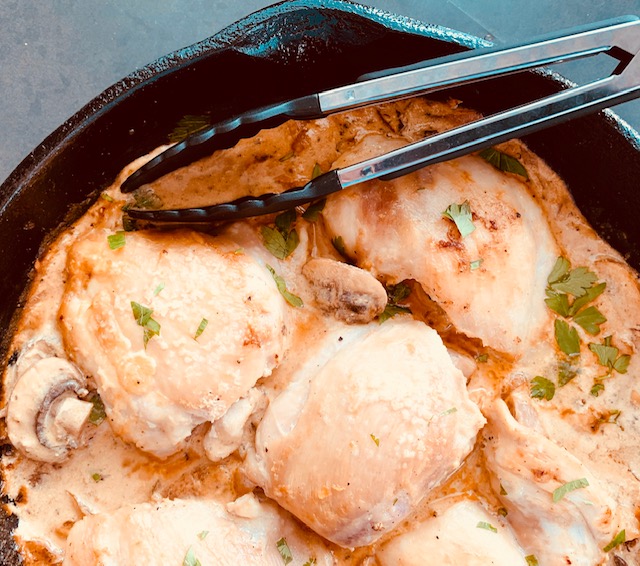 A reader has requested recipes for meat.  More specifically, she asks, "How do I cook meat?"  There are many ways:  roasting, grilling, stewing, frying, and all of them are good, but browning meat in a skillet is an easy way to get dinner on the table quickly.
You know you've been making a recipe a lot when it's the first thing that pops up on your iPad.    I toss some chicken thighs in my grocery cart every week, and more often than not, this recipe is what I end up doing with them.  There is a reason why a recipe earns five stars and this one from Ina Garten comes with rave reviews. Even though it's quite simple, the sauce is absolutely delicious.  The prep is fast and easy, the ingredient list is small, and because you use budget friendly chicken thighs, this recipe earns high marks all around.  The entire recipe cooks in one pan, and the cast iron skillet delivers beautifully browned chicken bathed in a perfectly seasoned sauce that even the most novice cooks can pull off.  Ready to try it?
Ina's recipe is brilliant and you may want to try it exactly as is, using 8 chicken thighs and 8 ounces of creme fraiche, just as instructed.  But when I make this, I scale it down a bit because the chicken thighs I buy only have 4 or 5 in their package, which also just happen to fit perfectly in my cast iron pan. They are also skinless, so they don't brown quite as deeply, but they are still full of flavor, and a bit better for you.  I use Siggi's Icelandic plain yogurt or Nancy's probiotic sour cream, in place of the creme fraiche you are less likely to have on hand, when I make this.  I use Ina's measurements for the Dijon and whole-grain mustard, but I don't measure the wine, just pouring it straight from the bottle instead, to completely cover the bottom of the pan.   I also add mushrooms, mini or baby bellas, because I think they add a little extra to this dish, and they can cook right in the same pan.
The only downside of this recipe?  The mess factor.  Browning those chicken thighs generates a lot of splatter action which means time spent cleaning up afterwards.   I have tried this on the side burner of our gas grill outdoors, which works really well if you want to cook al fresco, but if not, I have cut the clean up quite a bit using the same "rubber dam" technique that they use at the dentist's office.  I cut a circular hole big enough to fit the bottom of my skillet out of a sheet of aluminum foil and put this directly over the burner.  The pan sits right on the exposed burner and the foil covers everything around it.  I cover up any surrounding area with more foil and it catches all the splatter action.  This helps clean up considerably and it's worth trying because you are going to want to make this dish again and again.
March is frozen food month.  It's a great time to scout your freezer and see what you can make into dinner, or better yet, utilize any frozen soups, stews, etc. to make room for all those  summer fruits and veggies that will soon be coming your way.  If you have some leftovers when you make this, label and tuck them into the freezer.  Or, plan to double up and make extra.  This reheats well and frozen, cooked meat is a godsend, especially when it's in ready-to-eat entrée form.  I will keep making this as long as I keep hearing, "Yes!" every time I announce it's what's for dinner.  I just need to get a bigger cast iron pan.
Chicken Thighs with Creamy Mustard Sauce
5 medium boneless, skinless chicken thighs
kosher salt and freshly ground black pepper
extra-virgin olive oil
1 generous cup halved and thinly sliced yellow onions (about 1 large)
1 cup sliced mini/baby bella mushrooms
dry white wine, enough to generously cover the bottom of your pan
4 ounces plain yogurt, or sour cream
1 tablespoon Dijon mustard
1 teaspoon whole-grain mustard
1 tablespoon chopped fresh parsley
Pat chicken thighs dry with paper towels then season on both sides with salt and pepper.  Heat one tablespoon olive oil in a large cast-iron skillet over medium heat.  When skillet is hot, place chicken in pan in single layer.  Cook without moving until golden brown, about 15 minutes.  Turn chicken with tongs, adding onions around and under the chicken.  Cook for an additional 15 minutes, stirring onions occasionally, until chicken reaches 165 degrees.  Transfer chicken to a plate and then add mushrooms to pan, continuing to cook, stirring occasionally, until mushrooms cook and soften and onions are browned.  Add wine and let simmer, stirring to scrape up any browned bits from the bottom of the pan.  Stir in yogurt or sour cream and Dijon and whole-grain mustards, and cook over medium heat for one minute.  Return chicken and any juices from plate back to skillet, sprinkle with parsley and serve hot.
– adapted from recipe by Ina Garten, foodnetwork.com