Chicken Stir-Fry with Thai Peanut Sauce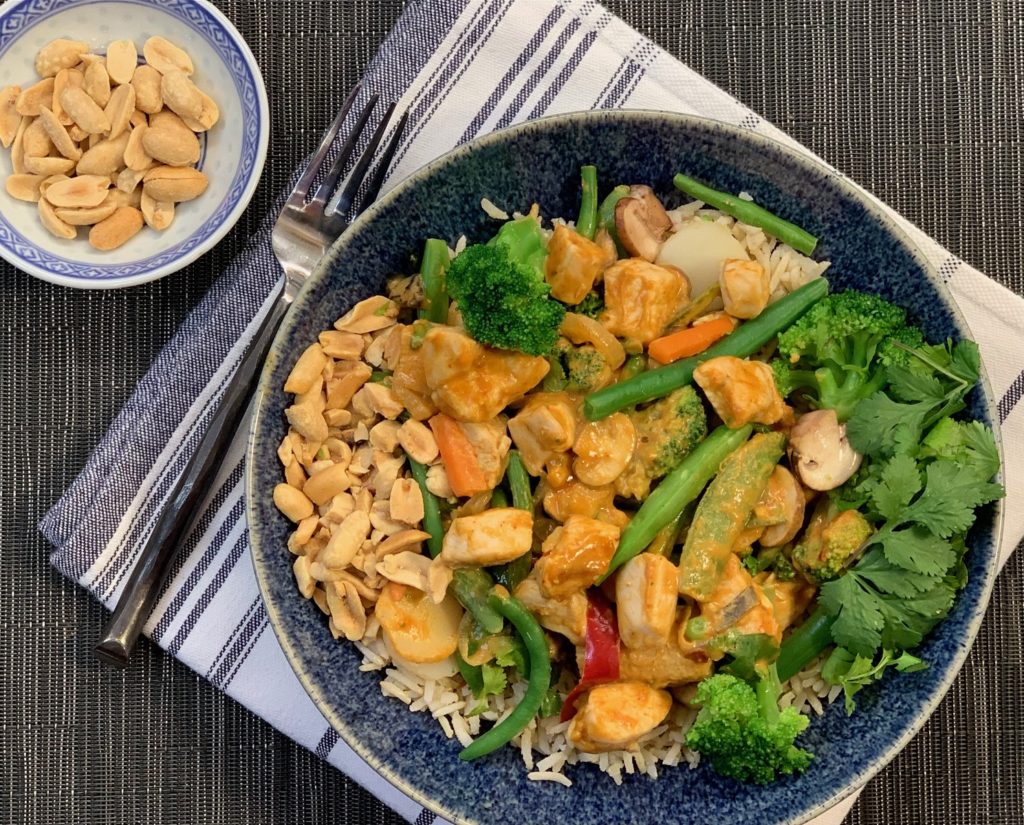 Valentine's Day calls for a special dinner and since it falls on a weeknight, something quick, easy and fun is in order. Cozy in with a take-out meal that captures all the fanfare. Make it at home and you can save a bundle. Celebrate this sweet day with Chicken Stir-Fry with Thai Peanut Sauce. Loaded with colorful veggies and chunks of juicy chicken, the deliciously creamy peanut sauce is just the right amount of sweet, and only as spicy as you want it to be. Follow this up with something chocolate for dessert, served with fresh raspberries for a pop of color, and you're all set. 
Stir-fry's are a fast, healthy option for busy weeknights. Using frozen veggies saves time and money, letting you stock up while frozen foods are on sale. You can also use fresh vegetables, but adjust accordingly to allow for extra cooking time. Peanut butter adds budget-friendly protein, and you can use chicken thighs to save even further. The addictively delicious sauce is made from mostly pantry ingredients, so if you have peanut butter, brown sugar, soy sauce, rice vinegar, red pepper flakes and peanuts on hand, you have most of what you need. This recipe makes a generous 6 servings, enough to feed all your sweethearts, or if your household is smaller, you'll have some nice leftovers.
This recipe comes together very quickly, so have everything prepped ahead of time, starting with the peanut sauce. The ingredients will whisk together much easier after they sit a bit. Just give them a preliminary quick mix with a fork, then thoroughly whisk right before you add them at the end. Get some small bowls ready so that you can keep your stir-fry ingredients separated as you prep them. Slice the onion and mushrooms, then mince the garlic and ginger. Give the cilantro a rough chop and do the same with the peanuts, then dice the chicken, so that it's the last thing on the cutting board. Doing so helps prevent cross contamination with the raw meat. Wash the cutting board and your knife with hot soapy water, then put your board into the dishwasher, if possible. Thoroughly wash anything else that may have come into contact with the raw meat or its juices, including your hands. 
I used avocado oil in place of the olive, but you could use peanut, grapeseed, or canola oil if you like. Wanting to keep this a little less spicy, I only used 2 tablespoons of the curry paste and 1/2 teaspoon of pepper flakes. I recommend adding less of these two ingredients and adding more, if needed, after tasting. You can do the same with the sugar. Start with 1 or 2 tablespoons, then add more if you want it sweeter. You can also make this with beef, pork or shrimp, or use tofu and make it vegan. Swap honey for the brown sugar, or use maple syrup. Serve over brown rice, or try it over noodles or quinoa.
Enjoy with someone you love and have a happy Valentine's Day.
Chicken Stir-Fry with Thai Peanut Sauce
2/3 cup creamy peanut butter
1/3 cup water
1/4 cup brown sugar
3 Tablespoons reduced sodium soy sauce or tamari, divided
1 Tablespoon fish sauce
3 Tablespoons red curry paste
2 Tablespoons rice vinegar
1 Tablespoon minced fresh ginger
4 teaspoons red pepper flakes, divided
4 Tablespoons extra-virgin olive oil, divided
1 medium onion, thinly sliced
2 Tablespoons minced garlic, about 6 cloves
12 ounces boneless, skinless chicken breast (about 2 breasts), cut into 1/2-inch pieces
1 teaspoon garlic salt
28 ounces frozen mixed stir-fry vegetables, (or substitute fresh)
10 ounces fresh mushrooms, sliced (or substitute any fresh or frozen thawed vegetable)
1/2 cup unsalted dry roasted peanuts, chopped, plus additional for serving
1/2 cup chopped fresh cilantro, plus additional for serving
prepared brown rice, quinoa, or whole wheat spaghetti, for serving
Combine peanut butter, water, brown sugar, 1 tablespoon soy sauce, fish sauce, curry paste, rice vinegar, ginger, and 2 teaspoons red pepper flakes in a medium bowl and whisk together until smooth. Set aside.
Heat 2 tablespoons olive oil in a large wok or deep skillet set over medium high heat. Add onion and cook until softened, about 3 minutes. Add garlic and cook 30 seconds. Add chicken and sprinkle with garlic salt; sauté, stirring occasionally, until juices run clear and chicken is fully cooked, about 5 minutes. Remove chicken from pan and set aside.
Add remaining 2 tablespoons olive oil to pan. Add mushrooms and sauté 2 minutes. Add vegetables and sauté, stirring occasionally, until crisp tender, about 6 to 8 minutes, depending on veggies selected.
Return chicken to pan. Add reserved peanut sauce, remaining 2 tablespoons soy sauce, and 2 teaspoons red pepper flakes. Toss to coat evenly and cook until heated through, about 2 minutes. Stir in peanuts and cilantro.
Serve stir-fry with prepared brown rice, quinoa, or whole wheat spaghetti. Garnish with additional chopped peanuts and cilantro, as desired.
-wellplated.com